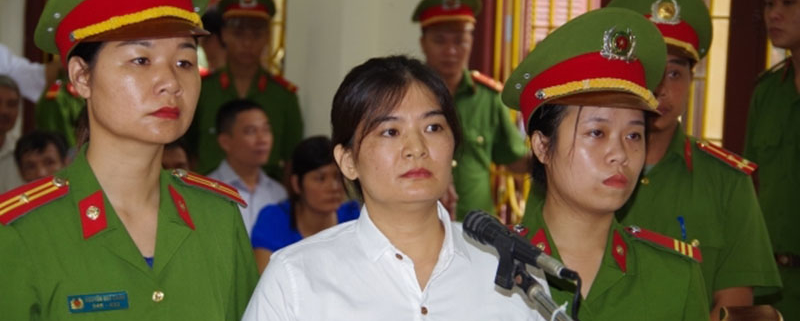 Vietnam Free Expression Newsletter No. 41/2017 – Week of December 4-10
Greetings from The 88 Project! We are bringing you news, analysis, and actions regarding human rights and civil society in Vietnam during the week of December 4-10. We think of all political prisoners and activists at risk today as December 10 is Human Rights Day. News came out this week that the appeal trial of Tran Thi Nga will be held on December 22. Two priests were prevented from traveling abroad for "national security" reasons. Don't miss the Vietnamese magazine's article on the worrisome trend of cyber attacks against activists since last month. There is more news and analysis on Mekong Review – a magazine that covers Southeast Asia's literature and politics, a rare protest of drivers in Southern Vietnam that forced the government to review charges at a toll gate, and the experience of Vietnamese citizens with corruption. Please take action for the members of the Brotherhood for Democracy who are currently being held incommunicado and need medical attention. And consider making a donation via the NOW! Campaign to support families of Vietnamese political prisoners.
Read the full newsletter, here.
And please subscribe!
HUMAN RIGHTS & CIVIL SOCIETY
Prisoners of Conscience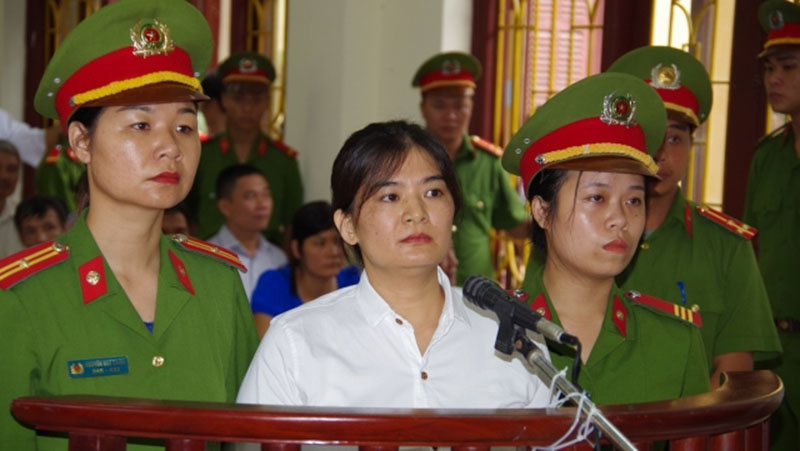 Tran Thi Nga at her trial on July 25, 2017. Source: Vietnamnet
The 
appeal trial
 for 
Tran Thi Nga
 will be held on December 22 by the High People's Court of Hanoi at the headquarters of the People's Court of Hanam province. She was sentenced to 9 years in prison and 5 years of probation on July 25, 2017 under Art. 88 ("propaganda against the socialist state"). Since her arrest on January 21, and even after her first instance trial in July, she has not been allowed to see her family. There is 
report
 that she has been in solitary confinement. Nga has two children of four and seven years old.
International Day of Human Rights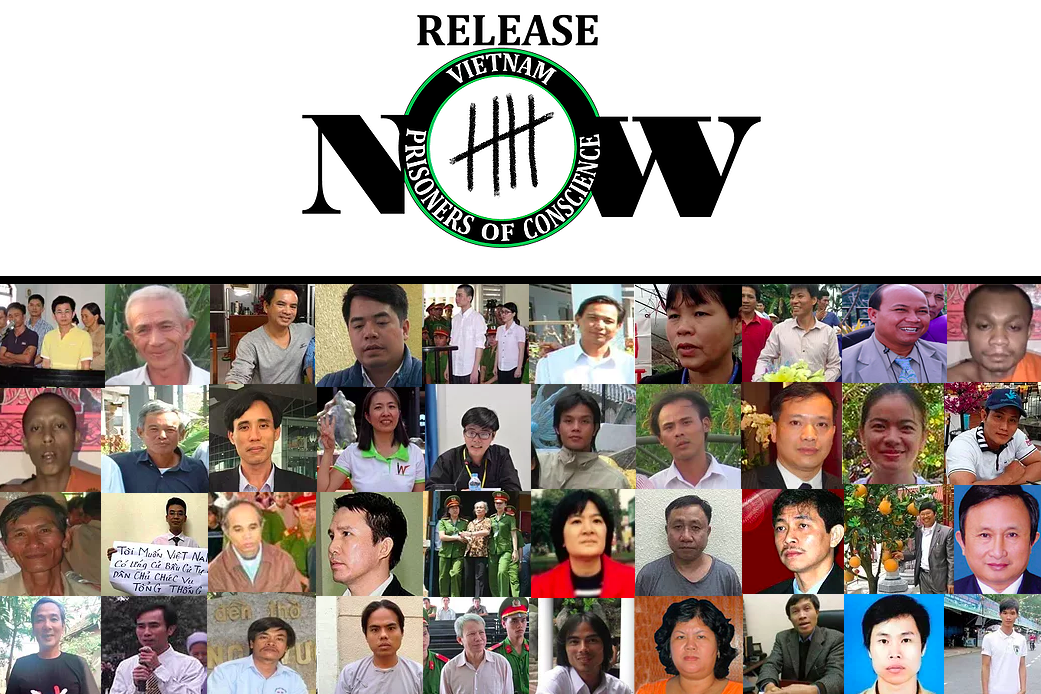 Today, December 10, marks the 
69th anniversary
 of the Universal Declaration of Human Rights. On this Human Rights Day, we remember all political prisoners and activists who risk their own safety to defend, for themselves and for others, the fundamental rights that are enshrined in the Universal Declaration and recognized in the Vietnamese Constitution. Please check out the 
NOW! Campaign
 – a coalition of 14 human rights organizations that was launched in November 2017 to call on Vietnam to immediately and unconditionally release all prisoners of conscience. The campaign also maintains a database of 165 prisoners of conscience and a 
donation page
 where you can contribute to support them and their families.
Activists at Risk
This week, two priests were forbidden to travel abroad. On December 5, Father Joan Luu Ngoc Quynh of Thai Ha Redemptorist Church in Hanoi was 
stopped 
at Noi Bai International Airport when he was on the way to go to Paris to participate in a religious event. On December 6, at Tan Son Nhat airport in HCMC, Father JB Nguyen Dinh Thuc of Song Ngoc parish, Nghe An province, was 
prevented
 from going to Australia to attend a hearing on Vietnam human rights by the Parliamentary Joint Committee on Human Rights of the Australian Parliament. The authorities invoked "national security" as the reason for both bans. Activists believe that the two priests were targeted for their activism. Thai Ha Church has opposed to Hanoi's attempt to seize its properties, and often holds 
vigils 
to pray for political prisoners. Besides Father Luu Ngoc Quynh, two other priests of Thai Ha Church, Juse Nguyen Van Phuong and Nguyen Ngoc Nam Phong, had previously been barred from going abroad. Father JB Nguyen Dinh Thuc has been 
targeted 
this year for his activism in holding Formosa and the government accountable.
Internet Freedom
Don't miss this 
article 
by Tran Vi in 
The Vietnamese
, depicting the worrisome trend of cyber attacks against activists amidst intensified crackdown against dissidents. Since late November, many independent news websites have reported that access to their sites has been blocked. Dan Luan, a popular site, was under DDoS attack for about a week in late November. Also in the same month, several popular Facebookers lost access to their accounts because they were reported by anonymous users to Facebook for "violations of community standards." The Vietnamese government has been long believed to maintain an active group of hackers and troops of "paid opinion shapers" to carry out daily attacks on activists and bloggers.
NEWS & ANALYSIS
Eluding Censors, a Magazine Covers Southeast Asia's Literary Scene: "Mr. Bui Jones said that he started Mekong Review in Phnom Penh, the Cambodian capital, because the riverside city of 1.7 million was a magnet for talented writers who were hungry for adventures and bylines. His goal was to bring the authenticity and cultural depth to articles and reviews that he felt was lacking in coverage of Southeast Asia in major literary magazines. […] Bernice Chauly, a poet and novelist in Kuala Lumpur who directs the George Town Literary Festival, said that Mekong Review could serve the crucial function of publicizing literature from Southeast Asia that does not yet reach an international audience, and also offering a platform to writers there who feel intimidated by censors."
Vietnam reviews toll road after rare protests: "Vietnam's government has promised a full review of charges at a toll gate on a new road after protests there posed a rare challenge to the Communist authorities and showed signs of spreading. Charges at the Cai Lay toll road in southern Vietnam were suspended by the government on Monday after protesting drivers caused long tailbacks by paying fees in bundles of tiny denomination bills."
Vietnam Global Corruption Barometer 2017: views and experiences from Vietnamese citizens: "Vietnamese citizens perceive police (57%), tax officials (47%) and business executives (37%) as the most corrupt groups. Notably, more people perceive business executives as corrupt than they did in 2013 (33%). […] One out of two respondents (49%) believe that government anti-corruption actions are ineffective, which significantly increases compared to that in 2013 (37%). Notably, people in rural areas seem to be more disappointed than those in urban areas."
TAKE ACTION
Please take Amnesty International's Urgent Action for Pham Van Troi, Truong Minh Duc, and Nguyen Trung Ton. The three were arrested on July 30 under Article 79 for ties to the Brotherhood for Democracy. They are being held in incommunicado detention and need access to healthcare treatment.
And please consider making a donation via the NOW! Campaign to support families of political prisoners.
https://the88project.org/wp-content/uploads/2017/12/tran-thi-nga-at-trial-july-2017.jpg
451
800
kayleedolen
https://the88project.org/wp-content/uploads/2019/01/88project.png
kayleedolen
2017-12-11 11:55:56
2019-04-30 08:01:18
Vietnam Free Expression Newsletter No. 41/2017 – Week of December 4-10