Vietnam Free Expression Newsletter No. 40/2017 – Week of November 27-December 3
Greetings from The 88 Project! We are bringing you news, analysis, and actions regarding human rights and civil society in Vietnam during the week of November 27-December 3. On November 27, journalist Nguyen Van Hoa, who covered the Formosa environmental disaster, was sentenced to seven years in prison in a secret trial without representation. Three days later, Nguyen Ngoc Nhu Quynh – Me Nam's 10-year sentence was upheld on appeal, and her mother and supporters were assaulted outside the courthouse. International media and foreign governments widely condemned both trials. On December 1, the EU and Vietnam held their annual Human Rights Dialogue. Several international human rights organizations urged delegates to stand up for prisoners of conscience and activists at risk and reported on the series of arrests, attacks, and other threats to civil society in Vietnam in 2017. Vietnam also hosted the Vietnam Internet Forum this week in the midst of criticism from private companies and civil society towards its Draft Law on Cybersecurity. Read an interview with Mai Khoi, whose protest against President Trump triggered her eviction. And check out analysis of Internet control and religious freedom. This week, we remember land rights activist Can Thi Theu on the anniversary of the denial of her appeal and blogger and entrepreneur Tran Huynh Duy Thuc on his birthday. Please take action for Me Nam, who faces a decade in prison and poor health conditions.
Read the full newsletter, here.
And please subscribe!
HUMAN RIGHTS & CIVIL SOCIETY
Prisoners of Conscience
On November 27, 22-year-old journalist Nguyen Van Hoa was sentenced to seven years in prison and three years of probation under Article 88 after an unannounced, brief trial in Ha Tinh. Hoa had reported on the toxic Formosa environmental disaster that began in April 2016, sometimes using a drone. He was arrested on January 11, 2017 and had been held in incommunicado detention since then. His family was not notified of the trial, and he did not have a defense lawyer. For more information on his background and activism, read our profile, here.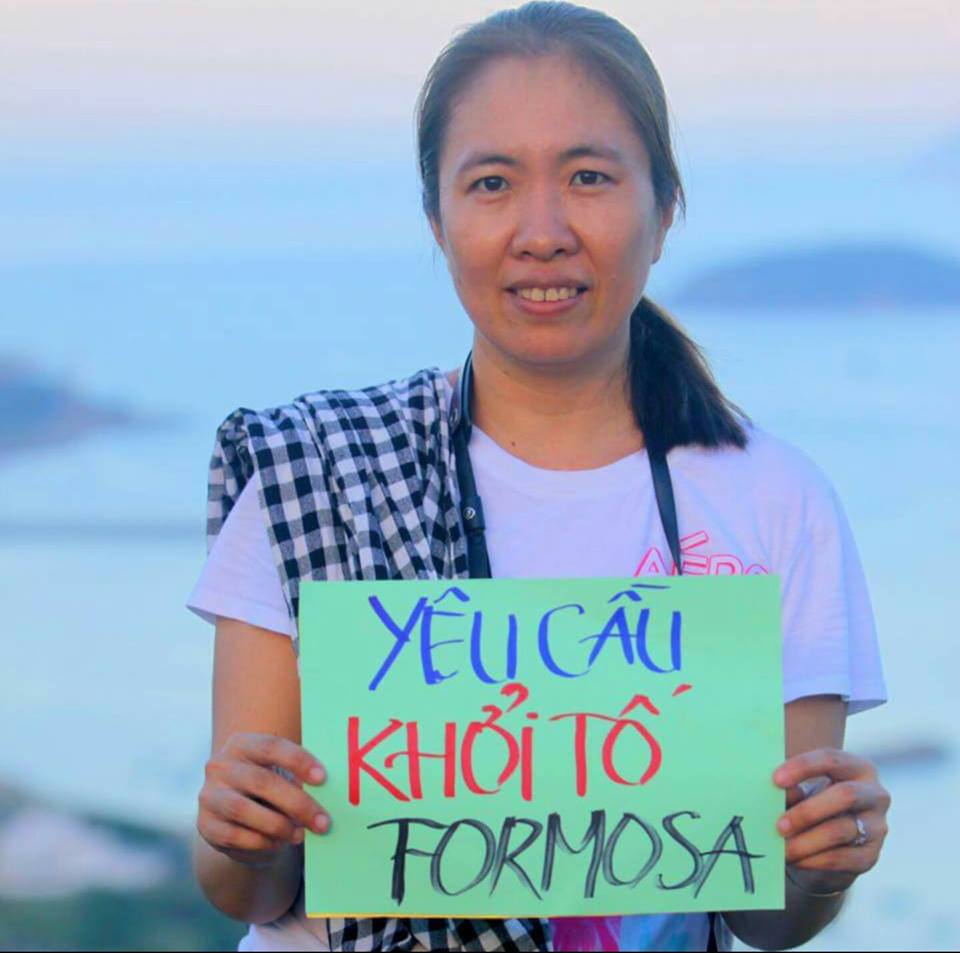 The appeal court in Khanh Hoa province upheld blogger Nguyen Ngoc Nhu Quynh's, also known as Me Nam, ten-year prison sentence on November 30. Quynh admitted to her activities but defended her right to free speech and maintained her innocence. Following the usual pattern for trials of activists charged under "national security" provisions, the trial was secretive and short, lasting only three hours. Supporters were prohibited from entering the courtroom. Her own mother had to sit in another room and watched the trial via video-conference. One of her defense lawyers, Vo An Don, had been disbarred just days before the trial.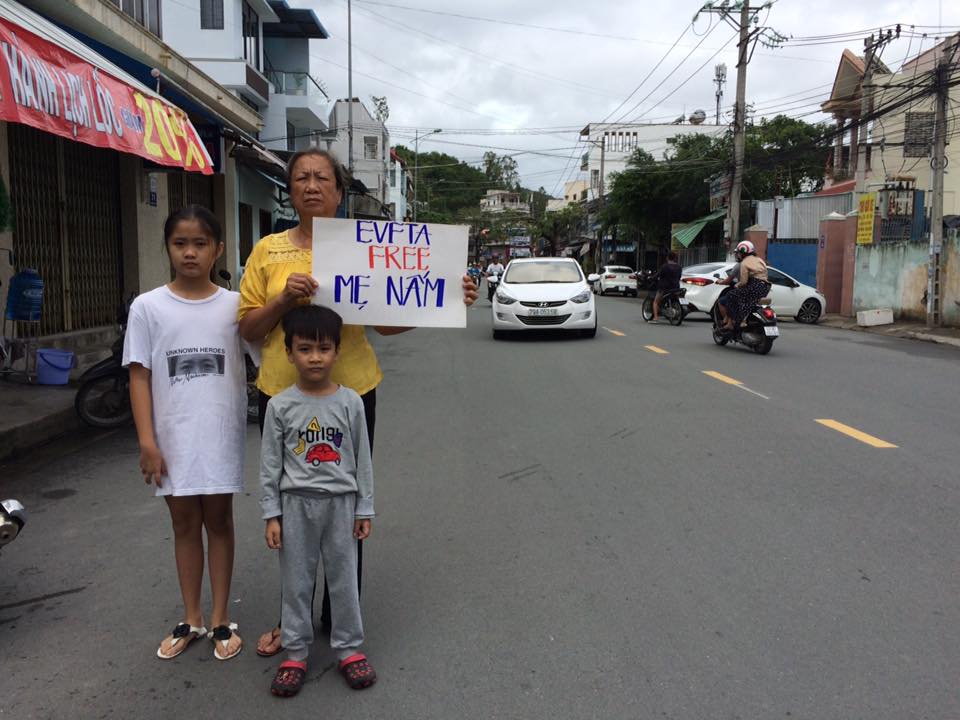 Me Nam's mother and children. Source: Nguyen Tuyet Lan Facebook 
After the verdict, Quynh's mother and several other activists and supporters protested the decision outside of the courthouse and were violently dispersed by pro-government thugs; police did not intervene to stop the attack. Several international human rights organizations and government officials, including the U.S. Chargé d'Affaires to Vietnam Caryn McClelland, have condemned the appeal denial.
EU-Vietnam Human Rights Dialogue
Both the denial of Quynh's appeal and the sudden trial of Hoa came just days before the EU-Vietnam Human Rights Dialogue on December 1 and International Human Rights Day on December 10. Ahead of the dialogue, the Head of the Delegation of the EU to Vietnam 
spoke out against the upholding of Quynh's sentence
. Quynh's 
mother had written to EU representatives
 earlier in the week, urging them to attend the trial, since Vietnamese trials of activists are frequently touted as being open.
FIDH and VCHR released a 
joint briefing paper
 ahead of the Dialogue to discuss the serious human rights crackdown in Vietnam, including the detention and harassment of activists. This release followed two recent meetings with EU officials, where the groups asked the EU to consider if its current relationship with Vietnam lines up with the promotion of international human rights and legal obligations. Human Rights Watch 
called on the EU
 delegation to insist on the release of prisoners of conscience, and it submitted its own 
briefing
 to the delegation as well: "Human Rights Watch recommends that the EU focuses on political prisoners and detainees and examines three key priority areas regarding the human rights situation in Vietnam: repression of freedom of speech, association, assembly and movement; repression of the right to freely practice religion; and police brutality."
According to a 
press release
 after the dialogue, the delegation did discuss the "deterioration of civil and political rights" in Vietnam. "The EU expressed serious concerns about the extensive application of the national security provisions in Vietnam's Penal Code and noted the steep rise in the number of detentions, arrests and sentencing of Vietnamese citizens related to the expression of their opinions." The next round of human rights meetings under the EU-Vietnam Partnership and Cooperation Agreement will be held in 2018 in Belgium.
Activists at Risk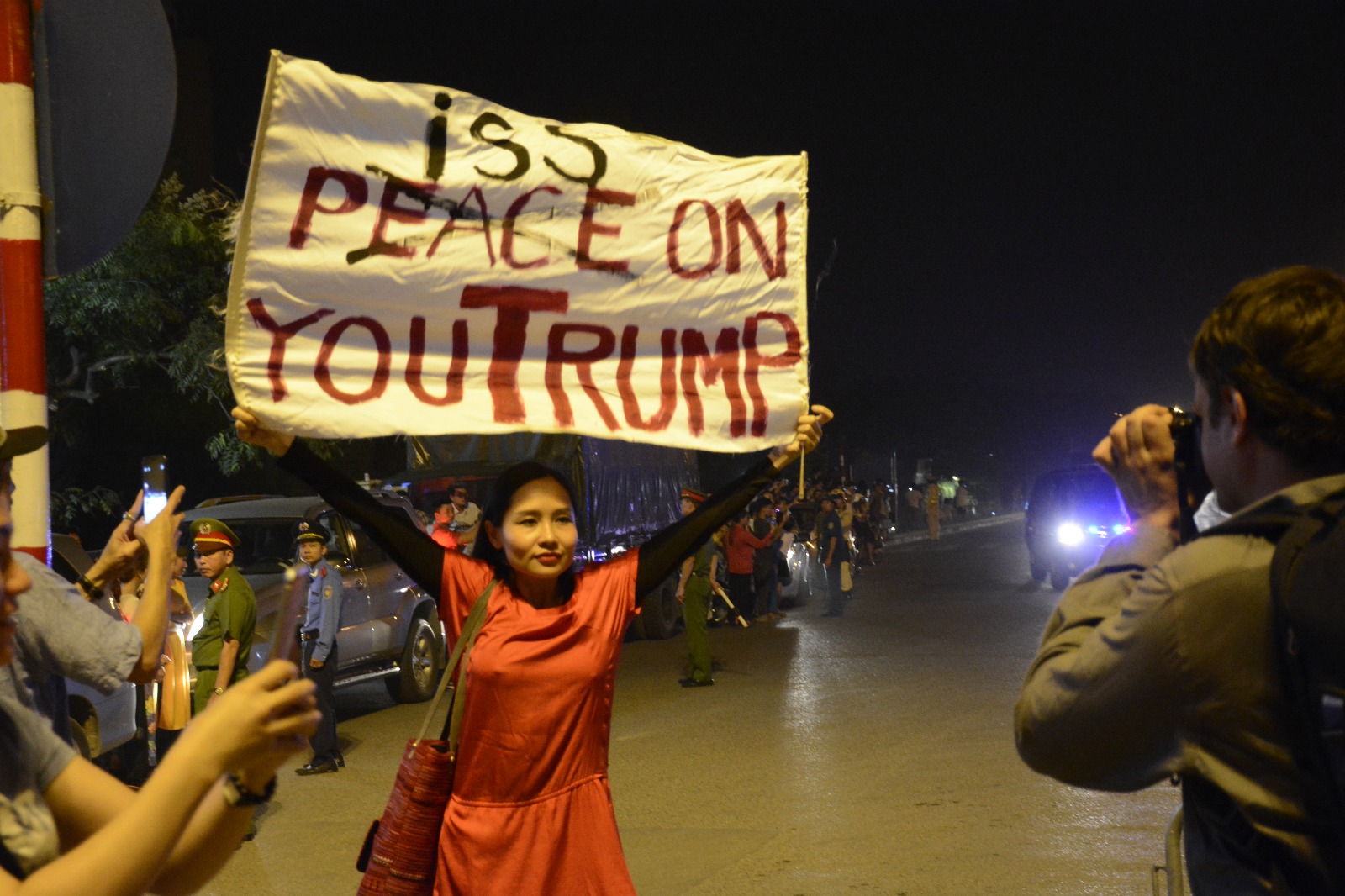 Mai Khoi holding banner reading "Peaceiss on you Trump" in Hanoi
IFEX 
interviewed 
dissident musician Mai Khoi after her eviction following her anti-Trump protest during the APEC Summit. She and her husband were in hiding for the 13 days following the eviction; she still does not have a new permanent place to stay. When asked about her message to the Vietnamese and international communities, she said: "To Vietnamese, I want them to understand what freedom of expression really means. If they don't agree about anything, let them come out in the streets with banners in their hands. To the international community, I want to encourage all people around the world, especially international media, to pay attention to the human rights situation in Vietnam right now."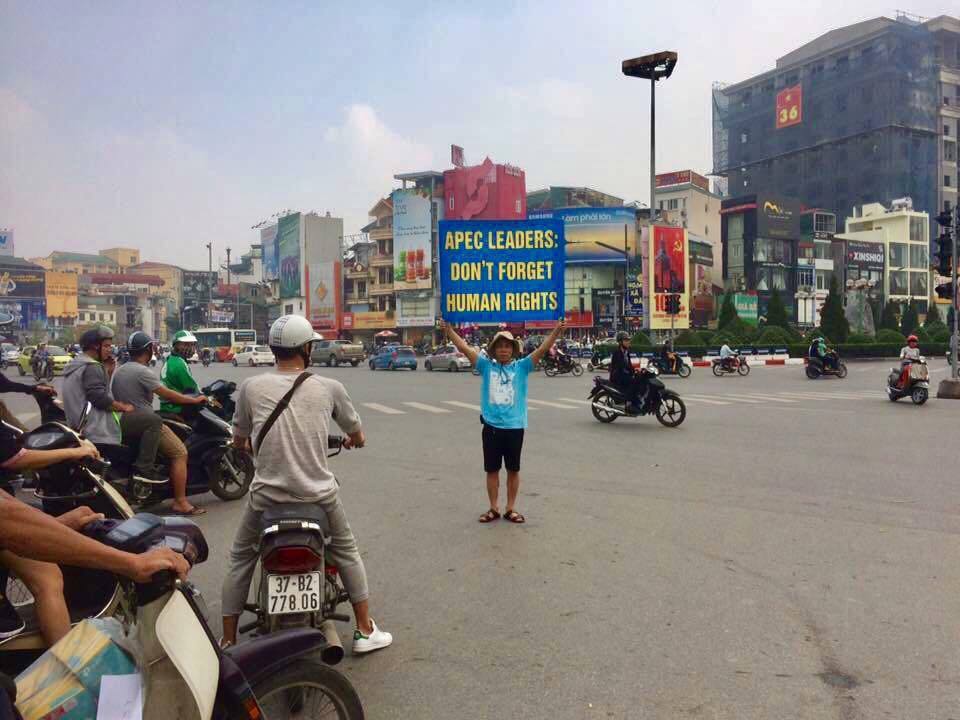 Truong Van Dung holding banner calling on APEC leaders to not forget about human rights. Source: Huynh Ngoc Chenh blog
Targeted for his activism, Truong Van Dung's home was 
attacked 
with a mess of offensive materials this week, the second time in recent days. He often participates in peaceful protests against China's sovereignty claims and other political issues. Last month, Hanoi police kidnapped him for a 
day-long interrogation
 about his connection with the Brotherhood for Democracy after he defied police summons. He also staged a protest calling on APEC leaders to not forget about human rights. He was put under police surveillance during the Summit and was locked into his home at night.
Internet Freedom
The 
Vietnam Internet Forum
 took place in Hanoi from November 27-28. The event focused on Internet accessibility, transparency, and sustainability and included several governmental, multilateral, and private institutions. The Forum coincides with recent controversy surrounding Vietnam's Draft Law of Cybersecurity. The law, initially proposed just days after the Chinese government passed its own cybersecurity law, is 
strikingly similar to the Chinese law
. Both laws, for example, define the critical information that is to be protected in a similar manner, though Vietnam's law appears to be broader. Both laws also directly target information that is considered dangerous to the respective governments. The Ministry of Public Security has stated that the drafting process of the law began in 2016 and that cybersecurity laws from Japan, the Czech Republic, South Korea, and the U.S. were also consulted in drafting the Vietnamese law.
NEWS & ANALYSIS
Vietnam Wants to Control Social Media? Too Late: "Vietnam routinely draws international criticism for its poor record on human rights, especially free speech — for strictly controlling print, radio and television news, and for muzzling bloggers. Passing this internet bill would hardly help its reputation. The law would also fly in the face of Vietnam's commitments to various trade agreements, including under the World Trade Organization, and would likely unnerve foreign investors. In November, Vietnam celebrated the 20th anniversary of the internet's arrival in the country. Blocking ever-popular social media platforms now would seem like a retrograde move — and to a time of fuller controls that never was. It would also most certainly trigger a popular backlash."
Vietnam's religion policy and practice – contradictions continue: "The Vietnam Conference of Catholic Bishops, in an open letter earlier this year, complained that the new law still retains the strong smell of treating Vietnam's religious believers as adversaries, second-class citizens to be treated with suspicion. They asserted that their support for national development did not include support of the current government. Governments come and go, they said, and the government shouldn't mete out religious freedom in dribs and drabs. Religious freedom, they said, is universal and God-given. Evangelical leaders say the law represents more intrusion into the internal affairs of their churches than any legislation heretofore. They regret that the new law will abrogate the benefits of the Prime Minister's Special Directive no. 1 Concerning the Protestant Faith (2005), a directive sometimes used to grant permission for local congregations to operate, even while legal registration was pending or not available. In the highly unlikely event that this new law will be evenly enforced according to the government's objectives, church leaders say it will be met with large-scale passive resistance."
IN CASE YOU MISSED IT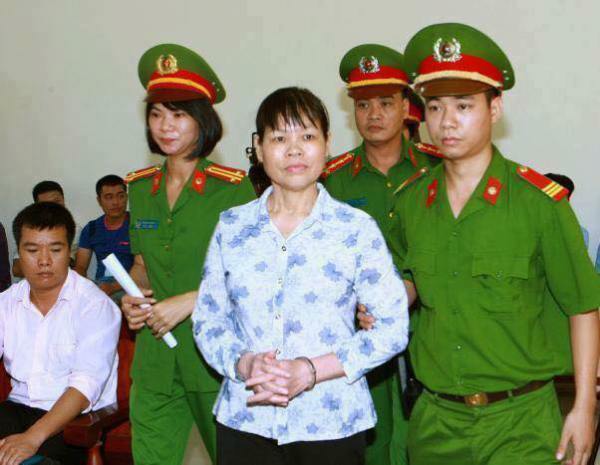 Can Thi Theu at her trial. Source: Facebook Trinh Ba Phuong
November 30 marked a year since land rights activist Can Thi Theu's appeal was denied. Theu was sentenced to 20 months in prison in September 2016 for "disturbing public order." She is very active in fighting against land grabs and forced evictions. Read her December 2016 letter to supporters after her transfer to a distant prison, here.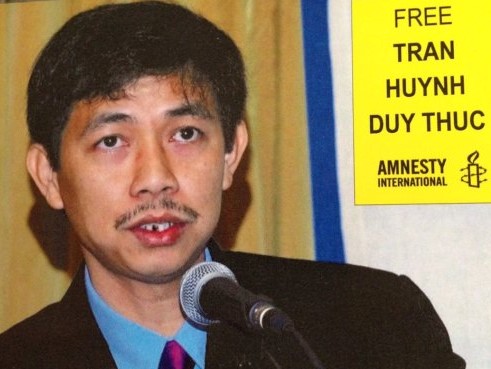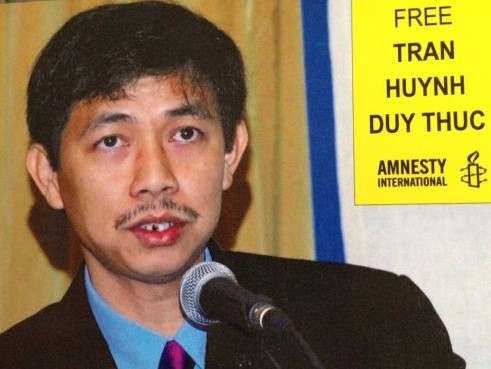 Tran Huynh Duy Thuc spent his ninth birthday in prison on November 29. The blogger and entrepreneur is serving 16 years in prison under Article 79 — one of the longest known sentences for a current activist in Vietnam. He is the founder of a successful internet service provider company in Vietnam and is known for his writings on social, economic, and political reform. Read our latest update on his situation, 
here
.
TAKE ACTION
Take PEN International's action for Nguyen Ngoc Nhu Quynh (Me Nam), calling for her immediate release from prison, and Amnesty International's Urgent Action to demand that Vietnamese authorities ensure that she has access to adequate medical care.
https://the88project.org/wp-content/uploads/2017/01/16142696_692653917562741_748711685743379656_n.jpg
580
960
kayleedolen
https://the88project.org/wp-content/uploads/2019/01/88project.png
kayleedolen
2017-12-04 08:38:26
2019-04-30 08:01:24
Vietnam Free Expression Newsletter No. 40/2017 – Week of November 27-December 3