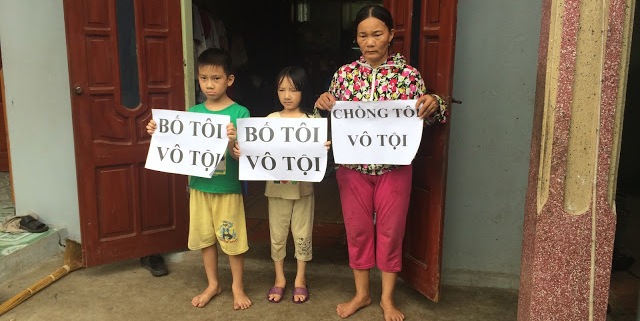 Vietnam Free Expression Newsletter No. 37/2017 – Week of November 6-12
Greetings from The 88 Project! We are bringing you news, analysis, and actions regarding human rights and civil society in Vietnam during the week of November 6-12. Phan Kim Khanh's family met with him for the first time since his arrest on March 21, 2017. Authorities have extended labor activist Hoang Duc Binh's pre-trial detention until January. The BBC interviewed blogger Pham Doan Trang and Mother Mushroom's mother about life for activists in Vietnam and their families. Much of the news this week revolves around the APEC Summit held in Da Nang. Several activists were summoned for police questioning, followed, harassed, or otherwise surveilled before and during the meeting. Dissident singer Mai Khoi was even evicted from her apartment after staging a protest against Trump. Many international responses to the 2017 crackdown on Vietnamese activists have coincided with the summit as well. Seventeen nongovernmental organizations wrote a letter voicing their concerns about Vietnam as an APEC host, fourteen human rights organizations launched the NOW! Campaign to demand the release of prisoners of conscience, and a new independent, English magazine, The Vietnamese, made its debut. There is also news to catch up on regarding police brutality and cybersecurity. Please take action by sharing the new NOW! Campaign database of 165 prisoners of conscience.
Read the full newsletter, here.
And please subscribe!
HUMAN RIGHTS & CIVIL SOCIETY
Prisoners of Conscience
On November 10, Phan Kim Khanh's family was able to meet him for the first time since his arrest on March 21, 2017. Khanh is in good health and spirit. He was sentenced to six years of imprisonment on October 25 and is now detained at the Thai Nguyen Province's Police Detention Center.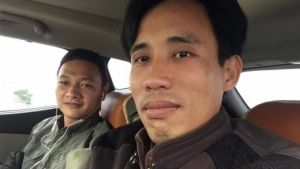 Labor and environmental activist, Hoang Duc Binh (right), along with fellow blogger Bach Hong Quyen (left), who is wanted by authorities
Authorities have extended the pre-trial detention and investigation period of labor activist Hoang Duc Binh. Binh was arrested after organizing protests against the government's handling of the Formosa toxic spill. Last week, it appeared that the investigation of Binh was drawing to a close as authorities announced that he would be tried for "abusing democratic freedoms to infringe upon the interests of the state." However, now Binh will remain under investigation until January 6, 2018. Hoang Duc Binh is the vice president of the independent organization "The Viet Labor Movement" and a member of "No-U Saigon," a soccer group that protests China's sweeping claims on the South China Sea.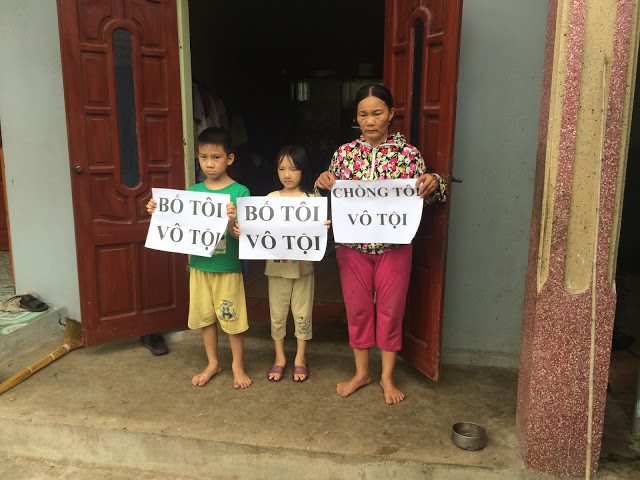 Ms. Nguyen Thi Lanh and their two children, holding signs saying "my husband/father is innocent." Source: Huynh Ngoc Chenh blog
Nguyen Thi Lanh, the wife of Brotherhood for Democracy member and human rights activist Nguyen Trung Ton, has 
appealed to the UN High Commissioner for Human Rights
 to help end the Vietnamese authorities' persecution of her family. Her husband, a Protestant pastor, was arrested on July 30 under Article 79 for his connection with the pro-democracy group Brotherhood for Democracy. While her husband is in detention, the family has been facing harassment, including actions to stop them from claiming assistance funds. Lanh is the primary caretaker for their two children and Ton's mother who have health issues.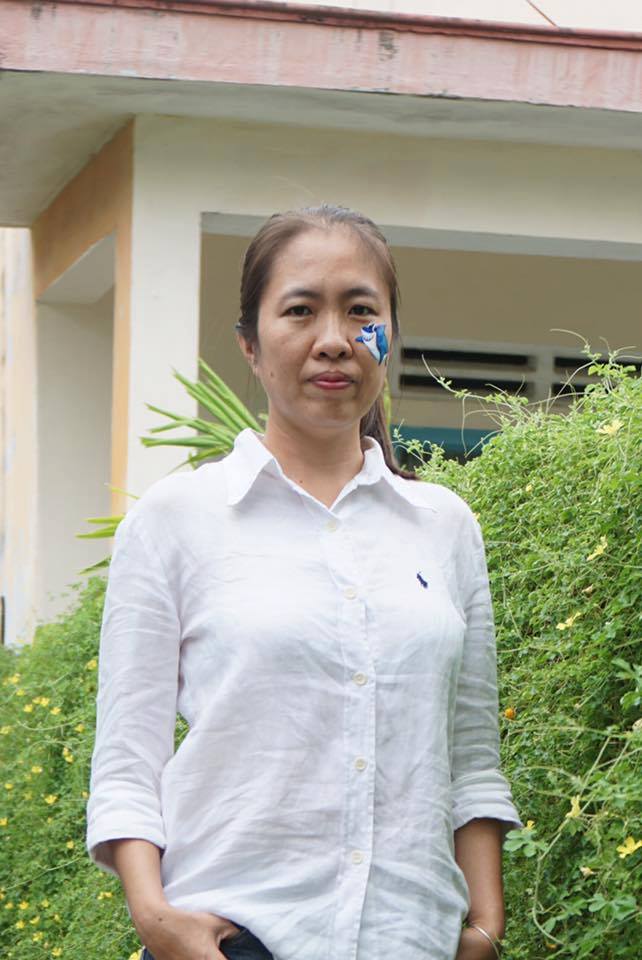 The BBC 
interviewed
 imprisoned blogger Nguyen Ngoc Nhu Quynh (Mother Mushroom)'s mother, Nguyen Tuyet Lan, and blogger Pham Doan Trang, who is in hiding, about the dismal situation for activists in Vietnam. Trang recounts harassment and attacks by thugs and the lack of privacy for activists, even in one's own home. Lan discusses Quynh's continued health issues in prison.
Activists at Risk
Two men associated with the Brotherhood for Democracy, a group founded by imprisoned lawyer Nguyen Van Dai in 2013, were 
called in for police questioning
 for their ties to the group just days before the APEC Summit in Da Nang, Vietnam. The men, Le Anh Hung and Truong Van Dung, did not heed the summons, saying that they had not committed any crimes and should have the right to freedom of association to participate in the group. In past months, six members of the Brotherhood for Democracy have been arrested on anti-state charges, and founder Dai remains in pre-trial detention almost two years since his arrest in December 2015.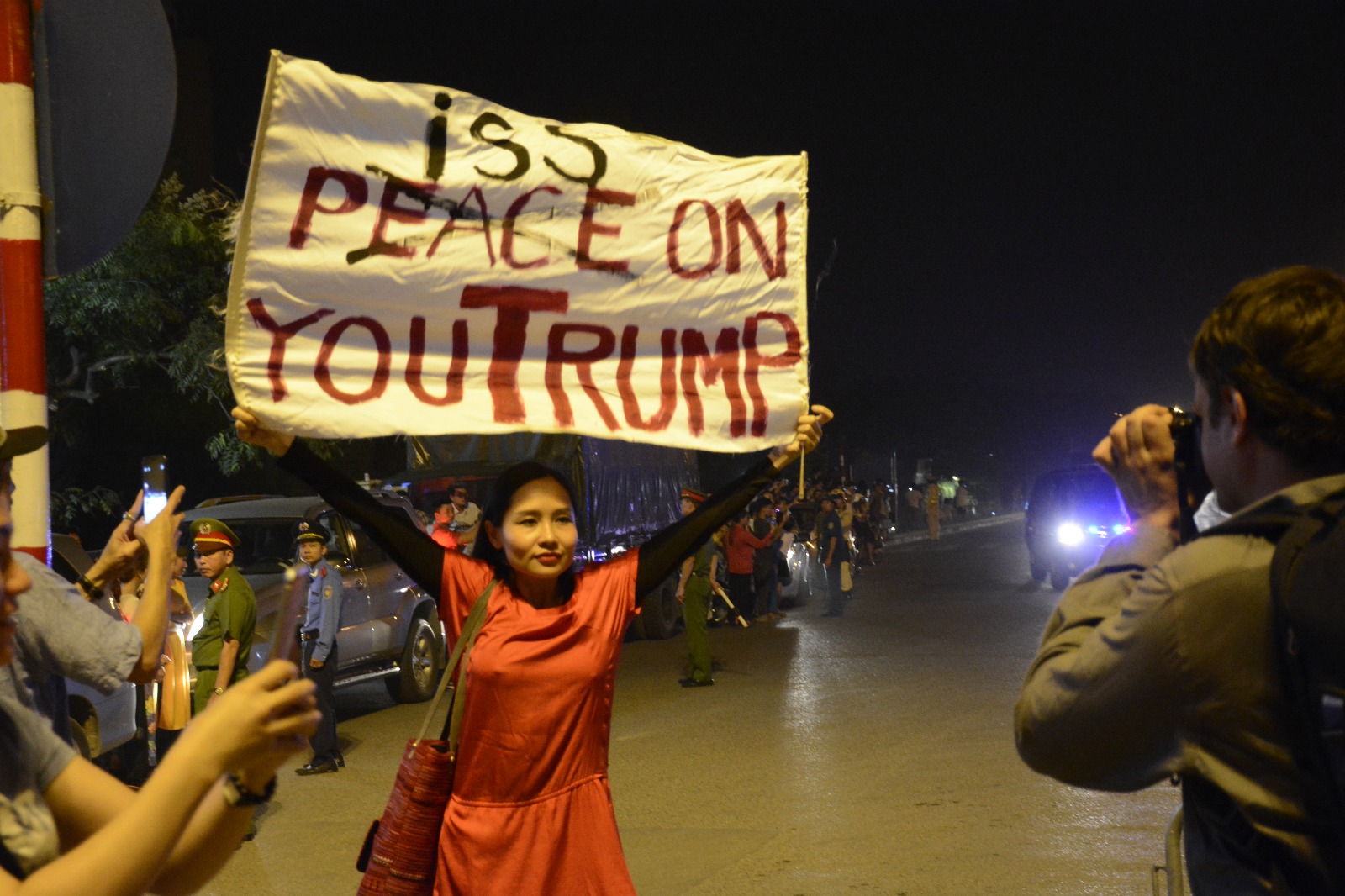 Mai Khoi holding banner reading "Peaceiss on you Trump" in Hanoi
Several activists were harassed leading up to and during the APEC Summit. There have been reports of house detentions, visits from police, surveillance, and restriction of movement.
Former prisoner of conscience Bui Thi Minh Hang, who is known for her participation in anti-China protests, was followed by police for several hours this week ahead of the Chinese President's visit to the country for the summit. She was detained last week for questioning, and her phone and money were confiscated.
Dissident singer Mai Khoi was locked in her home on Saturday by plainclothes police on Saturday November 11 after she held up a banner reading "Peaceiss on you Trump" in Hanoi as the president's motorcade rolled through town. A few hours later, a man and a woman, believed to be agents of the police secret service, forced their way into her home and ordered her eviction on the spot. Strange men also lingered around the property and made her feel unsafe. "I'm worried more than normal right now. I don't like the word scared, but I'm feeling uncomfortable. I think this is definitely the worst treatment I have received up until now," Khoi said. A 33-year-old singer who had met with President Obama in 2016, Mai Khoi has been harassed by the police for both her opinions posted on Facebook and her art.
International Advocacy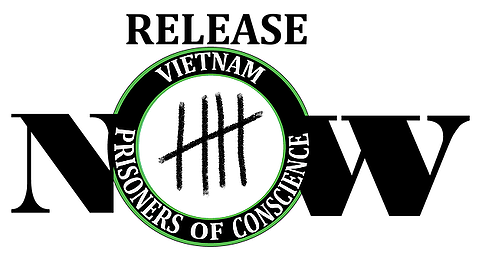 A coalition of 14 human rights organizations has launched the NOW! Campaign calling on Vietnam to immediately and unconditionally release 165 prisoners of conscience. Check out the database of current prisoners of conscience 
here
. In addition to the database, the campaign also maintains a 
feature
 for people to contribute to the existing information.
Seventeen nongovernmental organizations also released a letter ahead of the APEC Summit calling on world leaders to raise the issue of human rights in host country Vietnam and press for the release of prisoners of conscience. The letter specifically raised the cases of female bloggers Tran Thi Nga and Nguyen Ngoc Nhu Quynh, as well as Catholic activist Nguyen Van Oai; all three were sentenced to multiple years in prison this year. Read the full text 
here
.
In case you missed it, a group of 
Western and Vietnamese scholars and experts on Vietnam
 have also issued a joint 
statement 
condemning the imprisonment of two prominent Vietnamese pro-democracy bloggers. The statement's signatories include scholars from leading universities in Australia, Canada, France, The Netherlands, New Zealand, Singapore, the United Kingdom, and the United States. The signatories focused on the two imprisoned Vietnamese women because of "their lengthy sentences," their modest "offenses," and the fact that their young children "desperately need them at home."
Cybersecurity
A hacker group connected to the Vietnamese government has been found to be attacking websites of the ASEAN organization, governmental sites of several countries neighboring Vietnam, and human rights and civil society advocates within Vietnam. OceanLotus, also known as APT32, has been identified by cybersecurity firm Volexity as targeting the websites above-listed organizations since early 2015. OceanLotus has engaged in various nefarious acts against the targeted websites including digital profiling and information collection, using custom Google Apps designed for gaining access to victim Gmail accounts to steal e-mail and contacts, and attempting to install backdoors. The Cambodian national police confirmed that its site had been hacked and some data had been lost; officials in Thailand and the Philippines stated that they were not aware of hacking or damage, and that they were taking preventive measures to prevent such occurrences.
 The Vietnamese Ministry of Public Security (MPS) has released its final version of a draft of its proposed Cybersecurity Law, to be considered by the National Assembly in late 2017. The law, initially proposed just days after the Chinese government passed its own cybersecurity law, is 
strikingly similar to the Chinese law
. Both laws, for example, define the critical information that is to be protected in a similar manner, though Vietnam's law appears to be broader. Both laws also directly target information that is considered dangerous to the respective governments. The MPS has stated that the drafting process of the law began in 2016 and that cybersecurity laws from Japan, the Czech Republic, South Korea, and the U.S. were also consulted in drafting the Vietnamese law.
Independent Press
Check out The Vietnamese, an independent magazine in English that covers Vietnamese politics and human rights, which was launched on November 8. In its own words: "The Vietnamese is inspired by generations of independent journalists and human rights activists who risk their lives to advocate for press freedom and a peaceful transition to democracy in Vietnam. It is also inspired by some foreign independent media outlets, such as the Cambodia Daily, the Irrawaddy, Prachatai, and their roles in the democratic developments in our neighboring countries."
Several other independent news websites in English that cover the topic of human rights in Vietnam include Defend the Defenders, Vietnam Right Now, and, of course, our own website, The 88 Project.
Police Brutality
A draft joint circular of the Ministry of Public Security, the Supreme People's Court, the Supreme People's Procuracy and the Ministry of Defense requests that 
police interrogations must be filmed or recorded
. This is reported to be in an effort to reduce torture. Police must advise those in custody about the recordings before the interrogation and must stop the interrogation if the recording device fails. Vietnam has been criticized for its pervasive 
police brutality
 and high number of deaths in custody in recent years.
NEWS & ANALYSIS
The Vietnam Trump refuses to see: "Vietnam's authoritarian government has a long history of silencing and intimidating regime critics ahead of the arrival of foreign dignitaries. Nguyen Van Dai, a prominent human rights lawyer, was arrested in 2015 while on his way to meet with a delegation of European lawmakers in the capital. Others are often put in temporary house arrest coincident with Vietnam-staged global events."
The Evolution of U.S.-Vietnam Ties: "Vietnam's position on human rights is a recurrent source of contention with some members of the U.S. Congress, as well as other governments and global rights watchdog groups. The country is still governed by a one-party, authoritarian system that suppresses dissent, including from the political opposition, independent religious communities, bloggers, journalists, and human rights advocates and lawyers. Authorities carry out arbitrary arrests and detentions and extrajudicial killings; freedoms, such as those of the religion, assembly, and speech, are highly restricted; and the judicial system lacks transparency and its independence is compromised, according to reports by the U.S. State Department and international rights organizations, as well as congressional testimonies."
US-Vietnam still in a tentative embrace: "To be sure, local pro-democracy and other civil society activists weren't overly enamored with Obama, either. Both US presidents, one activist who requested anonymity said, are too deferential to the rights-curbing Communist Party in narrow pursuit of economic and security interests. Obama prioritized rapprochement with Vietnam, capped by the lifting of a decades-old arms embargo. But some say the concession only emboldened the Communist Party, which yielded little in return in terms of liberalization. Obama did, however, mention human rights when speaking in Hanoi last year, which Trump will almost certainly not."
"America First" means human rights last during Trump's visit to Asia: "'How much does it help to yell about these problems,' National Security Adviser H.R. McMaster told the press on Thursday. 'What the president is doing is being effective.' McMaster's comment was meant to imply that the president may be speaking about human rights in quiet, backroom conversations, rather than from the bully pulpit. But human rights groups like Amnesty International and Human Rights Watch have long believed shouting is effective. Hushing up horrors has not helped them get resolved. Yelling about them, on the other hand, has."
The Communist Party is reasserting control in Vietnam
: "The crackdown on dissidents has also been carried to the provinces, points out Carlyle Thayer of the University of New South Wales. 'It is an orchestrated, national movement,' he says. A lack of condemnation from abroad seems to be playing a part: according to Nguyen Anh Tuan, a dissident, security forces are 'pretty straightforward' about stating that Mr. Trump's apparent lack of concern for human rights has emboldened them."
TAKE ACTION
Please share the NOW! Campaign's database of 165 prisoners of conscience in Vietnam to raise awareness and advocate for their release. View the database here.
https://the88project.org/wp-content/uploads/2017/11/nguyen-thi-lanh-and-kids.jpg
480
640
kayleedolen
https://the88project.org/wp-content/uploads/2019/01/88project.png
kayleedolen
2017-11-13 08:15:26
2019-04-30 08:01:43
Vietnam Free Expression Newsletter No. 37/2017 – Week of November 6-12