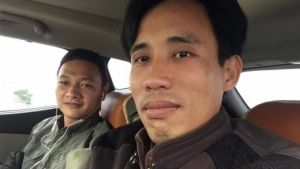 Vietnam Free Expression Newsletter No. 36/2017 – Week of October 30-November 5
Greetings from The 88 Project! We are bringing you news, analysis, and actions regarding human rights and civil society in Vietnam during the week of October 30-November 5. Environmental and labor activist Hoang Duc Binh's investigation period has ended; he will be charged under Article 258 for "abusing democratic freedoms." Police have targeted former prisoner of conscience Bui Thi Minh Hang and several Catholic priests and locals in southern Vietnam. Several international human rights groups and scholars have called for Vietnam to release political prisoners ahead of the APEC Summit on November 10. In the news, there is an analysis of a new bill in Vietnam and of Trump's impending visit to Asia. November 2 marked one year since doctor and blogger Ho Van Hai was arrested; he is still in pre-trial detention. Finally, please check out and share Human Rights Watch's interactive list of fifteen political prisoners.
Read the full newsletter, here.
And please subscribe!
HUMAN RIGHTS & CIVIL SOCIETY
Prisoners of Conscience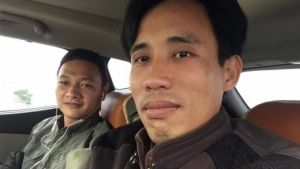 Labor and environmental activist, Hoang Duc Binh (right), along with fellow blogger Bach Hong Quyen (left), who is wanted by authorities
A Vietnamese activist arrested after protesting the government's handling of the Formosa toxic spill will be tried for "abusing democratic freedoms to infringe upon the interests of the state," and could face between two and seven years in jail. Hoang Duc Binh is the vice president of the independent organization "The Labor Movement of Vietnam" and a member of "No-U Saigon," a group that protests China's sweeping claims on the South China Sea. Binh was arrested after organizing protests over the government's response to the April 2016 waste spill.
Binh was 
kidnapped 
and arrested on May 15, 2017. He was transferred to B14 Detention Center in Hanoi in June 2015, and has not been able to receive supplies from family. His investigation was completed on 10/30.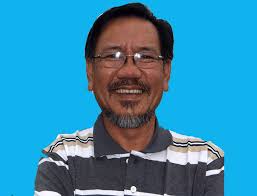 November 2 marked one year since Ho Van Hai's arrest. The doctor and blogger was arrested on November 2, 2016 for content posted online. Hai reportedly wrote on the April 2016 Formosa environmental disaster. He is still in pre-trial detention and faces up to 20 years in prison.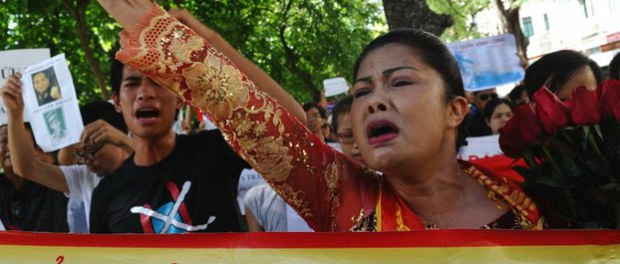 Photo of Bui Thi Minh Hang from 2011, from Radio Free Asia and AFP
A former prisoner of conscience, land rights activist 
Bui Thi Minh Hang
, was taken from her cousin's home for police 
interrogation
 for several hours
 this week. Police took away her smartphone and money and would not tell her the reason for her detention. Hang has been targeted repeatedly in recent years for her involvement in peaceful protests against China and was arrested in 2014 for "causing public disorder." She was sentenced to three years in prison and was released in early 2017.
Environmental Activism/Community at Risk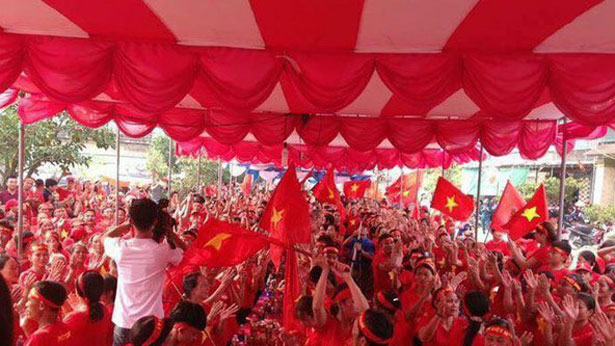 Red flag protesters. Source: RFA
Two priests who have worked to help fishing communities win redress from the Formosa Plastics Group for the April 2016 toxic spill were 
surrounded and threatened by a mob of people waving red flags
, in what the clergymen and rights group said is part of a broad pattern of government-supported abuse. One of the priests, Dominic Pham Xuan Ke, told reporters that he and fellow priest Joseph Nguyen Ngoc Ngu had come to the Diem My Commune People's Committee office in the spirit of working to solve problems, but then found themselves beset by the mob. "They said the group had gathered spontaneously, but that's impossible," said Father Ke. A retired Vietnamese propaganda official told reporters that the Red Flag groups were most likely given approval from governmental authorities.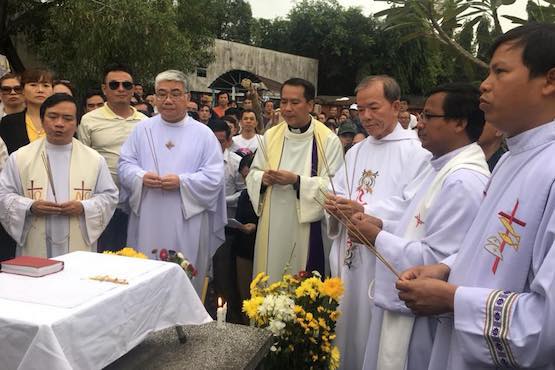 Priests offering incense in front of the tomb of former Republic of Vietnam President Ngo Dinh Diem. Source: UCANews
On November 1, at the commemoration ceremony in southeast Vietnam for Ngo Dinh Diem, the former South Vietnamese President who was assassinated during a coup in 1963, attendees were met with police resistance and openly attacked by pro-government thugs. Anna Nguyen Huyen Trang, a Catholic reporter working for the Redemptorist-run news blog Good News for the Poor said she was assaulted and injured.
International Advocacy
A group of 
Western and Vietnamese scholars and experts on Vietnam
 have issued a joint 
statement 
condemning the imprisonment of two prominent Vietnamese pro-democracy bloggers. The statement's signatories include scholars from leading universities in Australia, Canada, France, The Netherlands, New Zealand, Singapore, the United Kingdom, and the United States. The list includes a number of Western scholars who had previously refrained from publicly voicing their concerns and objections on the issue of Vietnamese political prisoners, fearing that they would lose their access to Vietnam by going public with their concerns. The signatories focused on the two imprisoned Vietnamese women because of "their lengthy sentences," their modest "offenses," and the fact that their young children "desperately need them at home."
Civil Rights Defenders released a 
statement 
calling on Cambodia, Burma, and Vietnam to end their crimes against and repression of journalists in those countries, citing the lengthy prison sentences given to citizen journalists Tran Thi Nga, Nguyen Ngoc Nhu Quynh, and Nguyen Van Oai this year in Vietnam. They released the statement in conjunction with The International Day to End Impunity for Crimes Against Journalists, November 2.
Human Rights Watch has called for the 
release 
of political prisoners in Vietnam ahead of the APEC summit on November 10. They cite an increased crackdown on activists and journalists this year and list 105 people currently in prison for their political or religious beliefs (this does not include people in pre-trial detention). Read about the 
cases of 15 highlighted Vietnamese political prisoners
 on their website.
RELEVANT NEWS & ANALYSIS
A cheat sheet to Trump's lengthy Asia visit: "Last year, during President Barack Obama's visit to Vietnam, the US announced it was lifting a decades-old arms embargo, but also emphasized that Vietnam had to make improvements on human rights. Trump is going to arrive in a Vietnam that is continuing, if not deepening, a crackdown on dissidents. Just days ahead of the visit, the daughter of imprisoned blogger Mother Mushroom posted a letter on her mother's Facebook page appealing to Trump's wife, Melania Trump, for help in freeing her mother. Vietnam also has concerns about China's activities in the South China Sea, and trade with the US—it stood to gain a lot from the Trans-Pacific Partnership trade deal that Trump has pulled America out of."
Sweeping Crackdown on Activists Makes Vietnam Look Like a Nervous APEC Host: "A record number of dissidents and bloggers have been jailed. Many have been harassed and beaten not only by the regular police but also by unidentified thugs working on the Party's behalf. All of this has been happening as Vietnam prepares for the 2017 Asia-Pacific Economic Cooperation (APEC) meetings to be held in Da Nang Nov. 6-11. Leaders from 21 member countries are expected to attend. One cause of official nervousness in Hanoi could be what happened when Vietnam hosted the annual APEC meetings 11 years ago, in 2006. On the eve of the 2006 APEC Summit, a coalition of Vietnamese dissidents issued a manifesto advocating democratic reforms. The group called itself Bloc 8406, based on the date when it issued the manifesto—April 8, 2006."
Bill demanding Google, Facebook install domestic servers raises eyebrows in Vietnam: "A draft internet security bill that would require foreign companies such as Google and Facebook to have offices and servers in Vietnam has been met with strong opposition from experts and an influential local business advocacy group. The bill, drafted by the Ministry of Public Security, says that 'foreign companies that provide telecommunications and internet services in Vietnam have to follow the country's laws, respect its sovereignty and national security, obtain a license, and have a representative office and server in the country to manage local data use.' This means that Facebook, Google, Viber and Skype would have to establish offices and servers in Vietnam. But experts say it is not as simple as that and the requirements are not only unnecessary but also runs counter to international conventions."
Power struggle unfolds behind Vietnam's state reforms: "Vietnam's leader has declared a sweeping government overhaul that will slash 400,000 public-sector jobs. But the campaign seems as much about his consolidating power in the one-party state as about righting its finances."
TAKE ACTION
Please share Human Rights Watch's interactive list of 15 political prisoners to raise awareness about their situation and advocate for their release.
https://the88project.org/wp-content/uploads/2017/11/hoang-duc-binh-and-bach-hong-quyen.jpg
169
300
kayleedolen
https://the88project.org/wp-content/uploads/2019/01/88project.png
kayleedolen
2017-11-06 08:48:45
2019-04-30 08:01:48
Vietnam Free Expression Newsletter No. 36/2017 – Week of October 30-November 5