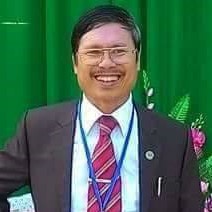 Vietnam Free Expression Newsletter No. 3/2019 – Week of January 14-20
Featured Image: Dao Quang Thuc
Greetings from The 88 Project! We are bringing you news, analysis, and actions regarding human rights and civil society in Vietnam during the week of January 14-20. Activist and former teacher Dao Quang Thuc's 14-year sentence was reduced to 13 years on appeal this week. This week also marked anniversaries for many political prisoners, including two years since Catholic activist Nguyen Van Oai was arrested, nine years since pro-democracy blogger and entrepreneur Tran Huynh Duy Thuc was tried and handed a 16-year sentence, and also nine years since religious advocate Rmah Hlach was sentenced to 12 years. Three people visiting a memorial to fallen soldiers of the former South Vietnam were harassed this week, four people were detained for 30 hours for protesting toll fees, and community members in Loc Hung affected by recent forced evictions submitted a petition to the government. In international advocacy, you can prepare yourself for Vietnam's impending Universal Periodic Review, which starts on January 22, by reading submissions to the UN, as well as Human Rights Watch's World Report 2019 chapter on Vietnam. Ahead of the UPR, a group of international organizations have sent a letter to the EU, calling for a delay in ratification of the pending EU-Vietnam Free Trade Agreement. In the news and analysis section, read about artists' reactions to Vietnam's Law on Cybersecurity and the long-running land dispute between Vietnam and the Catholic Church. In case you missed it, in this edition, we are highlighting the female activists who received the longest prison sentence in Vietnam in 2018. And coming up in the week ahead, six political prisoners face their appeal trials, including Luu Van Vinh, who was sentenced to 15 years in prison for his role in protests and forming a pro-democracy group, and Do Cong Duong, who was sentenced to nine years for his work against corruption and land rights violations. Please take action for Michael Nguyen, a US citizen who has now been detained in Vietnam for six months without charges.
Please subscribe to the newsletter!
HUMAN RIGHTS & CIVIL SOCIETY
Prisoners of Conscience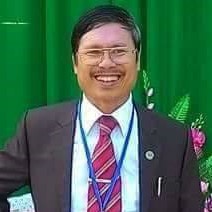 On January 17, The High People's Court of Hoa Binh Province held an 
appeal trial
 against 
Dao Quang Thuc
. In the first instance trial, he was sentenced to 14 years of imprisonment and five years of probation for "carrying out activities aimed at overthrowing the people's administration." At the end of the appeal trial, the Judge reduced his sentence from 14 years to 13 years in prison. Thuc is a former teacher who was originally arrested in October 2017 for online postings and peaceful participation in protests over the environment and territorial disputes with China; his family alleges he was mistreated, and even tortured, while in pre-trial detention.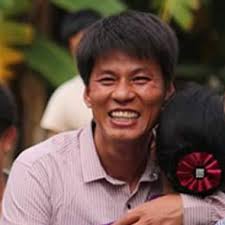 This week, we remember Catholic activist 
Nguyen Van Oai
, who was arrested two years ago, on January 19, 2017. Prior to arrest, he was active in the Vietnamese labor rights movement and protests against Chinese relations with Vietnam. He has also blogged on social and political issues. He was originally arrested in 2011 and sentenced to four years in prison. After his release in 2015, he was re-arrested in January 2017 on allegations of violating his probation and sentenced to five years.
Used in the Amnesty International Report: ASA 41/007/2013 – Silenced Voices. Prisoners of Conscience in Viet Nam
This week also marks nine years since blogger, entrepreneur, and pro-democracy leader 
Tran Huynh Duy Thuc
 was sentenced to 16 years in prison. In the years since, he has endured difficult prison conditions, including health issues, hunger strikes, and unannounced prison transfers. In November, he believes there was 
attempted poisoning
 against him in prison. He has faced worsening conditions in recent months, some believe in retaliation for his refusal to accept 
exile in exchange for freedom
 and for his attempts to use revised parts of the Criminal Code to appeal his sentence.
Activists at Risk
On January 19, Nguyen Thuy Hanh, Dung Truong, and Nguyen Van Phuong went to Ly Thai To Monument to honor soldiers of the former South Vietnam (Republic of Vietnam) who died in the Hoang Sa battle on January 19, 1974. When they were on the way back from the trip, the 
police of Hoan Kiem District blocked them
 and beat Truong Dung. They only stopped beating him when Hanh shouted loudly. Finally, the police of Thanh Xuan District escorted all of them to Hanh's house in Hanoi.
After months of unrest regarding BOTs (Build-Operate-Transfers), which effectively charge drivers a toll for a private development project authorized by the state, four protesters were detained and barricaded in an alley in the most recent round of protests this week. They were held and intimidated for 30 hours. Protesters argue that the BOTs were arbitrary, placed in incorrect locations, or also collect tolls past the allotted contract times.
Community at Risk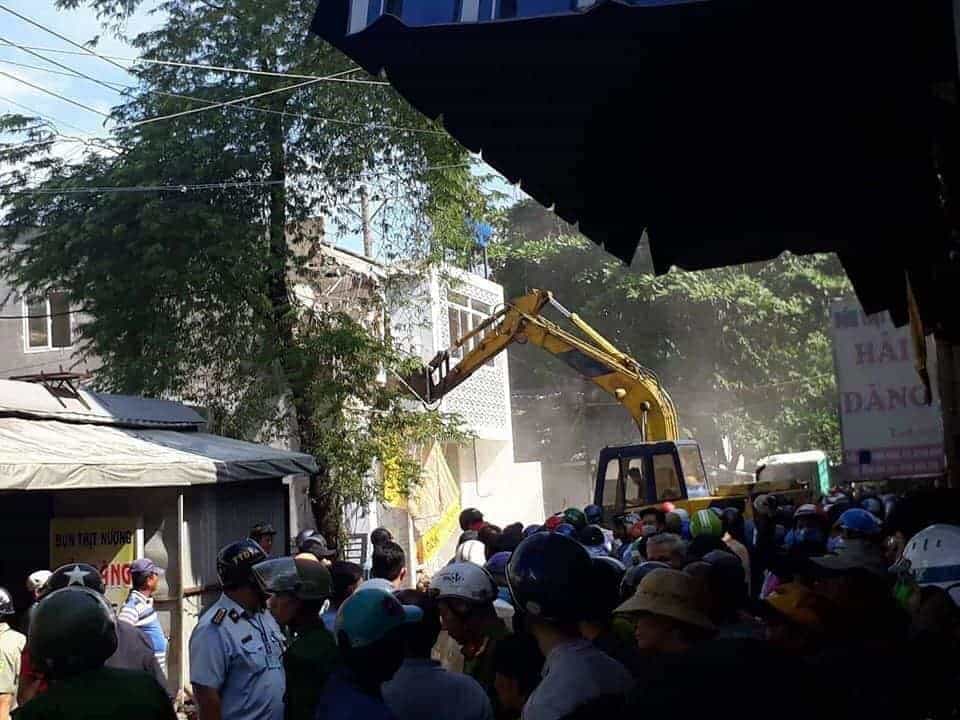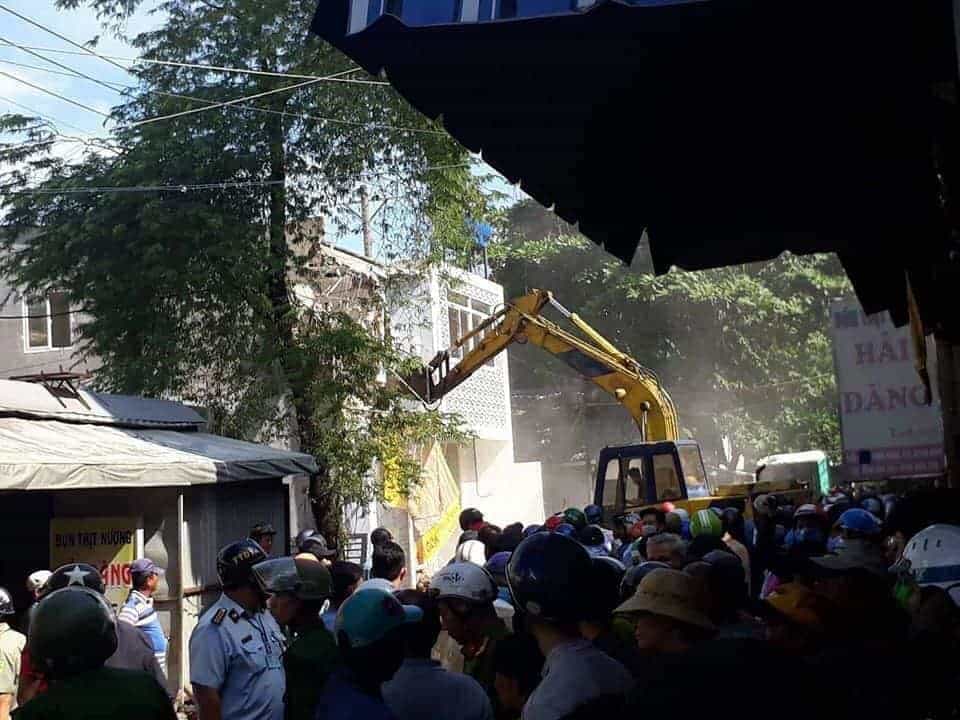 International Advocacy
Vietnam will face its Third Cycle of the Universal Periodic Review by the UN Human Rights Council starting on January 22. You can read the government's submission to the UN, as well a summary of stakeholders' comments, 
here.
 In an 
interview with CIVICUS
, VOICE's Anna Nguyen said of the UPR's importance: "The UPR process is open to all actors, not just states, which is why it is a great opportunity for civil society, and especially unregistered civil society groups, to get involved in the process by bringing in a perspective that is different from that of governments. It gives civil society an opportunity to highlight a state's human rights record, as well as to provide recommendations to improve it."
Human Rights Watch released its World Report 2019, which includes a section on Vietnam's increasingly restrictive civic space and dismal human rights conditions in 2018. They began the chapter on Vietnam by saying: "The Communist Party of Vietnam monopolizes power through the government, controls all major political and social organizations, and punishes people who dare to criticize or challenge its rule." The chapter goes on to mention the twelve people tried for "propaganda against the state" in 2018 — mainly bloggers — and the five Hoa Hao Buddhists sentenced in a case of religious persecution, as well as raids against activists in private spaces, and the US's increasingly close ties with Vietnam under the Trump administration.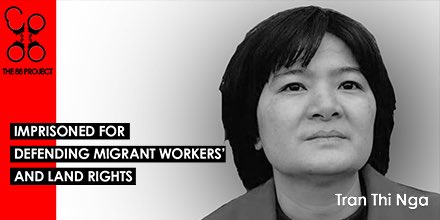 Tran Thi Nga, one of the political prisoners mentioned by name in the letter to EU leaders
A group of international NGOs, including Vietnamese groups like the Interfaith Council of Vietnam and the Independent Journalists Association of Vietnam,
 have called on the EU
 to delay ratifying a proposed free trade agreement with Vietnam that is now in its final phases. The letter asks the leadership to halt any finalization of the agreement until Vietnam demonstrates human rights improvements. It references the restrictive Law on Cybersecurity, which came into effect in Vietnam at the beginning of the year, as an example of Vietnam's continued crackdown on dissent.  The petitioners call for the release of imprisoned activists and religious and democracy leaders, including 
Tran Huynh Duy Thuc
 and 
Tran Thi Nga
, revision of the oppressive Criminal Code, and an end to the use of the death penalty, among other items.
NEWS & ANALYSIS
Vietnam artists seek 'liberation' from cybersecurity law
: "Hanoi keeps a close eye on its critics by tapping their phones, sending spies to private gatherings and intimidating artists who perform abroad.  Now social media, once a safe haven for artists to express their opinions and protest the government, is coming under state control. Issues in Vietnam like the assault on free speech, arrests of human rights defenders and criticism of the government's move to sell land to foreign investors, were formerly addressed by protesters on social media. But it is becoming increasingly difficult for them to protest online. 'Online space is a refuge in this repressive state,' Khoi told DW. 'But this space is vanishing now.'"
Vietnam's Politburo clamps down
: "Amid the SEZ fuss, Vietnam's legislature approved a 
cybersecurity law
 that was vigorously promoted by the Ministry of Public Security. A provision of the 
new law
 poses a dilemma for foreign social media providers like Facebook and YouTube. They risk expulsion from a large and lucrative market if they don't agree to store detailed data on their Vietnamese users and make that data available to the police upon request. Though the new law went into effect on 1 January this year, a 
draft decree
 on its implementation gives companies until January 2020 to reach full compliance. Already, however, Facebook is no longer a safe place for citizens who criticise the party-state. Hanoi is tightening its surveillance of dissenters, online and off. According to the 
88 Project
, the number of 'prisoners of conscience' in Vietnam has more than doubled since 2016. Courts are routinely meting out much harsher sentences than had been the norm. 
A Vietnam-based 'advanced persistent threat group'
 has deployed upgraded technology against websites and blogs that publish uncensored news and commentary. And the Ministry of Public Security seems to have granted local police a remit to arrest Facebook users who too actively post comments disparaging the party-state or, in the case of a young man in Nhatrang, just 
read them
."
Vietnam demolitions pit Catholic Church against authorities: "In several incidents, churches and monasteries in Hanoi, Hue and Saigon have been attacked and come under pressure to accept demolition and the expropriation of their land, according to a report published Wednesday by Christian group Open Doors. Local authorities cited by state-run Tuoi Tre newspaper said the homes in Tan Binh district were built illegally on public land. The incident reflected a 'pattern of behavior' of the government towards church land in the country, said Vincent Long Van Nguyen, a Vietnamese-born bishop in Australia. 'Authorities often resort to the use of force to seize such properties and land in places which have potential commercial value,' Nguyen said in a statement posted last week on the website of the diocese of Parramatta near Sydney."
IN CASE YOU MISSED IT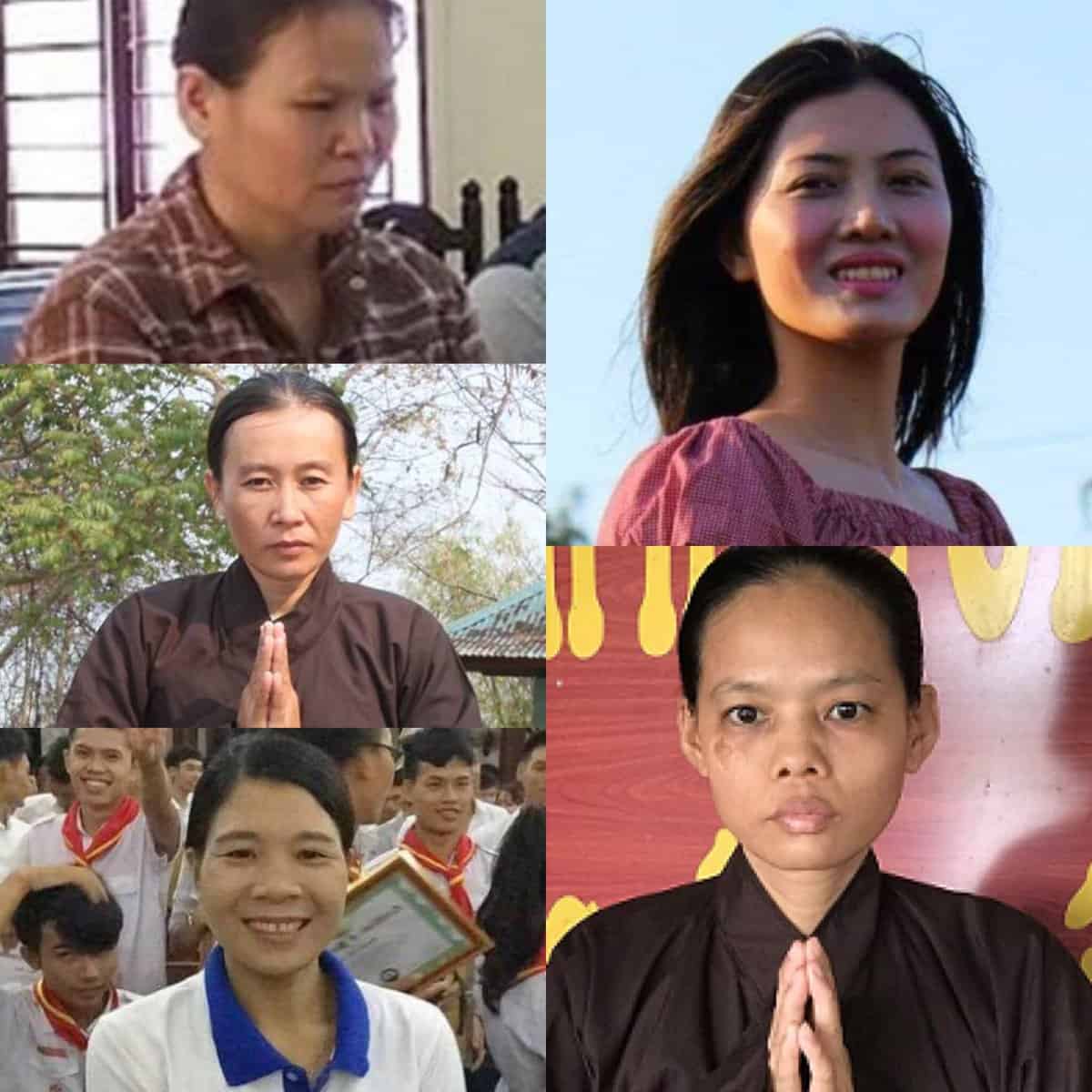 These are the women in Vietnam that were given the longest sentences for peacefully promoting their beliefs in 2018, with Tran Thi Xuan topping the list with her nine-year sentence. From top, clockwise, the women are:
— Pham Thi Thu Thuy – sentenced to two and a half years.
— Huynh Thuc Vy – sentenced to two years and nine months
— Bui Thi Bich Tuyen – sentenced to three years
— Tran Thi Xuan – sentenced to nine years
— Le Thi Hong Hanh – sentenced to three years
COMING UP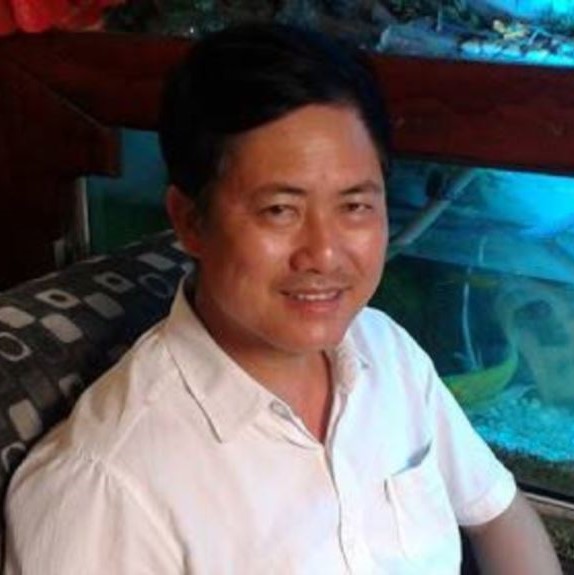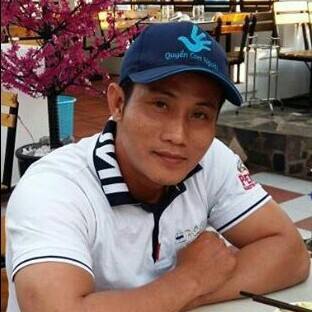 Luu Van Vinh (left) and Nguyen Van Duc Do (right)
Luu Van Vinh (sentenced to 15 years) and his co-defendants Nguyen Quoc Hoan (13 years), Nguyen Van Duc Do (11 years), Tu Cong Nghia (10 years), and Phan Van Trung (also known as Thich Nhat Hue, 8 years) will face an appeal trial in Ho Chi Minh City on January 21. Vinh took part in environmental and sovereignty protests and founded a pro-democracy group, the Coalition for Self-Determination for Vietnamese People; his co-defendants were tried for their alleged affiliations with the group, which called for political change in Vietnam.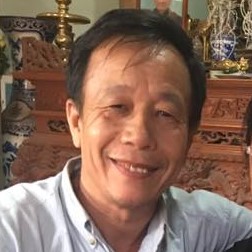 On January 23, citizen journalist and land rights activist Do Cong Duong will face an appeal of one of his charges, "abusing democratic freedom," in Hanoi. It has been almost a year since he was arrested for filming a forced eviction and posting anti-corruption articles and commentary online. He was sentenced to a total of nine years in prison in 2018 in two separate trials, five for "abusing democratic freedoms" and four for "disturbing public order." His appeal of his four-year sentence has already been denied.
TAKE ACTION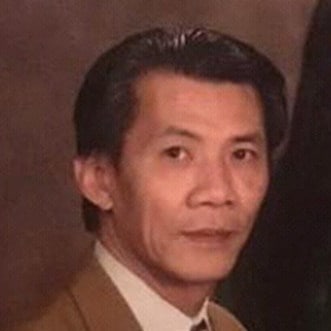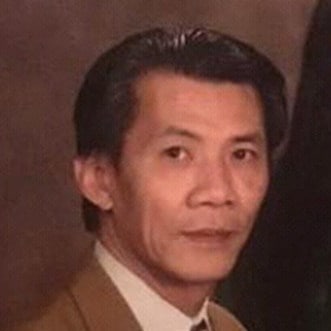 Take action for US citizen Michael Nguyen, who was detained in Vietnam over six months ago; still, no formal charges have been announced against him. He is not permitted visits from lawyers nor family. Little information has been available about his case, even to US officials. Call on Vietnamese authorities to release him from detention by signing this petition on Change.org.
© 2019 The 88 Project
https://the88project.org/wp-content/uploads/2018/04/dqt.jpg
212
212
kayleedolen
https://the88project.org/wp-content/uploads/2019/01/88project.png
kayleedolen
2019-01-21 10:08:15
2019-04-30 07:51:36
Vietnam Free Expression Newsletter No. 3/2019 – Week of January 14-20