Vietnam Free Expression Newsletter No. 16/2019 – Week of April 15-22
Featured Image: Political prisoner Nguyen Huu Vinh
Greetings from The 88 Project! We are bringing you news, analysis, and actions regarding human rights and civil society in Vietnam during the week of April 15-21. After nine months in detention, young activist Huynh Duc Thanh Binh has finally been able to meet with his family. Blogger Nguyen Huu Vinh (Anh Ba Sam) will soon be released from prison, but his family has received strange messages ahead of the release. Political prisoner Tran Hoang Phuc has warned his family to be careful travelling, likely after threats or harassment against him in prison. And police have questioned a Facebooker regarding posts shared by him and his staff regarding national issues. This week, we remember the arrest anniversaries of several political prisoners and the birthday of freelance journalist Nguyen Van Hoa, who just spent his third birthday in prison. He's only 24. Also, two former political prisoners are in poor health and in need of support. In international advocacy, read an open letter from several international organizations to EU leaders calling for the release of imprisoned legal advocate and democracy activist Nguyen Bac Truyen, and the latest from Reporters Without Borders's 2019 RSF Index, which again ranked Vietnam near the very bottom of the list for press freedom. In the news, read about a campaign to stop sexual abuse in Vietnam and an artist making waves in the heavily-censored country. Take action for political prisoners by donating to the Doan Ket, or "Solidarity," Fund.
Please subscribe to the newsletter!
HUMAN RIGHTS & CIVIL SOCIETY
Prisoners of Conscience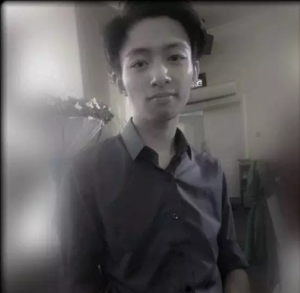 After being held in a detention center for nine months, accused of "carrying out activities aiming at overthrowing the people's administration", Huynh Duc Thanh Binh was finally able to meet his mother on April 17, 2019. His mother, Hue, revealed that their meeting only lasted 30 minutes and revolved around family topics. There were three public security officers surrounding them and threatening to stop their conversation if they changed the topic. Also, Binh has been not allowed to meet with his defense counsel, Nguyen Van Mieng, although his mother signed a contract with him after Binh's arrest.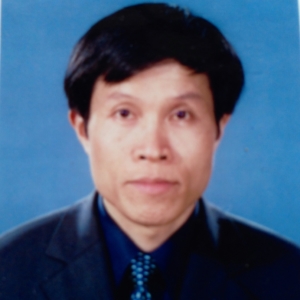 Political prisoner Nguyen Huu Vinh's family is concerned about him and his upcoming release from prison. Vinh and his family have experienced strange treatment in Prison No. 5 in Thanh Hoa province, including being warned not to bring any non-family members with posters and banners on the day of his release from prison. Vinh, also known as Anh Ba Sàm, was a popular blogger and is a former police officer. He was sentenced to five years in prison for "abusing democratic freedoms" for his articles published on two websites. He is due for release on May 5, 2019.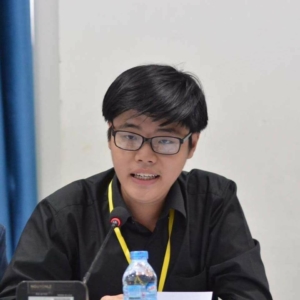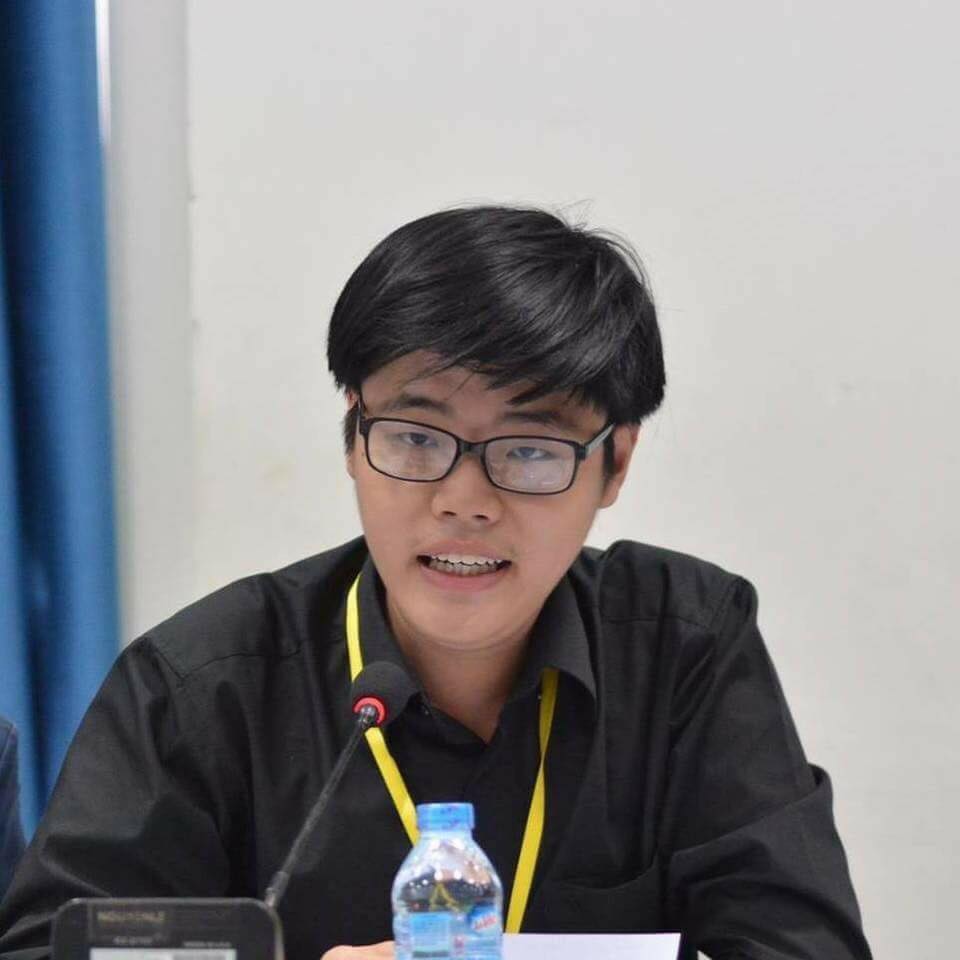 On April 19, 2019, Tran Hoang Phuc made a phone call to his family, warning them to be careful in travelling. He emphasized using a black box car, coordinate positioning system, and recording machine, especially remote positioning equipment, for others to always know where they are. He also reminded them to return the same way, with at least five black box cars so that they can have evidence if attacked. His warnings likely show that Phuc has been threatened or harassed by the authorities after his family publicized their Open Letter to President Donald Trump. This statement, made by his mother, was based on Phuc's previous harassment. After arguing about the law with the representative of Hanoi People's Procuracy in Phuc's first instance trial on January 31, 2018, Phuc was immediately transferred to another prison cell with 15 others.
On April 17, 2019, the security forces of Phan Rang City, Ninh Thuan province, sent an "invitation" to Lam Van Lay, requiring him to work with them regarding his articles on Facebook. Lam Van Lay, 61, a former teacher and business owner, often shares his views on national issues through his Facebook account. He was also said to refuse many times the request of security forces to fire his staff, who used social media to protest against land rights and social injustice.
This week, we remember the arrests of several activists, including:
Pham Thi Phuong, a democracy activist and former military officer, arrested April 2010 and sentenced to 11 years in prison for subversion
Siu Thai, an ethnic Christian Montagnard, arrested April 2011 and sentenced to 10 years, recently beaten so harshly in prison that he lost his memory
A Hyum (Ba Kol), an ethnic Christian Montagnard activist, arrested in April 2012 and sentenced to eight years in prison.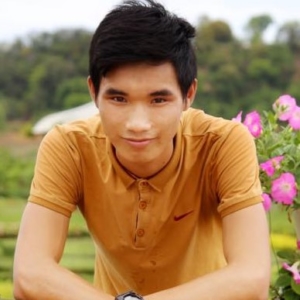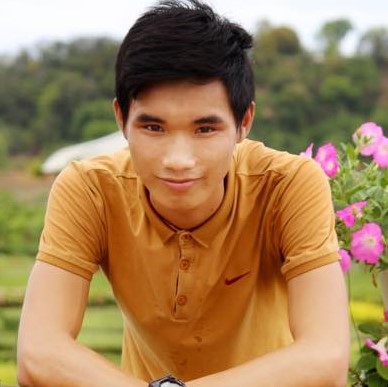 April 15 was Nguyen Van Hoa's 24th birthday. Unfortunately, it was his third birthday spent in prison. This brave young activist captured drone footage of protests after the Formosa environmental disaster and was later sentenced to seven years in prison.
Activists at Risk
According to Facebooker Nguyen Thuy Hanh, former political prisoner Huynh Ngoc Tuan was hospitalized for a medical emergency. Because of tuberculosis, his health has seriously declined. Hanh is calling for support at Pham Ngoc Thanh Hospital, No.120, Hong Bang Street, Ward 5, Ho Chi Minh City.
Activists are rallying around Nguyen Hoang Quoc Hung, a former political prisoner and co-founder of the Viet Labor Movement, who is in poor health after completing his nine-year prison sentence. Hung has been unable to fund his medical expenses. The efforts by activists and other concerned individuals have raised 100 million dong.
International Advocacy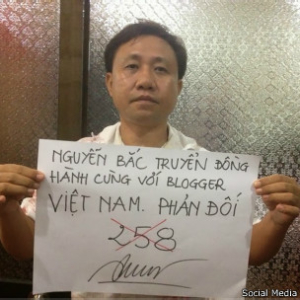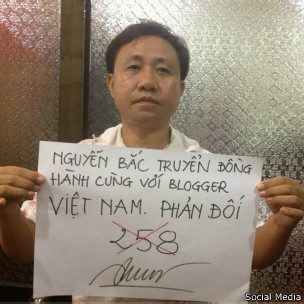 Several international human rights organizations have sent a letter to top EU leaders as negotiations continue on the EU-Vietnam Free Trade Agreement, urging Vietnam to release religious and democracy activist Nguyen Bac Truyen from prison. Truyen has spent years defending the legal rights of victims of injustice and advocating for human rights; for this work, his family has been harassed and Truyen arrested and sentenced to 11 years in prison. Read the letter, here.
Reporters Without Borders released its 2019 RSF Index on press freedom in the world. The report on Asia highlights shifting trends in the region, including worsening conditions in China and Vietnam, stating: "Conversely, two countries already festering near the bottom of the Index – China and Vietnam – both managed to fall another place, to 177th and 176th respectively, because of the monopoly of power exercised by their presidents, Xi Jinping and Nguyen Phu Trong." The report says that Vietnam is currently holding 30 journalists in prison. Read the specifics on Vietnam, which dropped one position on the list since 2018, here.
NEWS & ANALYSIS
Online Campaign "If not NOW then WHEN?" Seeks To Stop Sexual Abuse In Vietnam: "Although the perpetrator was captured on an elevator's security cameras while assaulting a woman by kissing her on the mouth, the authorities decided to treat the case as an administrative violation and did not file charges against him. Such a decision has angered the entire nation that has watched the story where his criminal actions unfold on social media, leading some activists and organizations to decide to take action. The 'If not NOW then WHEN?' campaign was launched within a few days after the administrative fine of 200,000 VND was made public. And because the organizers want to stress that a person's dignity is worth more than the 200,000 VND fine, they have included the hashtag #nhanpham200. Citing loopholes in the law which allow for unjust decisions such as the 200,000 VND case, the campaign calls on citizens to demand Chairwoman Nguyen Thi Kim Ngan and other members of Vietnam's National Assembly to take action and change the laws."
As Vietnam Polices Speech, an Ex-Cop Thrives on the Art Scene: "Art historians say countries often have to hit a certain level of development before they can support performers like Mr. Khanh. Vietnam has reached that inflection point. A booming domestic market and rising foreign investment have minted a generation of millionaires here and a new middle class, many of them enthusiastic buyers of paintings and other artworks. But Vietnam is still a communist state, and Mr. Khanh and others say the government is closing off more space for free expression—particularly on the internet, and especially on social media."
TAKE ACTION
Consider contributing to the Doan Ket Fund, a fund established by the NOW! Campaign to support political prisoners in Vietnam. "Doan Ket" is Vietnamese for "solidarity." All donations go directly and entirely to political prisoners and their families or to individuals identified by the NOW! Campaign as at risk of arrest, detention, and imprisonment.
© 2019 The 88 Project
https://the88project.org/wp-content/uploads/2019/03/nguyen-huu-vinh_square.jpg
2204
2204
kayleedolen
https://the88project.org/wp-content/uploads/2019/01/88project.png
kayleedolen
2019-05-01 03:19:06
2019-05-01 03:19:06
Vietnam Free Expression Newsletter No. 16/2019 – Week of April 15-22