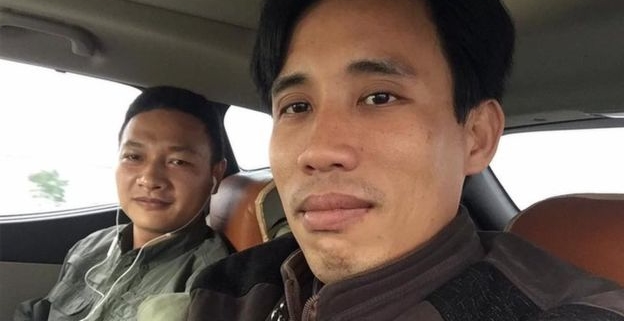 Vietnam Free Expression Newsletter No. 24/2017- Week of August 7-13
Greetings from Huong, Ella, and Kaylee from The 88 Project! We are bringing you news, analysis, and actions regarding human rights and civil society in Vietnam during the week of August 7 to 13. So far, 21 activists have been persecuted by Vietnamese authorities in 2017, and many more attacked, intimidated, and harassed. Nguyen Van Oai is one of these 21 activists, arrested in January 2017. He is now set to go to trial on August 21 under Articles 247 and 304 of Vietnam's criminal code. Authorities have added another charge to one of the other 21 activists as well, environmental activist and blogger Hoang Duc Binh, charging him more than three months after his arrest under Article 143. Lawyer Nguyen Van Dai has now been in pre-trial for over 600 days; connections to him are what many fear triggered a massive string of arrests of activists in recent weeks. In a rare trial, local officers have been charged for misuse of power in land dealings in Dong Tam commune, but targeting of environmental activists continues. Vietnam has announced plans to start a new online monitoring system for information it deems to be deceptive, and 13 more Montagnard asylum-seekers have returned to Vietnam after having their asylum applications rejected. Catch up on the news regarding Vietnam and its international relations this week, and please take action for several recently-arrested activists.
Read the full newsletter, here.
And please subscribe!
HUMAN RIGHTS & CIVIL SOCIETY
Prisoners of Conscience
Former prisoner of conscience Nguyen Van Oai will go to trial again on August 21 after seven months of pre-trial detention. He was 
arrested on January 19 by plainclothes police
 under Articles 257 ("resisting persons in performance of their official duties") and 304 ("failure to comply with sentence") for allegedly resisting officers while under house arrest, which he has been serving since 2015. He was arrested in 2011 under Article 79 along with other religious youths and sentenced to four years in prison and three years of probation. He has a newborn daughter, born on August 9, and his wife has suffered hospitalizations during the pregnancy while Oai has been in detention. Read our analysis of the burden of repression of dissent on families, in the Asia Sentinel, 
here
.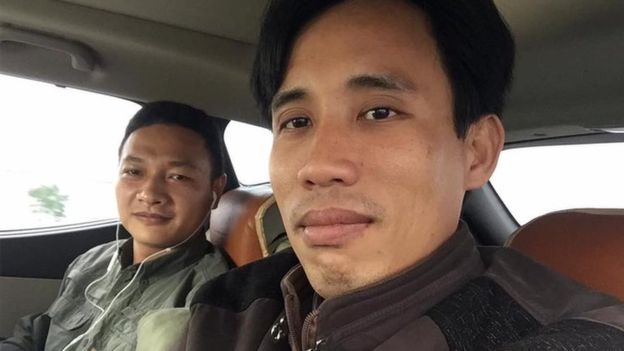 Labor and environmental activist, Hoang Duc Binh (right), along with fellow blogger Bach Hong Quyen (left), who is wanted by authorities
Authorities have added another charge to Hoang Duc Binh, an environmental activist and blogger arrested for his role in Formosa protesting and organizing activities with Catholic communities in central Vietnam. He was kidnapped on May 15, 2017 and originally arrested under Article 257 ("resisting persons in the performance of their official duties") and 258 ("abusing democratic freedoms"); now he also faces charges under Article 143 ("destroying or deliberately damaging property"). He was transferred to a Ministry of Security-run prison in June 2015, at which he has been unable to receive supplies from family.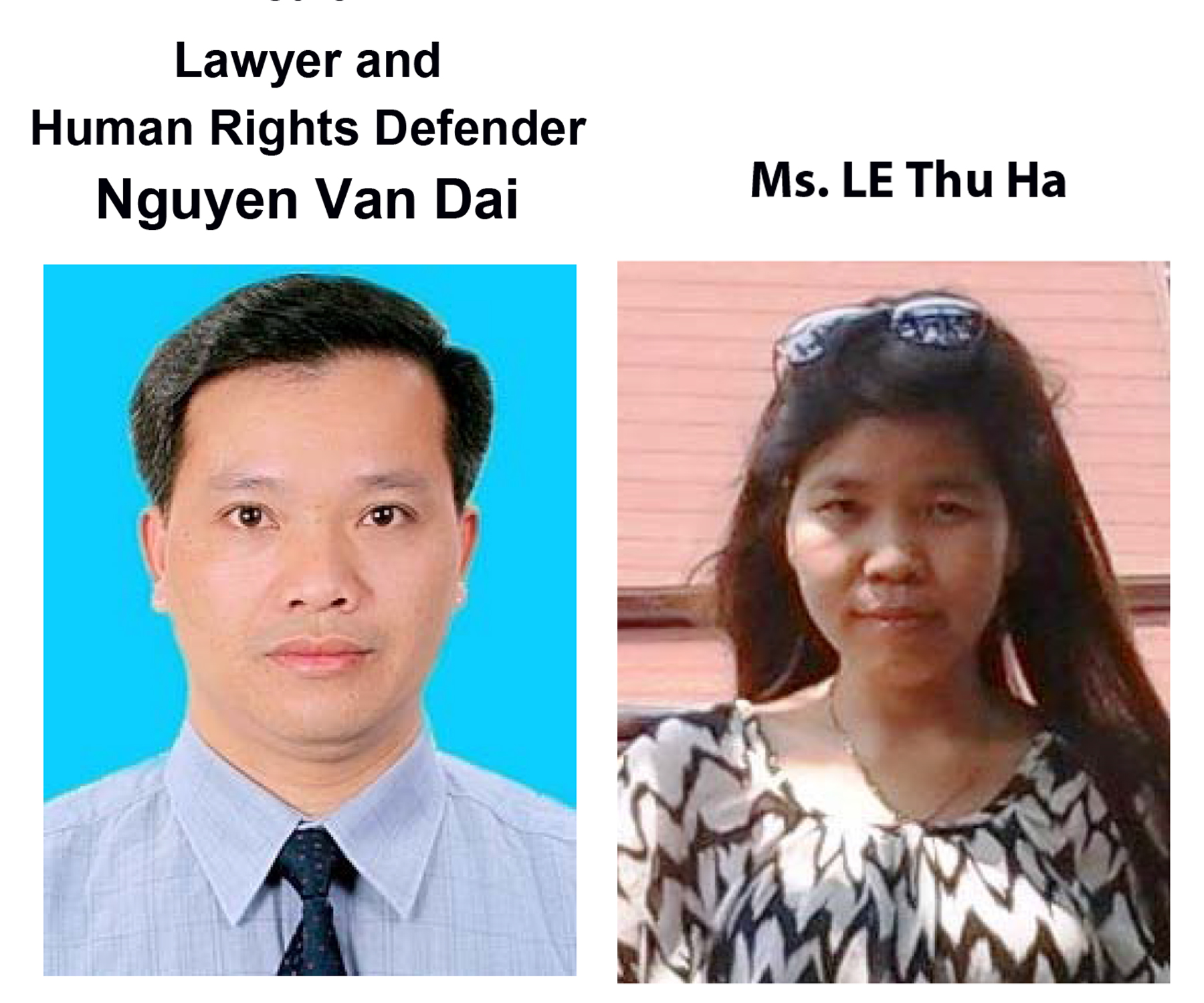 Lawyer Nguyen Van Dai just passed the mark of 600 days in pre-trial detention. He was arrested in December 2015. His colleague, Le Thu Ha, also remains in pre-trial detention. Activists met to commemorate these 600 days and call for his release.
Environmental Activism/Community at Risk
After a protest walk and widely-circulated petition last month, Vietnam has 
agreed to drop plans
 for a sludge-dumping agreement in the Binh Thuan Sea.  Authorities kept 
harassing activists
 associated with the protest walk in July after they were originally detained, attacked, and later released.
On August 9, 14 local officials were 
sentenced to 1.5-6.5 years in prison
 for their handling of affairs and misuse of power in Dong Tam land dealings. Local officials were part of a dispute with local land owners in April 2017, which resulted in a stand-off and temporary holding of the officials by locals.
Internet Freedom
Vietnam has taken initial steps to 
start its online monitoring system
 with dual goals of preventing cybercrime and seeking out information it deems to be "misleading." This will be coupled with public education on legal consequence for targeted activities, as well as a public campaign aimed at "teaching young people to filter out inappropriate information online."
Refugees & Asylum-Seekers
Thirteen more 
Montagnard refugees have been transported back to Vietnam
 from Cambodia after having their asylum applications rejected. Over 140 Montagnards, who often face religious persecution, have been returned to Vietnam's Central Highlands over the past two years. While some claim that this is a voluntary return, many consider it to be forced. Thirty-six other people are waiting for decisions on their applications.
RELEVANT NEWS & ANALYSIS
Vietnam: Explaining Uptick in Arrests of Activists & Bloggers: "The third factor is a likely assessment by the MPS that the Trump Administration will make only routine protests about the arrest of activists and bloggers. This assessment would have been borne out by Prime Minister Nguyen Xuan Phuc's May meeting with President Trump at the White House. The only critical public comments by the U.S. have been remarks by outgoing Ambassador Ted Osius and a statement by the U.S. Embassy in Hanoi. […]The fifth factor is related to Vietnam's relations with China. Several years ago, as a result of public demonstrations and a war of words on the internet by Vietnamese and Chinese netizens, the leaders of the two countries agreed "to steer public opinion." Many of the recent arrests have included bloggers who have been critical about Chinese behavior in the South China Sea and the response by the Vietnamese government. Chinese Embassy officials in Hanoi, from the Ambassador on down, would have lost no time in urging Vietnam to take action against those who "hurt the Chinese people" or affect China's interests."
How A Kidnapping In Berlin Could Bring Down Vietnam's FTA With Europe: "Even before Thanh's kidnapping, there were suggestions that the EVFTA might be delayed because of Vietnam's horrendous human rights record, which some believe has worsened in recent years. A ruling now means the EVFTA has to be approved by each of the EU's 28 member nations, as well as the European Parliament, and human rights groups are busy lobbying them to reject it – or, at least, force through major changes that would mean the EU only accepts the agreement if Vietnam's government improves human rights."
Vietnam wins U.S. defense pledges as tension with China grows: "The defense ministers agreed on a visit by a U.S. aircraft carrier to Vietnam next year – the first such visit since the Vietnam War ended in 1975. President Donald Trump discussed the possibility of a carrier visit with Vietnamese Prime Minister Nguyen Xuan Phuc when they met at the White House in May."
'It's Very Easy to Die There': How Prisoners Fare in Vietnam: "The result, policy experts and rights advocates say, is a court system where arrests almost always lead to convictions and a prison system where human rights are an afterthought. Corruption, impunity and violence in prisons are mostly tolerated, these advocates say, because the system serves the party's interests by silencing dissidents and enriching prison guards."
Trump blamed for surging crackdown on Vietnamese dissidents: ""I can say everything has its relation. Nothing relates to nothing," said Dinh Hoang Thang, Vietnam's former ambassador to the Netherlands, when asked if the recent judicial action against dissidents stemmed from the Trump administration's indifference to human rights."
Rising Environmental Awareness in Vietnam: "Environmental issues are currently ebbing away at the legitimacy of the party, which has traditionally rested on its economic performance. Some have even written that environmental issues have become the "Achilles heel of the VCP". What is clear is that these environmental incidents are having wide and lasting affects on public consciousness, as the wide-spread protests have shown."
TAKE ACTION
Please take Amnesty International's Urgent Action for the four dissidents involved in various civil society organizations that were arrested under Article 79 on July 30 amidst a brutal summer for activists in Vietnam. They are Nguyen Trung Ton, Nguyen Bac Truyen, Pham Van Troi, and Truong Minh Duc.
You can also take action for Tran Thi Nga with Amnesty International Canada. Find out what you can do, here.
https://the88project.org/wp-content/uploads/2017/05/hoang-duc-binh-and-bach-hong-quyen.jpg
351
624
kayleedolen
https://the88project.org/wp-content/uploads/2019/01/88project.png
kayleedolen
2017-08-14 07:55:24
2019-04-30 08:03:43
Vietnam Free Expression Newsletter No. 24/2017- Week of August 7-13