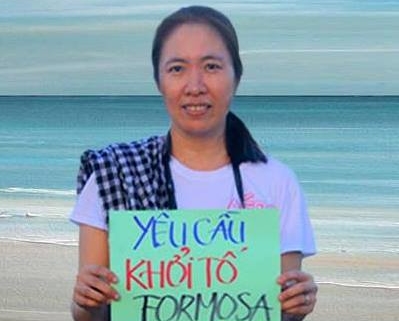 Vietnam Free Expression Newsletter No. 17/2017 – Week of June 19-25
Greetings from Huong, Ella, and Kaylee from The 88 Project! We are bringing to you news, analysis, and actions regarding human rights and civil society in Vietnam during the week of June 19 to 25. Blogger Nguyễn Ngọc Như Quỳnh's trial is scheduled for next week on June 29, admist appeals from international organizations to immediately and unconditionally release her. The U.N. Working Group on Arbitrary Detention issued opinions concluding that the detentions of Quỳnh and lawyer Nguyễn Văn Đài are arbitrary and urged the Vietnamese government to release them. In an unprecedented case, dissident Phạm Minh Hoàng was stripped of his Vietnamese citizenship and deported from Vietnam to France against his will. Detained citizen journalist Nguyễn Văn Hóa's lawyer was refused a defense counsel's certificate. Don't miss Human Rights Watch's report detailing the use of violence against political activists, a "troubling trend" that affects not only the activists themselves but also their families and friends. And the amendment to the Criminal Code was adopted with provisions that threaten further, rather than protect, human rights. Please take actions for Nguyễn Ngọc Như Quỳnh who will be facing trial next week, and for lawyer Lê Quốc Quân who has faced death threats from the authorities.
Read the full newsletter, here.
And please subscribe!
HUMAN RIGHTS & CIVIL SOCIETY
Prisoners of Conscience
Eight months after her arrest, blogger Nguyễn Ngọc Như Quỳnh's trial has been scheduled for 8:00am next Thursday, June 29, 2017, at the People's Court of Khánh Hòa province. Quỳnh is accused of "propaganda against the socialist state of Vietnam" under points a, b, c of clause 1 of Art. 88, for which she can be sentenced up to twelve years of imprisonment. Four lawyers will represent Quỳnh at her trial: Nguyễn Hà Luân, Lê Văn Luân, Nguyễn Khả Thành, and Võ An Đôn. Lawyer Nguyễn Khả Thành met with her for the first time on June 20 to discuss preparatory matters for the trial, under the close monitoring of prison officials. According to the lawyer, Quỳnh is in good health and spirit. She was glad to meet with him and to receive news about her children and family, although she broke down into tears to learn that the letter she wrote to her son for his birthday had not been delivered as the prison officials had promised. Quỳnh mother has not received an invitation to attend the trial as a court clerk told her that the trial is special and she doesn't have any connection with it.
In opinion No. 27/2017 concerning Nguyễn Ngọc Như Quỳnh adopted in April 2017, the U.N. Working Group on Arbitrary Detention unequivocally concludes that "her arrest and detention was intended to restrict her activities as a human rights defender" (para. 36) and requests the government of Vietnam "to release Ms. Quynh immediately, and accord her an enforceable right to compensation and other reparations, in accordance with international law." (para. 54)
In the same April 2017 session, the Working Group also adopted opinion No. 26/2017 concerning Nguyễn Văn Đài, in which it concludes that "[t]he deprivation of liberty of Nguyen Van Dai, being in contravention of articles 9, 10, 11, 19 and 20 of the Universal Declaration of Human Rights and of articles 9, 14, 19, 21 and 22 of the International Covenant on Civil and Political Rights, is arbitrary" (para. 69) and urges the Vietnamese government to "release Mr. Dai immediately, and accord him an enforceable right to compensation and other reparations, in accordance with international law." (para. 71)
Lawyer Hà Huy Sơn was refused a defense counsel certificate to represent citizen journalist Nguyễn Văn Hóa, who has been held in pre-trial detention since January 21, 2017, first under Art. 258, then under Art. 88. The police of Hà Tĩnh province said Hóa decided to defend himself, without providing any written confirmation from him. On May 3, World Press Freedom Day, multiple international human rights and digital security organizations issued a joint letter calling on Vietnam to free Hóa.
Activists at Risk
Criminal Code Revision
On June 20, the National Assembly passed the Law amending the Criminal Code, which will enter into force on January 1, 2018. Not only does the amendment law broaden the scope of national security provisions by criminalizing the act of "preparation" for such "crimes," it also holds lawyers criminally accountable for failing to report on clients's national security crimes or other especially serious crimes which the lawyers learn about while carrying out their defense duties. Read the report by RFA
here
and the analysis by Human Rights Watch
here
.
Art & Activism
Check out singer Mai Khôi's interview with DW about her political activism: "As an activist in Vietnam, you need to have a sense about what is okay at certain times and what isn't. But that is not simple. In Vietnam there is no legal certainty and you don't know if you have crossed a 'red line.' […] Nevertheless, we must continue to fight for human rights and freedom of opinion. But when we talk about problems or write blogs, we must – just like in Hanoi traffic – wind our way thorough with skill. This is the only way we can reach people."
RELEVANT NEWS & ANALYSIS
The Washington Post: The Trump administration fails to call out Vietnam on its dismal human rights record: "[T]he joint statement released by the White House after the visit lauded Vietnam for its 'ongoing efforts to refine its legal system to better protect and promote human rights for everyone.' That is laughable; Vietnam has done just the opposite."
VOA: Vietnam's crackdown on political dissent described as boon for business: "Analysts in the country say foreign investors and others with business in Vietnam will either ignore the suppression or take it as a sign that the government is eliminating possible threats to its promotion of a fast-growing economy that depends largely on foreign direct investment. 'At the moment it's almost implicit that the one-party state will continue indefinitely, and if you want to really criticize it in public, you're asking for trouble,' said Adam McCarty, chief economist with Mekong Economics in Hanoi. 'Businessmen like that sort of stability. You might object to it ethically, morally or on democratic grounds, but on business grounds, it's a stable business environment.'"
TAKE ACTION
Take PEN International action for Nguyễn Ngọc Như Quỳnh, "calling on the Vietnamese authorities to drop the charges against blogger and human rights defender Nguyen Ngoc Nhu Quynh, and release her immediately and unconditionally."
Take Amnesty International's Urgent Action for lawyer Lê Quốc Quân: "Human rights lawyer Lê Quốc Quân has received warnings from Việt Nam's Ministry of Public Security officials that he and his family could be killed if he meets with visiting foreign dignitaries. They are under surveillance and at risk of being assaulted, injured or killed."
© 2017 The 88 Project
https://the88project.org/wp-content/uploads/2016/10/me-nam.jpg
399
399
kayleedolen
https://the88project.org/wp-content/uploads/2019/01/88project.png
kayleedolen
2017-06-26 10:13:56
2019-04-30 08:04:26
Vietnam Free Expression Newsletter No. 17/2017 – Week of June 19-25