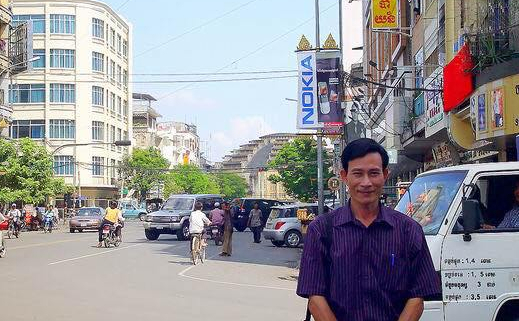 Vietnam Free Expression Newsletter No. 16/2018 – Week of April 16-22
Greetings from The 88 Project! We are bringing you news, analysis, and actions regarding human rights and civil society in Vietnam during the week of April 16-22. The appeal trial of environmental activist Hoang Duc Binh, who was sentenced to fourteen years, will take place on Tuesday, April 24. News also came this week that four of the six activists sentenced on April 5 have appealed their sentences as well. Ten years after his arrest in Da Lat City while in hiding, prominent activist and blogger Nguyen Van Hai, a.k.a. Dieu Cay, shares his thoughts on the formation of the Freelance Journalist Club, his arrest, and the state of democracy in Vietnam in a new article series. Fourteen protesters in Binh Dinh province were detained for participating in an environmental protest, but they were later released after a standoff between villagers and local government officials. Three hundred children and their parents marched in Nghe An province to protest school fees that they claim are being illegally imposed on them. In the news, read about the potential breakthrough of the #metoo movement and the current state of "socialism" in Vietnam, as well as the obstacles that Vietnam War refugees face in navigating deportation and life back in a country they do not know or agree with. Please take action for Le Thu Ha, whose family needs financial support to visit her and also care for her mother while Ha serves a nine-year prison sentence for her peaceful activism. Please also consider applying to become a Board Member or a volunteer translator/editor with us.
Read the full newsletter, here.
And please subscribe!
HUMAN RIGHTS & CIVIL SOCIETY
Prisoners of Conscience
Environmental activist 
Hoang Duc Binh
 has appealed his 14-year sentence and will have his 
appeal trial
 on April 24. Binh has been 
unable to meet with his family
 since being imprisoned nearly a year ago. They fear he is in poor health. He is the vice president of the independent Viet Labour Movement and a member of "No-U Saigon," a soccer group that protests China's sweeping claims on the South China Sea. He is also a well-known blogger who covered news on the environmental disaster caused by Formosa.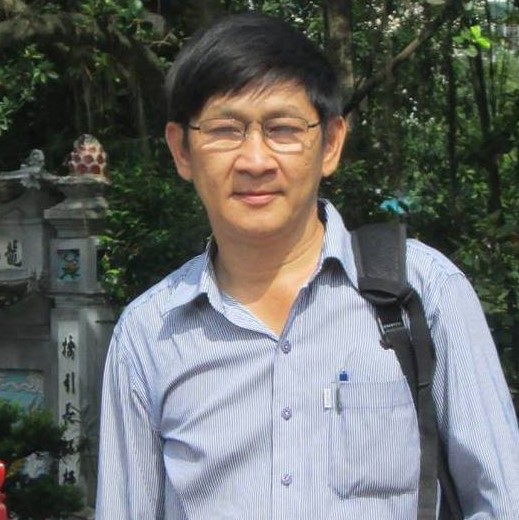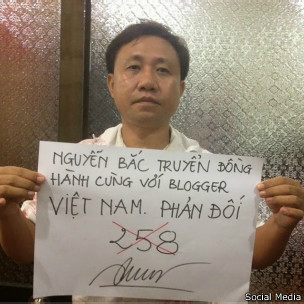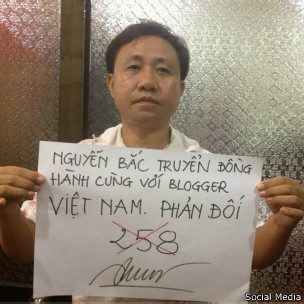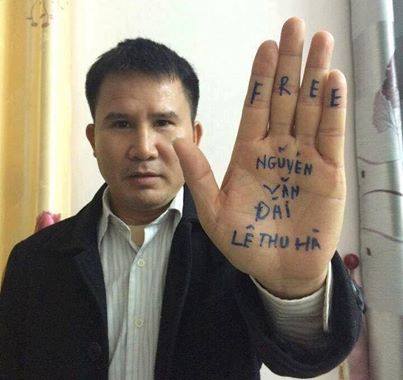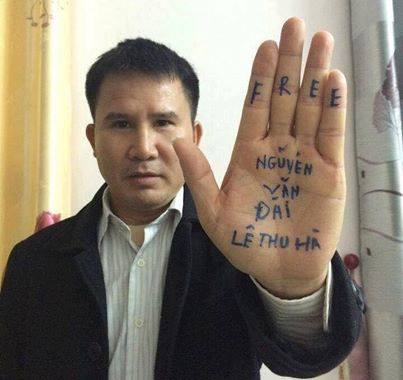 Activists at Risk
Ten years ago this week, blogger Nguyen Van Hai (Dieu Cay) was arrested. Hai founded the Freelance Journalist Club in 2007, one of the first independent press organizations within the communist regime of Vietnam to report on controversial social and political issues that state-owned newspapers failed to publish. Members of the FJC also organized anti-Chinese protests in 2007-2008 in  downtown Saigon, which led to the persecution and arrests of many of its prominent members. In a new series of articles for The 88 Project, Hai discusses the past ten years, "the longest trip away from home" in his life, from the arrest in Da Lat city to his current activities in the United States where he's living in 
exile
, and offers his opinion on the state of the Vietnamese democracy movement today compared to where it was ten years ago. Read the first installment of the series 
here
.
Community at Risk
Locals in Binh Dinh province 
briefly detained government officials
 in an attempt to free local protesters who were detained after an environmental protest. The villagers had protested the construction of a wind power plant, believing the plant is a cover-up for a titanium ore program. Fourteen were detained for participating in the protest. In response, community members went to the local government office and detained five government officials, releasing them later that day once the 14 protesters had also been released. The incident is reminiscent of a land standoff between locals and government officials last year in Dong Tam commune, which ultimately resulted in the locals losing the contested land and the mayor of Hanoi going back on promises not to prosecute villagers who had briefly detained government officials in the course of the conflict.
About 300 school-aged children and their parents in Nghe An province marched peacefully to and from their primary school to protest fees for "extra" classes. In protest of the school's decision, some children have been out of school since April 9.  Local authorities have reportedly said that the school is not allowed to collect the fees. Parents of Catholic students at the same school, seeking to remedy the fee dispute, were attacked outside the school in February by thugs believed to be connected to the government.
NEWS & ANALYSIS
Will #MeToo finally have its break in Vietnam?: "In Vietnam, while sexual harassment in the workplace was recognized in the Labour Code for the first time almost three years ago in May 2015, many victims still do not speak up or come forward with their stories. One reason could be that there are still no clear and well-defined legal definitions for conducts that would constitute sexual harassment. According to CARE, an international organization working on gender-based violence in Hanoi, Vietnam, 78.2% of victims of sexual harassment in the workplace are women. Without a clear legal framework to protect them, female workers in Vietnam dare not to speak up because they are afraid of losing their job."
Vietnam's socialist dream hits on hard times: "Trong might think that socialism in Vietnam isn't yet dead – far from it – but it is increasingly hard to miss is that its state sector is fast withering away, reduced to a lumpen state amid market forces and the Party's own inadequacies in financial and economic management. […] Mounting government debt, persistent budget deficits, low tax collection and wasteful state spending means the government is now in full austerity mode. At the same time, concerns about wealth inequality are rising, a worrying development for a nominally socialist society. The recently published Provincial Governance and Public Administration Performance Index, a report compiled by state and non-state actors, found that Vietnamese people believe poverty is now their main concern; in the past it was graft."
Vietnam War refugees deported under Trump struggle to settle: "Since many refugees sided with the US-backed South he fears they could 'end up being human rights cases' in the country with a tarnished reputation for jailing critics – including those who still pledge allegiance to the former regime. That's what Vu Ha fears. Immigration officials in California issued his removal orders last year after he served time for burglary and he spent nearly a year in ICE custody until his recent release. Vietnam still has not agreed to have him back, locking him in limbo between two governments that do not accept him. 'I'm just stuck right in the middle,' Vu, 37, told AFP after checking in with immigration officials in Los Angeles. He's not been back since he left at age nine and is terrified about a communist government he doesn't side with. 'There's nothing good to say about Vietnam. The government is attacking the civilians, they don't have any kind of rights as far as freedom of speech or anything,' said Vu, who has a daughter about to graduate from high school."
TAKE ACTION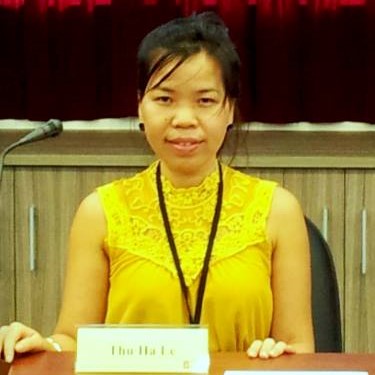 Support the families of political prisoners in Vietnam by donating to help them cover their financial needs while their family member is imprisoned. Currently, we have an appeal for support from the family of Le Thu Ha. Ha was sentenced to nine years in prison on April 5 for her peaceful, pro-democracy work. The Conscience Foundation requests 4 million VND/month (approx. US$ 175) for the family to visit Lê Thu Hà and look after Lê Thu Hà's mother until the time of her release from prison. To donate, or for more information on how you can help the families of political prisoners, see the Support the Families page of our Vietnamese Political Prisoner Database.
Are you interested in human rights in Vietnam? Are you bilingual in Vietnamese and English? Do you want to get more involved in advocacy? Consider applying to be a Volunteer Vietnamese to English Translator/Editor or a Board Member with us. We are looking for dedicated and reliable individuals to help us advance our mission of supporting free expression in Vietnam. The positions are flexible and remote work is possible. Please click on the links in this paragraph to learn more and to apply.
© 2018 The 88 Project 
https://the88project.org/wp-content/uploads/2018/04/dieu-cay-in-cambodia-e1524196592531.jpg
389
519
kayleedolen
https://the88project.org/wp-content/uploads/2019/01/88project.png
kayleedolen
2018-04-23 08:00:49
2019-04-30 07:58:19
Vietnam Free Expression Newsletter No. 16/2018 – Week of April 16-22