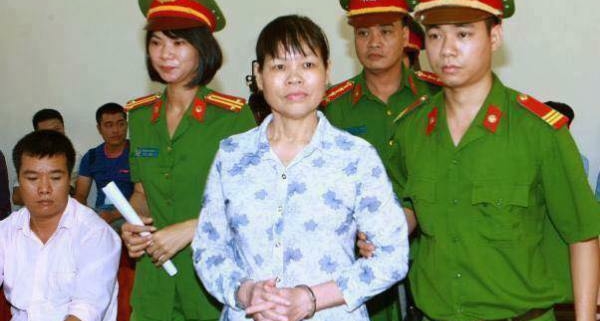 Vietnam Free Expression Newsletter No. 1/2018 – Week of January 1-7
Greetings from The 88 Project! We are bringing you highlights of the news, analysis, and actions regarding human rights and civil society in Vietnam during the weeks of December 25-31 and January 1-7. Nine people were arrested and sentenced to between three and fourteen years in prison for distributing leaflets. Authorities have ended their investigations into at least six members of the Brotherhood for Democracy, though another man with alleged ties to the group, former prisoner of conscience Vu Hung, was arrested this week. The UN Working Group on Arbitrary Detention has deemed Can Thi Theu and Tran Thi Nga's detentions arbitrary. Luu Van Vinh is struggling from worsening eyesight and death threats in pre-trial detention. Check out the end of the year report from Front Line Defenders about activists at risk, featuring a section on Vietnam, as well as news about Vietnam's latest cybersecurity moves and freedom of religion. In case you missed it, read our update on Ho Van Hai, whose charges are still unknown more than a year after his arrest. Take action for the Brotherhood for Democracy members who are awaiting trial.
Finally, we are pleased to unveil our latest initiative — a searchable database of prisoners of conscience in Vietnam.
Read the full newsletter, here.
And please subscribe!
HUMAN RIGHTS & CIVIL SOCIETY
Prisoners of Conscience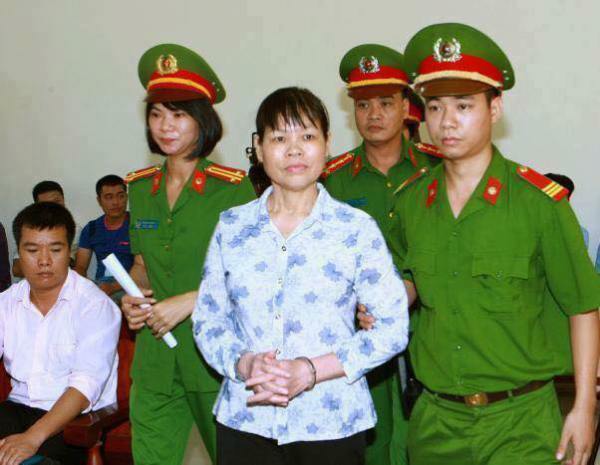 Can Thi Theu at her trial. Source: Facebook Trinh Ba Phuong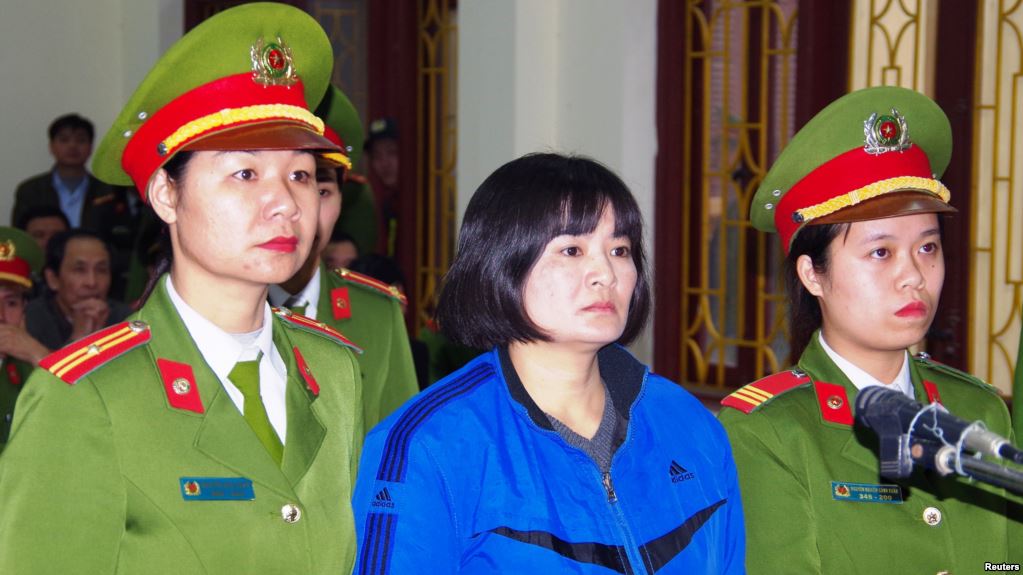 The UN Working Group on Arbitrary Detention has released two 
opinions 
deeming the arrests and detentions of land rights activist 
Can Thi Theu
 and blogger 
Tran Thi Nga
 as arbitrary. The opinions call for swift remedies of the alleged violations of international law in their cases. The opinions condemn the lack of verifiable information about Theu's health treatment in prison and the harassment of Tran Thi Nga's young children. Theu is very active in the movement against land grabs in Duong Noi and is serving a twenty-month sentence for "disturbing public order." Blogger Nga is serving a nine-year sentence under Article 88. On December 27, nearly a year after her initial arrest, Nga was finally able to 
meet with her two young children
, though they were still divided by a glass screen. Her appeal of her sentence was denied on December 22.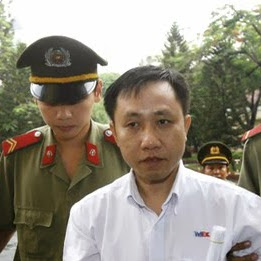 Nguyen Bac Truyen, Source: Front Line Defenders
In December, authorities announced they 
finished investigations
 into several members of the Brotherhood for Democracy, a group founded by lawyer Nguyen Van Dai that was targeted with harassment and arrests during much of 2017. Authorities have recommended that 
members 
Nguyen Trung Ton, Pham Van Troi, Nguyen Bac Truyen, Truong Minh Duc, and Dai and his colleague Le Thu Ha, be prosecuted. Dai and Ha have been imprisoned since December 2015. It appears that authorities may be employing a host of 
tactics to stall defense
 meetings and communications for Dai.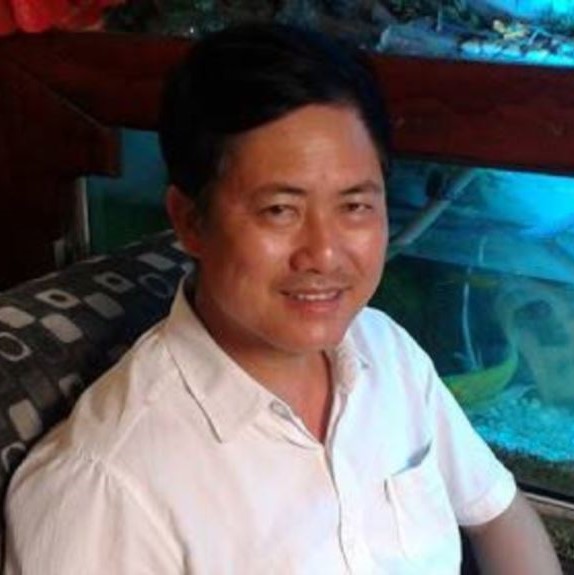 Luu Van Vinh. Source: Vinh Luu Facebook
Luu Van Vinh has faced nearly constant 
death threats
 from his cellmate, but authorities have denied his request for a cell transfer; they have also denied Vinh glasses sent from his family. Vinh, a handyman who has participated in protests regarding maritime sovereignty and the Formosa environmental disaster, has been in pre-trial detention since November 2016; he is charged under Article 79.
Activists at Risk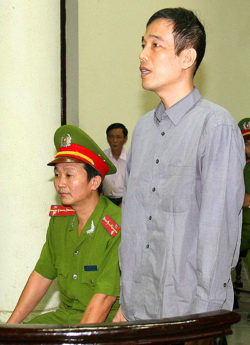 Vu Hung at his trial in 2009, Source: Defend the Defenders
Authorities have 
arrested former prisoner of conscience Vu Hung
 and beat him in custody. Hung, a teacher, was arrested on January 4 while eating lunch in Hanoi. It has recently been disclosed that Hung is member of the Brotherhood for Democracy.
Doan Huy Chuong and his co-defendants from his 2010 trial; Hung remains in prison today
Police arrested Protestant Pastor Doan Van Dien for unknown reasons on December 24; he is 
still being detained
 as of January 4. His son, Doan Huy Chuong  (above, left), believes the arrest is a ploy to actually arrest him. Chuong is also a former prisoner of conscience and a leader in the Viet Labor Movement.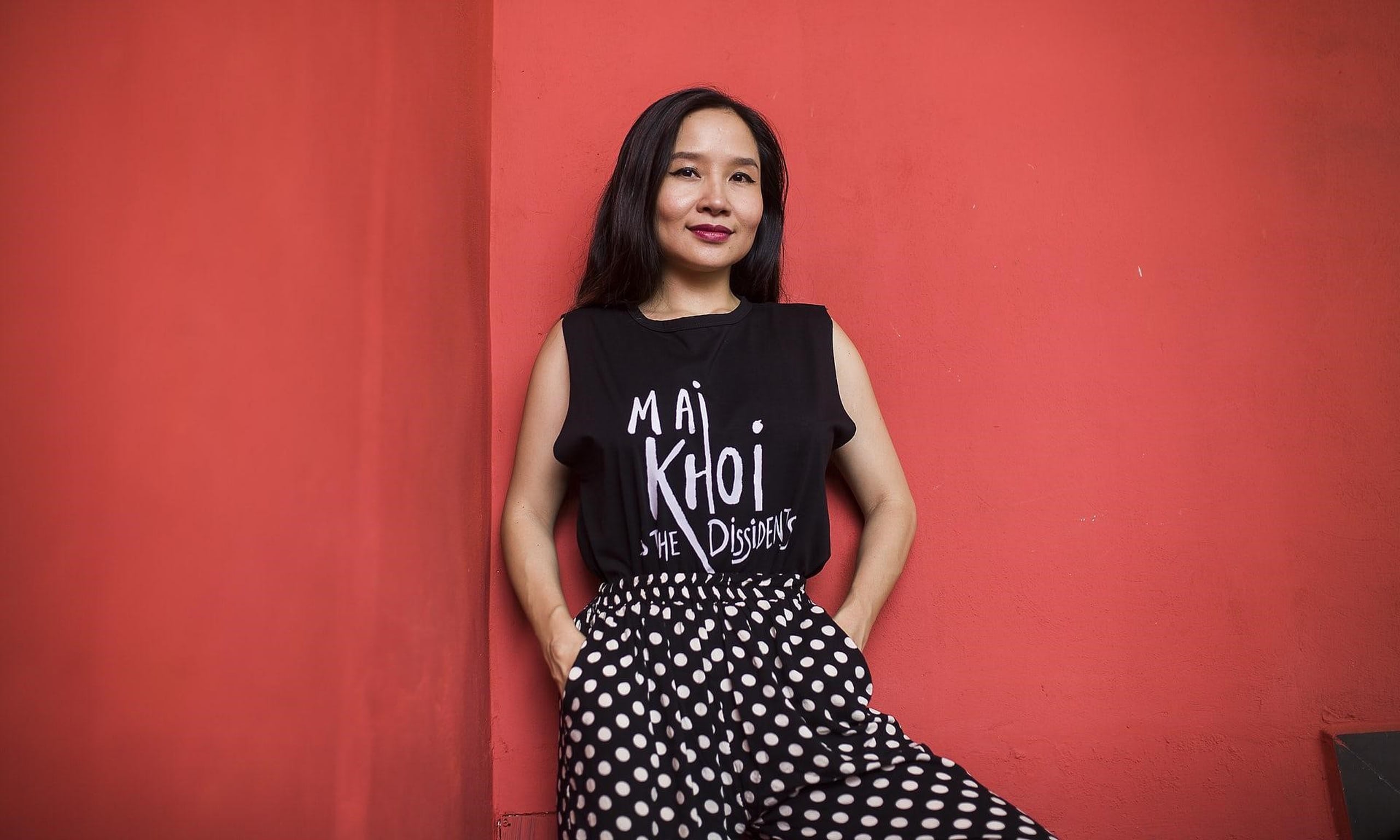 Musician and artist Mai Khoi has been suffering increasing levels of harassment as she increases her activism and outreach. In March 2016, she made international headlines by becoming the first Vietnamese celebrity in history to nominate herself to Vietnam's National Assembly on a pro-democracy platform. Though her candidacy was defeated, she continued establishing herself as a dissident musician, staging concerts and even meeting with President Obama. She again became the focus of international attention by protesting President Trump during his visit to Vietnam in November. During the past two years, she has been evicted multiple times from her homes, her concerts have been raided, and she has been detained by the police. Nevertheless, she continues pursuing her musical activism, which includes recording new albums and organizing new performances. Read Mai Khoi's full profile 
here 
and please contact us if you could offer assistance to this activist at risk.
International Advocacy
Front Line Defenders highlighted Vietnam in its "Annual Report on Human Rights Defenders at Risk in 2017," saying that "Vietnamese bloggers, academics and citizen journalists who have been working for years to push forward a human rights agenda were targeted in a systematic campaign in 2017." Read the full report, 
here
.
NEWS & ANALYSIS
The drive to recentralize Vietnam: "A final motivation for the move towards recentralization is that the government thinks social unrest is spiraling out of control. 2017 saw a mass crackdown on government critics and activists, marking a repressive uptick from the level of harassment witnessed in 2016. Significantly, the repression has been orchestrated nationwide, a likely indication the campaign is being directed by central government and not merely by local officials, as was the case in the past."
Force 47: Vietnam setting up 10,000-strong cyber army to crack down on dissent in internet: "Announcing the latest development of the cyber army, codenamed Force 47, during a conference in Ho Chi Minh city on Monday (25 December), he said, 'In every hour, minute, and second we must be ready to fight proactively against the wrong views. 'Some have questioned if this is a kind of information that should be made public,' Nghia added. Concerns have been growing in one-party-ruled Vietnam over increasing intolerance over dissent and curbing freedom of speech. This latest step in restricting the social media use inevitably would lead to comparison with neighbouring China, which heavily tracks and streamlines information flows in the cyberspace."
Vietnamese Catholics Protest Officials' Interference in Their Parish:  "In a Dec. 31 letter sent to top-level authorities in the province, priests at Thien An asserted their legal right to construct buildings on nearby village land owned and managed by the church since the 1940s. They also accused members of the Thua Thien Hue People's Committee of abusing their power by proposing the transfer to another province of monastery head Father Nguyen Van Duc, who had protested the seizure last year of monastery land. By declaring in a Dec. 23 report to higher-ups that Duc had broken the law, the province's People's Committee had offended the dignity of the priest and had illegally interfered in the monastery's internal affairs, the priests' letter said."
Muted cry for good governance in Vietnam: 
"In many instances, it's not democracy or human rights that bloggers are after per se, but essential public services like clean water, less pollution, and a degree of transparency that the government doesn't appear ready to oblige. Case in point: a provincial court on November 30 upheld a ten-year prison sentence following a one-day trial in June for blogger Nguyen Ngoc Nhu Quynh, also known as 'Mother Mushroom.'"
IN CASE YOU MISSED IT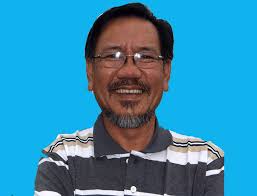 Over a year after being arrested, there is a new 
update 
on the situation of blogger Ho Van Hai (a.k.a. Dr. Ho Hai) in prison. He was transferred in early December to a new, harsher prison facility, which is taking a toll on his health. He is not receiving proper amounts of food or medication. Little information can be found regarding the status of his pre-trial investigation.
COMING UP
We are excited to announce the impending launch of our searchable database of prisoners of conscience in Vietnam! The database will allow users to search prisoner profiles using such criteria as type of activism, gender, and types of charges, among other items. It will be updated regularly with the latest news on trials, releases, and health conditions and will feature detailed English profiles for many prisoners. Stay tuned for the launch!
TAKE ACTION
Please take Amnesty International's Urgent Action for Pham Van Troi, Truong Minh Duc, and Nguyen Trung Ton. They are being held in incommunicado detention and need access to healthcare treatment. You can also take Front Line Defender's action for Nguyen Trung Ton, Pham Van Troi, Nguyen Bac Truyen, and Truong Minh Duc, calling for their immediate release.
https://the88project.org/wp-content/uploads/2017/12/can-thi-theu.jpg
465
600
kayleedolen
https://the88project.org/wp-content/uploads/2019/01/88project.png
kayleedolen
2018-01-08 08:00:05
2019-04-30 08:00:01
Vietnam Free Expression Newsletter No. 1/2018 – Week of January 1-7