Vietnam Free Expression Newsletter No. 33/2017 – Week of October 9-15
Greetings from Huong, Ella, and Kaylee from The 88 Project! We are bringing you news, analysis, and actions regarding human rights and civil society in Vietnam during the week of October 9-15. Blogger Phan Kim Khanh will go to trial on October 25; read our profile for the latest updates. Imprisoned land rights activist Tran Thi Thuy is suffering from large tumors and inadequate medical care in prison, raising questions regarding a startling trend by prison authorities to "punish" prisoners for their crimes and coerce confessions in exchange for supplies, medication, and treatment. We think of Nguyen Ngoc Nhu Quynh (Mother Mushroom) as October 10 marked one year since her arrest. Activist Nguyen Dang Vu was kidnapped and questioned regarding recently-arrested Nguyen Viet Dung; this is his second police interrogation in recent months. Read key points from a recent gathering on Internet freedom in Asia, and check out our interview with VOICE's UPR campaign female leaders. Please take action for Tran Minh Nhat, an activist and former prisoner of conscience who is being targeted by police for alleged probation violation.
Read the full newsletter, here.
And please subscribe!
HUMAN RIGHTS & CIVIL SOCIETY
Prisoners of Conscience
News came this week that blogger Phan Kim Khanh, 24, will face trial on October 25. He was arrested on March 21 under Article 88 for running Facebook, YouTube, and blog sites with anti-corruption and pro-democracy content. He faces up to 12 years in prison. Before his arrest, he was in his last year of university. His lawyer, Ha Huy Son, reports that Khanh is in good spirits but his health is failing. Learn more about his background and current status, here. His family continues to need support in order to send him supplies in prison. Please contact us if you can assist.
According to the Former Vietnamese Prisoner of Conscience Association, 26 activists have been arrested in 2017. See the list, in Vietnamese, here. Almost all of those arrested in 2017 remain in pre-trial detention.
The family of imprisoned land rights activist Tran Thi Thuy is extremely concerned about her poor health.Thuy has large tumors covering her body. The family is worried about incorrect provision of medication in prison and was not permitted to speak with prison medical staff about their concerns. Thuy was arrested in 2010 and sentenced in 2011 to eight years in prison under Article 79. Authorities have refused her the right to speak with her family over the phone since being imprisoned.
Rights groups and individuals alike have raised concerns over the lack of attention to medical issues given to prisoners of conscience, who often face months, even years, of pre-trial detention and then years of imprisonment with no or little contact with family and lawyers who are their only links to health status updates, supplies, and medication. Many prisoners have pre-existing conditions. These include Nguyen Van Dai, who has been in pre-trial detention since 2015 and suffers from hepatitis B, and Nguyen Bac Truyen, who was arrested in late July, and has gastrointestinal and heart conditions. Truyen's location is currently unknown. Some consider the mistreatment of prisoners of conscience with medical conditions a "passive form of torture" under international human rights conventions and note that treatment is far too often contingent upon forced confessions.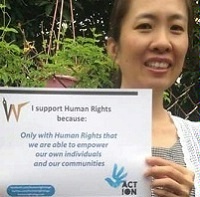 October 10 marked one year since Nguyen Ngoc Nhu Quynh, known by her blogging name Me Nam, or Mother Mushroom, was arrested. On June 29, she was sentenced to 10 years in prison for her blogging on environmental and social issues. Sources report that she is in poor health and that her mother is only permitted 15 minutes to visit with her. Please share Civil Rights Defenders's statement calling for her unconditional release.
Activists at Risk
Late last week, activist 
Nguyen Dang Vu was kidnapped
, held, and questioned for 20 hours by police. The police probed him about connections to 
Nguyen Viet Dung
, who was recently arrested under Article 88. Vu is known for his charity work and sometimes participates in peaceful protests and posts human rights and political content on his Facebook. He was also kidnapped for two days in June 2017.
Internet Freedom
Read the 
takeaways
 from the Regional Consultation – State of the Internet in Asia, which concludes that Asian governments are unwilling to uphold citizens' rights and that Asia is suffering from "a shrinking space for critical voices and for civil society."
A delegation from 
VOICE 
wrapped up its 
midterm Universal Periodic Review (UPR) campaign
 on October 10. Read our 
interview
 by contributor @
HaiyLe
 with two of the women who led the campaign. They speak about holding the U.N. accountable to its obligations to protect human rights in Vietnam, their personal paths leading up to the campaign, and the next steps for the 2019 UPR campaign.
RELEVANT NEWS & ANALYSIS
Southeast Asia's Democratic Regression Is Getting Worse: "But recent years have been brutally unkind to Southeast Asian democrats. Thailand suffered a coup in May 2014, and now Thais live under the harshest junta rule the kingdom has seen in decades. Thai civil society has been battered. Malaysia's government has jailed opposition leader Anwar Ibrahim and other prominent opponents, and the ruling coalition seems likely to dominate the next elections; the last election was held amidst claims of massive gerrymandering and state funds being widely used in political ways. The most authoritarian states in the region, Laos and Vietnam, reversed any mild hints of political change they had made in the 2000s. In recent years, both countries have aggressively cracked down on online dissent and other forms of free expression."
A lighter, softer censorship in Vietnam: "Civil conflict and a post-independence heavily centralized state put a hold on individuality for much of the second half of the 20th century. Not until the doi moi, or renovation, reform policy launched in 1986 did the state begin to open its doors to private ownership, foreign ideas and international trade. Even now, over 30 years later, creative expression is not remotely free. It is also reasonably ambiguous, since there are few clear-cut guidelines as to how censorship laws apply to different art forms and in different contexts. As a result, the censorship process is often left open to interpretation. According to Nguyen Qui Duc, manager of the Hanoi art-space Tadioto, the general rule is to avoid anything remotely anti-state and anything too uncultured, shocking or deviant. Any content that breaks those general rules, he says, will be banned from public display or distribution."
Despite human rights abuses, Vietnam's economy ploughs ahead: "Leaders in Hanoi have decided that ease and clarity of doing business are not just good for business, they can strengthen an otherwise teetering social contract. The ruling CPV's cynical calculus is simple: as long as the West perceives the country as a dynamic market, Hanoi can go freely about the business of imprisoning bloggers, cracking down on dissent and persecuting opposition figures."
TAKE ACTION
Please take Frontline Defender's action in support of Tran Minh Nhat, a human rights activist and former prisoner of conscience. He served four years in prison under Article 79. On August 4, police issued a nation-wide wanted order saying that he had violated the terms of his probation from that sentence. He has faced police harassment and physical attacks since his release from prison in 2015.
***
Correction: In a correction to the Vietnam Fee Expression Newsletter No. 32/2017 – Week of October 2-8, we would like to clarify that Pham Doan Trang was previously exiled but is now currently living and working back in Vietnam.
© 2017 The 88 Project 
https://the88project.org/wp-content/uploads/2017/10/voice-delegation-upr-midterm-2017-e1507608123988.jpg
448
810
kayleedolen
https://the88project.org/wp-content/uploads/2019/01/88project.png
kayleedolen
2017-10-16 08:00:48
2019-04-30 08:02:53
Vietnam Free Expression Newsletter No. 33/2017 – Week of October 9-15