Vietnam Free Expression Newsletter No. 29/2017 – Week of September 11-17
Greetings from Huong, Ella, and Kaylee from The 88 Project! We are bringing you news, analysis, and actions regarding human rights and civil society in Vietnam during the week of September 11-17. Nguyen Van Oai's trial will take place this Monday, September 18, after it was postponed in August. Prisoner of conscience Nguyen Huu Vinh, a.k.a. Anh Ba Sam, spent his fourth birthday behind bars on September 15. Another person has died in police custody in Vietnam, continuing a disturbing trend of abuse in detention and prison. There is a new interview out with Mai Khoi, the local celebrity who ran for the National Assembly in 2016 and also fronts the band "Mai Khoi and The Dissidents." Vietnam is warming up to the idea of embracing, rather than replacing, Facebook, but at the same time, still striving to control the flow of information inside the country. The 29 Montagnards facing imminent forced deportation have been pleading to the international community for assistance, and Cambodia faces criticism for allegedly denying a joint review of their cases with the UNHCR.
Read the full newsletter here.
And please subscribe!
HUMAN RIGHTS & CIVIL SOCIETY
Prisoners of Conscience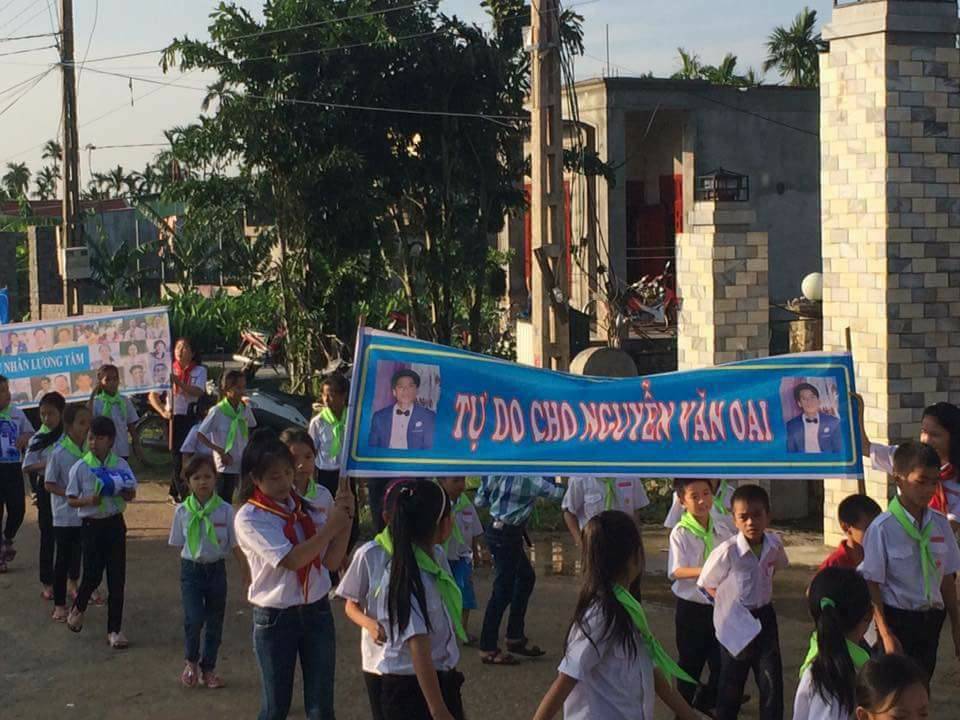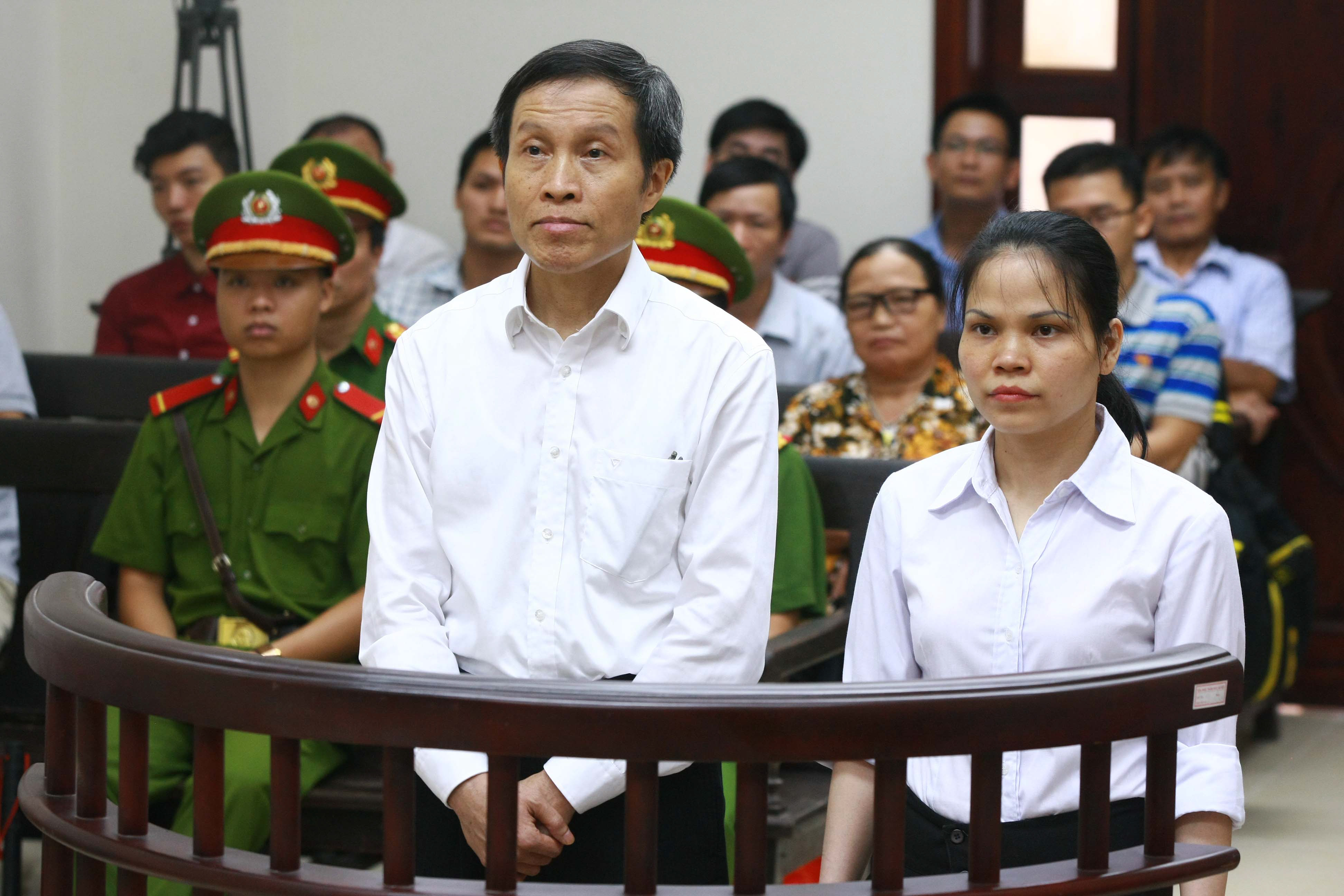 Above: Bloggers Nguyen Huu Vinh (Anh Ba Sam) and Nguyen Thi Minh Thuy at trial. Source: VietnamNet. 
We think of prisoner of conscience 
Nguyen Huu Vinh
 a.k.a Anh Ba Sam as September 15 was the fourth birthday he spent in jail since his arrest in May 2014. He is currently serving a five years sentence under Article 258 for running the popular news website Anh Ba Sam.
Art & Activism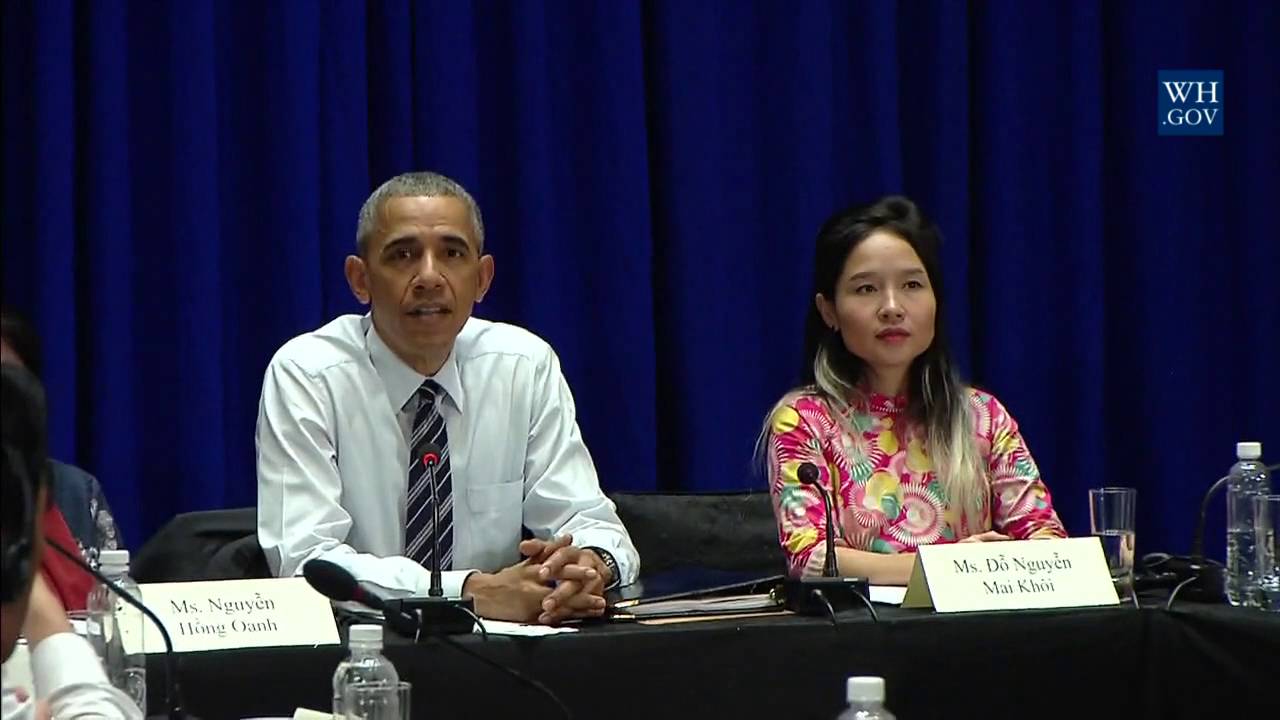 Mai Khoi with former US President Barack Obama
Freemuse has produced a video and interview with dissident pop-folk artist Mai Khoi that traces her run for the National Assembly in 2016, as one of only 11 self-nominated candidates, and her departure from Vietnam in its aftermath, to her return and continuation of artistic expression in Vietnam today. Watch the video and read the article, 
here
.
Refugees & Asylum-Seekers
Amidst news that Cambodia will forcibly send back the last remaining 29 Montagnard refugees there to Vietnam, Human Rights Watch has issued a 
statement
 documenting many years of mistreatment of the Montagnards in Vietnam and the failure of Cambodia to follow international refugee protocols. Cambodia has rejected the asylum applications of the group, which includes seven children, and 
they now fear physical harm and prison
 back in Vietnam, where some have already faced lengthy prison sentences, including 
one man
 who had served nearly ten years for participating in a religious freedom demonstration. The UNHCR has 
reported that Cambodia backed out of completing a review
 of the applicants' case with them.
RELEVANT NEWS & ANALYSIS
Human rights at centre of Vietnam-EU trade talks: "The European Union free trade agreement, which was signed by Brussels and Hanoi in 2015 and could be ratified next year after a legal review, would slash nearly all tariffs between the two economies. But Vietnam's dismal human rights record has been flagged as a sticking point to finalising the deal. The communist country's stance on forced labour and freedom of expression are at the core of current talks, Bernd Lange, chair of European Parliament's Committee for International Trade, told reporters in Hanoi Friday. 'They are really at the centre of the discussion… if there are not sufficient solutions then the agreement will be in troubled water,' he said."
Vietnam's Cracking Down on Dissent … So Why Trump's Pat on Back?: "The case highlighted Vietnam's intolerance for such dissent and the political elite have shown they will cling to power by any means – harassing activists and bloggers, extracting confessions through intimidation, physical assault and imprisonment are often reported. So far this year, Vietnamese authorities have reportedly arrested 15 people for anti-state actions."
Green resistance mounts in communist Vietnam: "In the past, most government critics tended to focus on their own specific causes: workers on forming independent trade unions; urban liberals on pro-democracy causes; villagers on state land confiscations. This is now changing, however, as single issue campaigners are now banding together to create a united coalition against environmental damage."
IN CASE YOU MISSED IT
Don't miss our own @KayleeDolen's article "Unending Punishment: Political Repression in Vietnam" in which she tells the stories of many political prisoners in Vietnam and the burdens the repression places on their families. The article was originally published in Asia Sentinel and it was reposted this week in IAPS Dialogue, the online magazine of the Institute of Asia & Pacific Studies.
TAKE ACTION
RSF called for the release of Nguyen Van Oai ahead of his trial, which was originally scheduled for August 21 but then postponed to September 18. They are encouraging the use of the hashtag #FreeNguyenVanOai to bring awareness to his case.
Please take Amnesty International's Urgent Action for Nguyen Bac Truyen, whose location has been unknown since he was reported arrested almost one month ago.
© 2017 The 88 Project 
https://the88project.org/wp-content/uploads/2017/09/image001.jpg
720
960
kayleedolen
https://the88project.org/wp-content/uploads/2019/01/88project.png
kayleedolen
2017-09-18 08:26:08
2019-04-30 08:03:15
Vietnam Free Expression Newsletter No. 29/2017 – Week of September 11-17