Vietnam Free Expression Newsletter No. 28/2019 – Week of July 8-14
Greetings from The 88 Project! We are bringing you news, analysis, and actions regarding human rights and civil society in Vietnam during the week of July 8-14. Many news items this week are related to the ongoing hunger strike in Prison Camp 6, Nghe An province. Today is the 34th day of the hunger strike, yet situation of the striking prisoners remains unknown. Only Tran Huynh Duy Thuc is known to have ended the hunger strike after his demand has been met. A group of friends and relatives of prisoners in Prison Camp 6 were seriously attacked by thugs when they were on their way to the prison to show support to prisoners on strike. An urgent appeal has been launched in support of prisoners on hunger strike and has gathered support from many civil society organizations and individuals. Nguyen Dang Minh Man's family was able to visit her in prison prior to her anticipated release on August 2. This week, we think of political prisoners Nguyen Hong Nguyen and Huynh Duc Thanh Binh as they both spent another birthday in prison. In the news and analysis section, don't miss Joe Buckley's report on Vietnam's recent ratification of ILO Convention 98 on collective bargaining and the right to organize, and Bradley Murg and Stuart Brown's analyses on the Vietnam's recently signed trade agreement with the EU. Please take action for Hoang Duc Binh, Nguyen Van Hoa, Nguyen Bac Truyen, and Tran Hoang Phuc by sharing and responding to their families' appeals to the international community. 
HUMAN RIGHTS & CIVIL SOCIETY
Prisoners of Conscience
Today marks the 34th day since prisoners of conscience at Camp 6 in Nghe An province went on hunger strike in objection to the Prison Camp authorities' removal of all the electric fans despite the severe heat wave. This incident has angered many people inside and outside of Vietnam. An urgent appeal petition has received over 1200 signatures from civil society groups and supporters. The updated list of signatories and related public actions for prisoners on hunger strike is available on the Facebook group Tuyet Thuc Vi Tu Nhan Luong Tam ("Hunger Strike for Prisoners of Conscience"), run by the drafters of the Urgent Appeal. Urgent actions are needed for those political prisoners lives and well-being. Read more, here.
On July 9, 2019, Nguyen Kim Thanh, wife of political prisoner Truong Minh Duc, flew from Binh Duong Province to Hanoi to meet representatives of the embassies of the US, Australia, and the EU. Thanh just underwent uterine fibroids surgery on June 28, 2019 and her health remains unstable. Her husband and three other political prisoners including Dao Quang Thuc, Nguyen Van Tuc, and Tran Phi Dung have been on hunger strike since June 10, 2019. On July 11, UCA News reported that "the diplomats are said to have accepted that the situation is a matter of urgency and also expressed a willingness to raise with the Vietnamese government wider issues relating to prison conditions."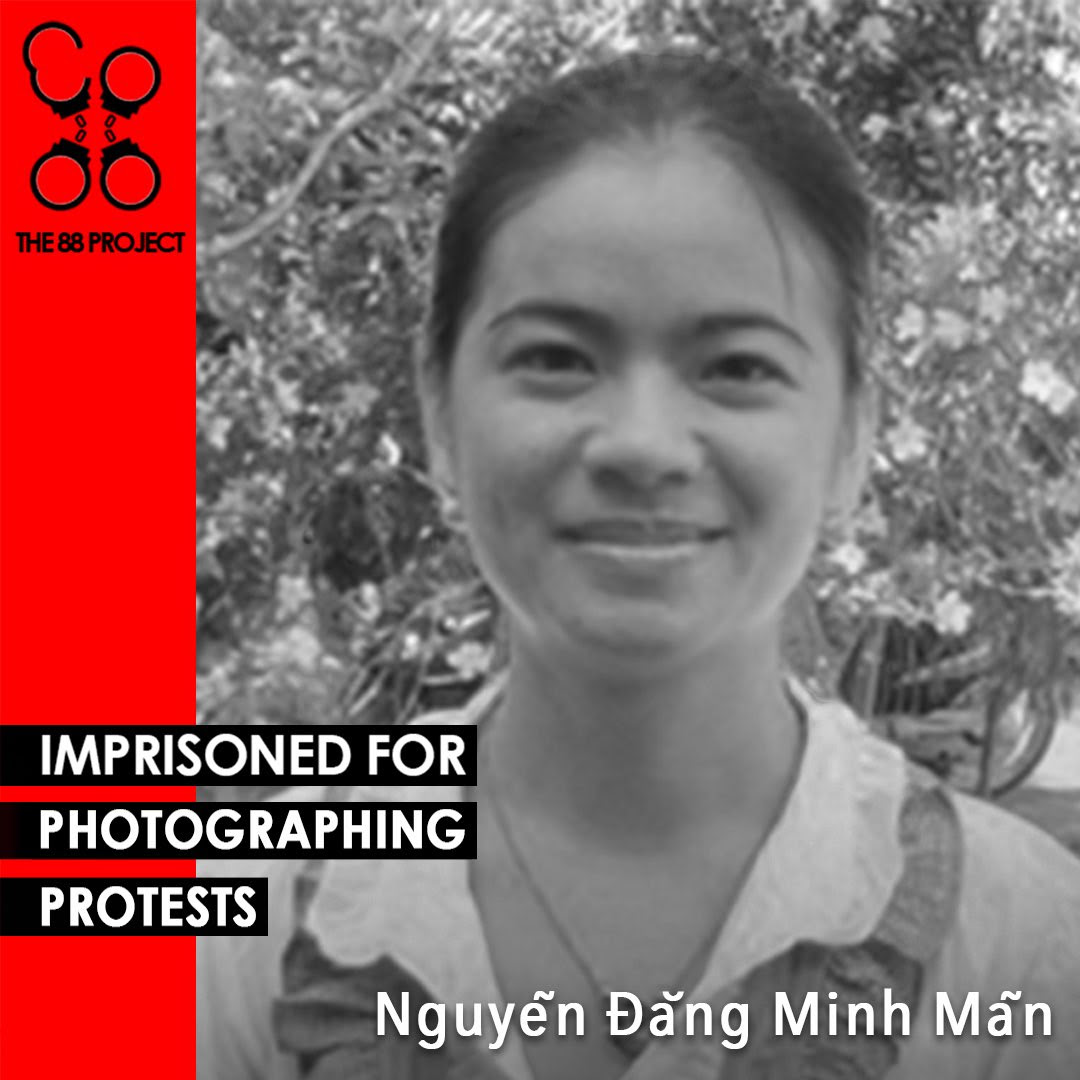 Nguyen Dang Minh Man'
s family and supporters tried to 
visit her
 in Prison Camp No. 5 in Thanh Hoa province this week, a few weeks before the anticipated completion of her eight-year prison sentence. However, they were forced to stay outside; only two people were allowed in for the visit. Man has been only eating food sent by her family, as she is concerned about an attempted poisoning while still behind bars. She is a citizen journalist and photographer who was arrested as part of a crackdown on Catholic activists. He expected release date is August 2, 2019.
Two fellow political prisoners, Nguyen Van Dien and  Nguyen Trung Truc, are currently on hunger strike at Prison No. 5, protesting prison conditions there.
Tran Huynh Duy Thuc
 is 
no longer in solitary confinement
 at Prison No. 6 in Nghe An province. He protested the isolation, which was causing him to experience extreme physical heat in his cell, by staging a three-day hunger strike earlier this month. Though he may not be continuously confined now, Thuc is only allowed out of his cell for 14 hours per week, seven hours on both Saturday and Sunday. He has also been unable to get letters from his family since the beginning of the year. Thuc has a long history of staging hunger strikes or taking other actions to protest prison conditions. A blogger and entrepreneur, he was arrested in 2009 and later sentenced to 16 years in prison for his social, economic, and political writings.

Left to right: Nguyen Hong Nguyen, Huynh Duc Thanh Binh
This week, we think of:
– political prisoner Nguyen Hong Nguyen, as July 10 was the second birthday he spent in prison. Nguyen was arrested on June 16, 2018, and sentenced to two years in prison in Can Tho City under Article 331 for "abusing democratic freedoms" because of his online postings. His family, which includes two young children, is in financial difficulty as Nguyen was the main breadwinner of the family.
– young political prisoner Huynh Duc Thanh Binh as July 14 marks the second birthday he spent in prison, as well as the first anniversary of his arrest. Binh was arrested on July 7, 2018, and sentenced to 10 years in prison on June 24, 2019 under Article 109 of the 2015 Criminal Code. He is 23 years old.
Activists at Risk
The visitors group to Prison Camp 6, Nghe An province, on July 12, 2019. Source: VOA Vietnamese
Systematic efforts seem to be going on to isolate political prisoners currently on hunger strike in Prison Camp 6, Nghe An province, from the outside world. On July 12, 2019, a group of 20 family members and supporters was physically attacked by thugs who they believe to be plain-clothing prison officers and public security officers. Activist Trinh Ba Phuong, son of former political prisoner 
Can Thi Theu
, told 
VOA Vietnamese
 that the group was on its way to Camp 6 with some posters solely to visit and support prisoners such as 
Truong Minh Duc
. When the visitors group tried to approach Camp 6 by car, a truck seemed to purposely park to block the road, so they decided to walk the rest of the way. This is where the attack took place. Activists Trinh Ba Khiem, 
Nguyen Thuy Hanh
 and Huynh Ngoc Chenh were not only physically assaulted, but their belongings, including money, phones, and personal documents were taken by the attackers. This is a serious abuse, since the group was only comprised of senior citizens and elderly people and did not pose any security threat to the prison camp or its officers. Read the detailed report on Defend the Defenders 
here
. Some footage of the attacked can be seen on 
Trinh Ba Phuong's Facebook
.Nguyen Kim Thanh, wife of political prisoner Truong Minh Duc, made it to Camp 6, but prison authorities refused to let her see her husband, and sent her out of the facility. Thanh and friends who came with her to the prison camp, including Le Thi Muoi, wife of political prisoner 
Luu Van Vinh
, were also 
attacked
outside of the camp. Duong Thi Tan, who accompanied Ms. Thanh and then returned to find the other group under attack, was also reportedly seriously 
assaulted
 by thugs on the way.
NEWS & ANALYSIS
A Deeper Look at Vietnam's Trade Deal With Europe
, Stuart Brown, The Diplomat, July 12, 2019: "Green parties, aided by a strong result in the European Parliament elections in May, have already criticized the Mercosur deal for falling short on the environment. Philippe Lamberts, co-leader of the Green bloc in the Parliament, recently derided sustainability provisions in EU trade deals as "a joke" on the basis that they are typically not accompanied by viable sanctions. In the case of the deal with Vietnam, human rights concerns have formed the main focus for opposition. Expectations are the agreement will be ratified, but previous experiences, such as the mini-crisis over the EU's free trade deal with Canada, serve to illustrate the potential perils of ratification."
The EU's human rights and free trade conundrum
, Bradley J Murg, Asia Times, July 9, 2019: "[W]hat is the human rights standard currently applied by the EU to determine which states gain free trade benefits and which do not? EU policy in this area lacks consistency, with decisions seemingly made on an ad hoc basis. Moreover, there also seems to be something of a double standard applied. Within Asia, the inconsistencies are glaring, and when explored more deeply, these inconsistencies cast serious doubt on the EU's commitment to human rights in its foreign economic policy."
Vietnam Gambles on Workers' Rights, Joe Buckley, Jacobin Magazine, July 7, 2019: "On Friday, June 14, however, the country's National Assembly ratified the International Labour Organisation's (ILO) Convention 98 on collective bargaining and the right to organize. This is big news — by ratifying the Convention, Vietnam has put a number of antagonisms and tensions in motion. […] The recently ratified Convention 98 should help break this employer dominance of trade unions at the company level, requiring as it does that workers' and employers' organizations be free of interference from each other. Convention 87 — which Vietnam plans to ratify by 2023 — will legalize independent labor organizations, and therefore allow them to operate without being subordinated to the Communist Party. It is unprecedented for a one-party "socialist" state to actively promote reforms that significantly increase the ability of trade unions to operate independently.
TAKE ACTION

Hoang Duc Binh (left), Nguyen Van Hoa (middle), and Nguyen Bac Truyen (right)
Take action for imprisoned environmental activist Hoang Duc Binh, and his fellow political prisoners Nguyen Van Hoa and Nguyen Bac Truyen, who are all in a precarious situation in prison, by sharing this appeal to the international community from Binh's mother.

Tran Hoang Phuc. Artwork by Dinh Truong Chinh for The 88 Project
Please share the family's petition regarding Tran Hoang Phuc and his treatment in prison, asking that prison authorities take steps to ensure that Phuc's health and safety.
© 2019 The 88 Project
https://the88project.org/wp-content/uploads/2019/07/Hunger-strike-for-Prisoners-of-Conscience-Facebook-Page-banner-Source-FB-TTVTHLT.jpg
315
853
Huong Nguyen
https://the88project.org/wp-content/uploads/2019/01/88project.png
Huong Nguyen
2019-07-15 17:57:16
2019-07-15 18:02:57
Vietnam Free Expression Newsletter No. 28/2019 – Week of July 8-14