Vietnam Free Expression Newsletter No. 22/2017 – Week of July 24-30
Dang Thi Kim Lieng, in black shirt, self-immolated on July 30, 2012. Source: BBC
Greetings from Huong, Ella, and Kaylee from The 88 Project! We are bringing you news, analysis, and actions regarding human rights and civil society in Vietnam during the week of July 24 to 30. Tran Thi Nga was sentenced to nine years in prison on July 25, and the international community has been outraged by another brutal prison sentence under Article 88. Pastor Nguyen Cong Chinh, who faced torment in prison, as did his family, has been released early from prison and has left for the U.S. Veteran Le Dinh Luong was arrested on July 24 on subversion charges, and his son and daughter-in-law targeted by police. July 30 brought four more arrests: Nguyen Bac Truyen, Truong Minh Duc, Pham Van Troi, and Nguyen Trung Ton were all arrested in one day, immensely adding to an already dismal human rights record in Vietnam this July. There is follow-up from the Dong Tam land conflict and commemoration of July 30, 2012, when Dang Thi Kim Lieng self-immolated just weeks before her daughter Ta Phong Tan's trial.
Read the full newsletter, here.
And please subscribe!
HUMAN RIGHTS & CIVIL SOCIETY
Prisoners of Conscience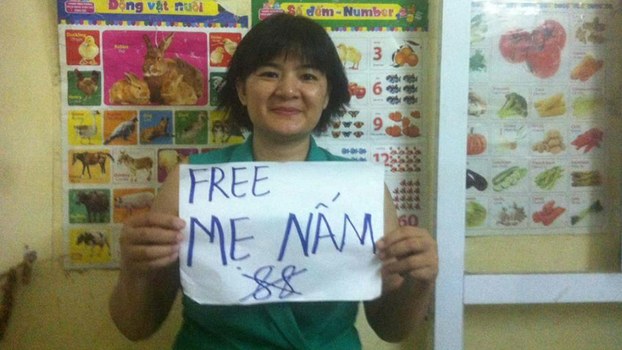 On July 25, Tran Thi Nga was 
sentenced to nine years in prison
 and five years of probation under Article 88 for her online content associated with her advocacy work. She has long been a champion of migrant labor and land rights. Her sons and husband were not allowed in the trial. She has been in poor health in detention. The 
UN
, 
the EU
, and the US Ambassador to Vietnam, and several independent organizations 
have spoken out against her imprisonment
 and that of Nguyen Ngoc Nhu Quynh last month. Since imprisoned, prison authorities have refused to deliver food and money from her family to Ms. Nga.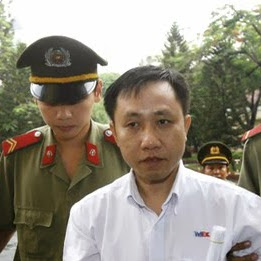 Nguyen Bac Truyen, Source: Front Line Defenders
Four former prisoners of conscience were re-arrested this week on July 30- Nguyen Trung Ton, Truong Minh Duc, Nguyen Bac Truyen (above), and Pham Van Troi. Mr. Ton, Mr. Duc, and Mr. Troi are all associated with the Brotherhood of Democracy, an organization founded in part by currently detained lawyer 
Nguyen Van Dai,
 and have been charged under Article 79 of Vietnam's criminal code. Mr. Dai and 
Le Thu Ha
 were arrested in December 2015 and still await trial. Nguyen Bac Truyen runs the Vietnamese Political & Religious Prisoners Friendship Association and is assumed abducted by authorities. Defend the Defenders 
reports
 that, if convicted, these men could be facing the death penalty or life in prison.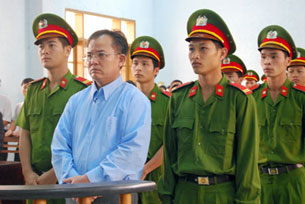 Pastor​ ​and​ ​activist​ ​Nguyen​ ​Cong​ ​Chinh​ ​has​ ​been​ ​
released​ ​early​ ​from​ ​prison
​ ​and​ ​is now with​ ​his​ ​family​ ​in​the​ ​U.S after being forced to leave Vietnam.​ ​He​ ​was​ ​sentenced​ ​in​ ​2011​ ​to​ ​11​ ​years​ ​in​ ​prison​ ​and​ ​has faced​ ​harsh​ ​treatment​ ​while​ ​imprisoned,​ ​including​ suspicions that his ​food​ ​and​ ​water​ ​that​ ​had​ ​been​ ​tampered​ ​with, beatings,​ ​and​ ​fabricated​ ​stories​ ​of​ ​his​ ​wife​ ​having​ ​an​ ​affair.
Activists at Risk
Veteran 
Le Dinh Luong, 52, was arrested
 on July 24 on charges of subversion. He writes on environmental issues and has been targeted by authorities who believe he has connections to Viet Tan, an overseas democracy group labeled as terrorists by the Vietnamese government. His son, Le Dinh Hieu, 
was attacked by police
, and his daughter-in-law Nguyen Thi Xoan taken into custody for hours, just days after Mr. Luong's arrest.
On July 4, 
Nguyen Hieu, a blogger and activist, was beaten
 for the second time in two weeks, having to go to the emergency room for his injuries. He was filming harassment of former prisoner of conscience 
Bui Thi Minh Hang
, who was released from prison earlier this year, and he was also questioned by police in custody.
No-U FC football club, founded in 2011, is an outlet for dissidents to come together in a nontraditional way sharing beliefs of democracy, human rights, and protests of Chinese authority in the region. They are constantly harassed by police and have their matches disrupted. Read a recent profile of the team, 
here
.
Environmental Activism/Community at Risk
Art & Activism 
Radio Free Asia interviewed Mai Khoi about her experiences of being interfered with by police at her private show on Saturday July 22 at Studio Number 21 in Hanoi, in which she intended to perform songs that touch on social issues. Watch the 
interview
, in Vietnamese. Prior to the show, a group of cultural police and local officers came to the Studio to pressure its owner, artist Nhat Ly, to not let Mai Khoi and her band perform. During the show, a group of 30 public officers and cultural police came to "inspect" the studio, but a lawyer present in the audience, lawyer Nguyen Van Tu, pointed out that they did not have any legal basis to do such an inspection. The authorities had to leave and Mai Khoi was able to continue the show.
RELEVANT NEWS & ANALYSIS
Vietnam is imprisoning female bloggers over their Facebook posts: ""Vietnam's female bloggers have come to political activism from a variety of personal experiences as internet access has expanded in Vietnam. Nguyen Anh Tuan, the editor of the online news site VietNamNet, has written about how Vietnam began deregulating the internet in 2000, going from one provider to 18 (pdf, p. 19) in less than a decade. Internet penetration has expanded, going from 12% to 44% (paywall) between 2005 and 2015, and helping Vietnam become one of the most active users in Southeast Asia of foreign social media sites such as Facebook, although it's a one-party Communist state like China."
Human rights defenders in Viet Nam should 'never be treated as criminals,' says UN rights office: "OHCHR pointed out that over the last six months, at least seven other human rights defenders have been arrested and face prosecution, several dozen are currently detained, and two have been deported or sent into exile abroad. Many others have been intimidated, harassed and brutally beaten.
The UN Human Rights Office and international human rights mechanisms have repeatedly denounced article 88 of the Penal Code, along with several other provisions of the Code, as being in breach of international human rights law."
IN CASE YOU MISSED IT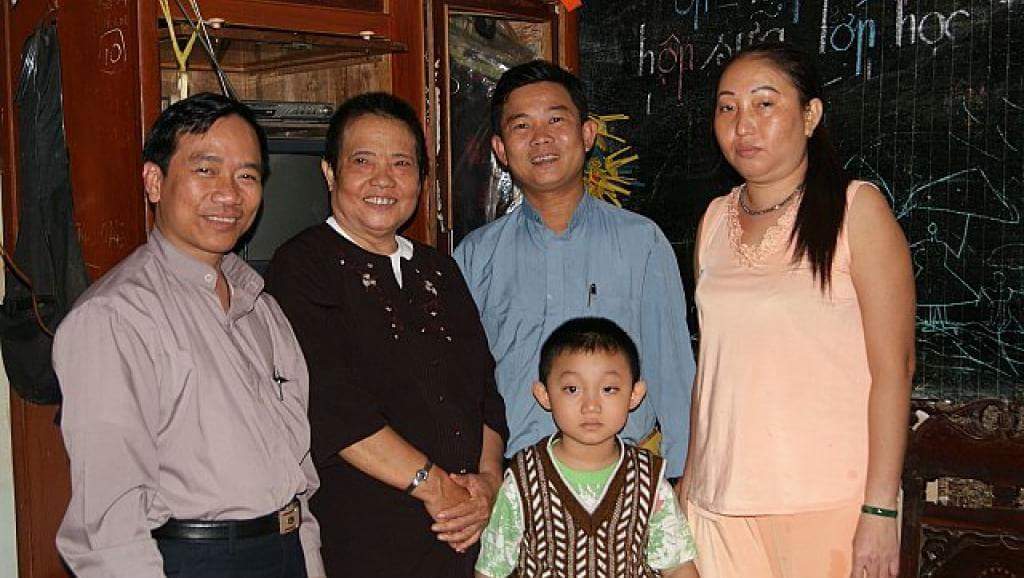 Dang Thi Kim Lieng, in black shirt, self-immolated on July 30, 2012. Source: BBC
July 30 marks five years since Dang Thi Kim Lieng (above, black shirt), mother of former political prisoner Ta Phong Tan, died from self-immolating at a government building in protest of her daughter's long detention and impending trial under Article 88. The burden of political repression effects families and the community at large, as well as the individuals themselves. Our Content Manager, Kaylee, wrote a reflection on this to commemorate Dang Thi Kim Lieng.
"Every aspect of the pre-arrest, arrest, detention, trial, and even release of Vietnam's   political dissidents is designed to minimize their contact with the outside world. The Communist regime wants them forgotten. It wants other malcontents to take heed."
Read the full article in the Asia Sentinel, 
here
.
Human Right Watch is now offering its content on Vietnam in Vietnamese. Check it out,
TAKE ACTION
Please take Amnesty International's Urgent Action for Mother Mushroom, as she is being held in incommunicado detention. Support is needed for her appeal.
Sign the change.org petition asking the British government to work to free prisoners of conscience in Vietnam. This is a particularly relevant action for our British followers to take.
https://the88project.org/wp-content/uploads/2017/07/ms-lieng-bbc.jpeg
578
1024
kayleedolen
https://the88project.org/wp-content/uploads/2019/01/88project.png
kayleedolen
2017-07-31 11:53:55
2019-04-30 08:04:01
Vietnam Free Expression Newsletter No. 22/2017 – Week of July 24-30