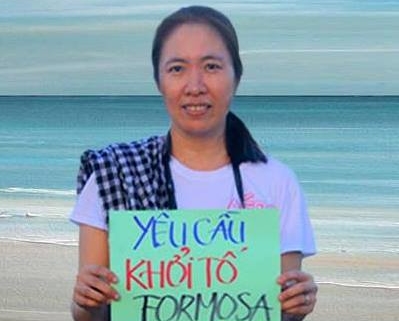 Vietnam Free Expression Newsletter No. 15/2017 – Week of June 5-11
Greetings from Huong, Ella, and Kaylee from The 88 Project! We are bringing to you news, analysis, and actions regarding human rights and civil society in Vietnam during the week of June 5th to 11th. This week, Vietnam attended the 35th meeting of the UN Human Rights Council, despite a continued crackdown on activists and protesters in 2017. There is news on blogger Nguyen Ngoc Nhu Quynh (Me Nam), who may be going to trial soon. We are thinking of young journalist Phan Kim Khanh as he spent his 24th birthday in prison. Former POCs Pham Minh Hoang and Le Quoc Quan were recently targeted, as well as priests and community members linked to the anti-Formosa environmental movement. Sixteen Montagnard refugee status seekers have been returned to Vietnam from Cambodia. We also have analysis on recent news regarding activism and US-Vietnam relations. Please take Amnesty International's Urgent Action for anti-Formosa activists.
Read the full newsletter here.
And please subscribe!
HUMAN RIGHTS & CIVIL SOCIETY
Prisoners of Conscience
Blogger
Nguyen Ngọc Nhu Quynh
, aka Me Nam (Mother Mushroom), who has been in incommunicado detention since her arrest in October 2016 under Article 88 for "propaganda against the state,"
may finally be going to trial
. She recently sent a letter requesting defense counsel to lawyer Nguyen Kha Thanh's office. By law, the government must grant her lawyer a defense certificate within three days of the process being initiated so that she can be defended. This will be the first time Me Nam has access to a lawyer since being detained and leads many to believe that she will soon be facing trial.

We are thinking of young citizen journalist Phan Kim Khanh, who is currently being held in pre-trial detention, as he turned 24 in prison on June 5th. He was arrested in March 2017 under Article 88 for running anti-corruption and pro-democracy websites, and will soon begin his third month in incommunicado detention. Read our update from mid-May on his situation.
Activists at Risk

Radio Free Asia published an exclusive interview from an unknown location with environmental activist Bach Hong Quyen, who is now in hiding as he faces a nation-wide wanted notice. In the interview, Quyen said he would consider receiving assistance from organizations or other countries in order to remain out of prison and continue his activism work. Watch the video interview (in Vietnamese) here.

Pham Minh Hoang, a professor and former prisoner of conscience, was recently notified that his Vietnamese citizenship was to be taken away. The government's decisions to revoke his citizenship were sent to his home on June 10th, but they provide no rationales for the revocation. A dual-citizen of France, he has decided to give up his French citizenship in order to try to reverse or stave off the loss of his rights under Vietnamese law, so that he can ultimately stay in Vietnam with his family. It remains to be seen whether the government will follow through with its attempts to revoke his citizenship. Reporters Without Borders has expressed its "extreme concern" about the Vietnamese government's intention and condemns this persecution of Hoang. Professor Pham Minh Hoang had served 17 months in prison during 2011-2012 for his pro-democracy blogging and for joining the pro-democracy political party Viet Tan.
Former prisoner of conscience and lawyer, Le Quoc Quan, was harassed on June 8th after meeting with US Senator John McCain on his trip to Vietnam. A group of ten thugs came to the building where Quan lives to threaten him that if he continued his human rights and pro-democracy activism, his family, especially his three young daughters, would be harmed. Read the full report in English by Defend the Defenders here, and Le Quoc Quan's formal complaint (in Vietnamese) to the local authorities here. Lawyer Le Quoc Quan is a prominent Vietnamese dissident. He was released from prison two years ago this June after serving a 30-month sentence for fabricated charges of "tax evasion."
Environmental Activism/Community at Risk
This week, vandals targeted a church known to be a vocal supporter of the anti-Formosa force that has tried to seek accountability for the massive environmental disaster that began in April 2016. A church camera caught people vandalizing the church in the middle of the night, pelting it with rocks.
Before the vandalism took place, a group of motorcyclists were also spotted in the area waving the Vietnamese flag and harassing involved community members. Their anti-protester message particularly targeted two priests with known involvement in local organizing, Dang Huu Nam and Nguyen Dinh Thuc; the two have been singled out in recent months for their activism. The Formosa fallout is still affecting fish and livelihoods on the Central coast more than a year after the initial spill. The UN's World Environment Day was June 5th.
Activism/Social Media
Vietnam's social media shaping new environmentalism: "What's most surprising is that Facebook, once banned in Vietnam, has now proven to be an attractive platform for organizing environment rallies. With a population of 93 million and an increasing Internet user base, social media has proven to be the first choice among the educated Vietnamese youth."
Vietnam Ministry proposes $2,200 fine for posting "harmful" content on social networks: "Vietnam's Ministry of Information and Communications has proposed fines of up to VND50 million ($2,200) for those using social media to spread "distorted information" or to expose other people's secrets, state media has reported. The proposal has been made following the rapid growth of social networks in Vietnam and their "increasing influence," said Le Quang Tu Do, a senior official of the ministry. […]The ministry is polling public opinions on the proposal and has not revealed any details of how the fines would be issued."
Refugees & Asylum Seekers
Sixteen Montagnards from the Central Vietnam Highlands
were returned to Vietnam from Cambodia
this week after Cambodia denied them refugee status. At minimum, 3,000 Montagnards, who often face persecution in Vietnam, have fled to Cambodia in the past fifteen years.
RELEVANT NEWS & ANALYSIS
Why Trump is Capitalizing on Obama's US-Vietnam Comprehensive Partnership: "The Trump administration is not reversing the course of U.S. policy regarding the Asia-Pacific region. It may be even more forceful than the Obama administration in the South China Sea. This message emanates from the Joint Statement for Enhancing the Comprehensive Partnership between the United States and Vietnam, issued after the meeting between the two leaders."
Why Trump's Quiet Meeting with the Vietnamese PM Reveal Vietnam is Hedging its Bet on the US: "Vietnam needs U.S. cooperation in terms of regional security and advancing its goal of becoming an internationally integrated market-based economy. But make no mistake–it also knows how to play the long game."
TAKE ACTION
If you haven't already, please take Amnesty International's Urgent Action for activists at risk of imprisonment and harassment for their protests against Formosa and the environmental fallout from last year's spill.
© 2017 The 88 Project
https://the88project.org/wp-content/uploads/2016/10/me-nam.jpg
399
399
Huong Nguyen
https://the88project.org/wp-content/uploads/2019/01/88project.png
Huong Nguyen
2017-06-11 21:19:51
2019-04-30 08:04:42
Vietnam Free Expression Newsletter No. 15/2017 – Week of June 5-11