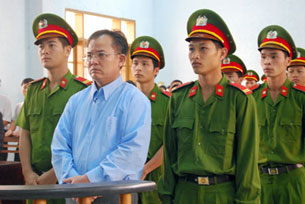 Vietnam Free Expression Newsletter No. 14/2017 – Week of May 29-June 4
Greetings from The 88 Project! We are bringing to you news, analysis, and actions regarding human rights and civil society in Vietnam during the week of May 29 to June 4, 2017. We are thinking of Nguyễn Ngọc Như Quỳnh and her family as June 2 was supposed to be the end of her detention, yet there's still no news about her. The international community called upon the Vietnamese authorities to release Lutheran Pastor Nguyễn Công Chính and to end harassment against his family. Former prisoner of conscience Phạm Minh Hoàng risks being deported from Vietnam as the Vietnamese government has decided to revoke his Vietnamese citizenship. The Catholic community of Song Ngọc parish in Quỳnh Lưu district, Nghệ An province, was the target of violent attacks and intimidation by police-sponsored thugs. Questions continued to arise about the mysterious death of Hòa Hảo Buddhist Nguyễn Hữu Tấn in the local police's interrogation room. There is more news and analysis regarding the ongoing criminal code reform, the recent trip of the Vietnamese Prime Minister to the United States, and the implications of recent changes in the Vietnamese leadership. Last but not least, please take Amnesty International's Urgent Action for environmental activists at risk Hoàng Đức Bình and Bạch Hồng Quyền.
Read the full newsletter here.
And please subscribe!
HUMAN RIGHTS & CIVIL SOCIETY
Prisoners of Conscience
Pastor Nguyễn Công Chính at his trial in 2012
In a
joint open letter
addressed to the authorities of Vietnam that was published on June 1, 26 international organizations and individuals called for the immediate and unconditional release of Pastor Nguyễn Công Chính and for an end to the harassment of his family. "Lutheran Pastor Nguyen Cong Chinh was sentenced to 11 years of imprisonment in 2012 after having been convicted of 'undermining the national unity policy' under Article 87 of Vietnam's Penal Code, 'by maintaining ties with dissident groups and distributing material deemed to have slandered government authorities'. He was arbitrarily detained and jailed solely for peacefully practicing his faith and exercising his human rights to freedom of thought, conscience, and religion and freedom of expression. His non-violent activities in criticizing government policies cannot justify his imprisonment and the abusive treatment and denial of his rights by prison authorities. These include verbal and physical abuse from other prisoners in collusion with or without intervention of prison officials, denial of medical treatment, detention in solitary confinement for a prolonged period, and denial of the rights to practice his religion and to buy additional food from the canteen to supplement the poor prison diet."

June 2 is supposedly the last day of Nguyễn Ngọc Như Quỳnh's pretrial detention, but her family has not heard anything from the authorities. Previous detention extension orders were given to her family verbally. Read out latest update on Quỳnh's situation in April here.

Former prisoner of conscience and professor of mathematics Phạm Minh Hoàng learned on June 1, 2017 through the French Consulate in Hồ Chí Minh city that the Vietnamese government had decided to revoke his Vietnamese citizenship on May 17, which will result in his deportation to France, as he has dual French/Vietnamese citizenship. He had been sentenced to three years of imprisonment under Art. 79 ("carrying out activities aiming to overthrow the people's government") in 2011 for his alleged affiliation with pro-democracy political party Việt Tân. In a letter published on his social media page, he wrote: "Perhaps imprisoning a French citizen is complicated business for both governments, and in the end they have chosen the easiest path — which also happens to be the most inhumane one — because more than anyone, they understand most clearly my family's situation. Back when I was in prison, I thought surely those would be the most difficult days of one's life, but now I see that there is a far more horrific situation: to be refused the right to live in my homeland."
Community at Risk
Catholics of Song Ngọc parish, Nghệ An province, were victims of repetitive violent attacks and intimidation this week. "Members of Phu Yen and Van Thai sub-parishes, under Song Ngoc parish in Nghe An's Quynh Luu district, told RFA's Vietnamese Service they were attacked after gathering at the Son Hai commune People's Committee on May 28 to retrieve a fellow parishioner who had been detained earlier by police. After arriving at the building to pick up Phu Yen parish member Nguyen Thi Tra, some parishioners began using their smartphones to record authorities, who responded by sending 'thugs' into the crowd to beat them, they said. 'There were almost 500 people, such as thugs, working for the police to beat people—including women and children—as a way to prevent them from using their phones to record,' said one source, who spoke to RFA on condition of anonymity. […]Days later, on Tuesday evening, Catholic priest Nguyen Dinh Thuc was holding a prayer gathering at Van Thai church when 'hundreds of people' arrived carrying stones, bricks, knives and metal pipes, and began threatening him and the congregation."
Here are reports by parish member Nguyễn Thị Trà and Catholic priest Nguyễn Đình Thục about the incidents (in Vietnamese).
Police Brutality
Suspicion over Buddhist's "suicide": "Claims that a detained man committed suicide during a police interrogation session have been challenged by the victim's family and by human rights groups. The body of Nguyen Huu Tan, a member of an independent Buddhist sect, was found on the floor of a police interrogation room on May 3 with his head almost severed. The police claim that he used a letter opener to kill himself when they stepped out of the room. The family says the explanation lacks credibility. They are pleading with the UN Human Rights Council, foreign governments and international human rights organisations to help in their search for justice."
Criminal Codes Reform
More on the absurdity of the socialist legality à la Vietnamese: Opinion divided as new bill asks Vietnamese lawyers to break client privilege in serious cases. "Vietnamese lawyers are concerned about revisions to the Penal Code that if approved would require them to expose their clients in cases of serious crimes or threats to national security. The article [Art. 19], which is being discussed at the ongoing National Assembly session, says that lawyers will be held criminally responsible if they do not expose certain crimes." The main rationale of the proposal, in Nguyễn Thị Kim Ngân, the chairwoman of the National Assembly's words, is that "besides the ethics of the career, a lawyer is also bound by the responsibility and ethics of a citizen." In other words, the state's interests prevail over citizen's rights and human rights.
RELEVANT NEWS & ANALYSIS
The communist government of Vietnam knows exactly the way to gain access to Trump's White House: apply capitalism and cut deals. "Mr. Phuc came to Washington prepared to appeal to a president known for focusing on concrete commercial deals he can tout. The Commerce Department put out a statement saying Mr. Phuc attended a ceremony 'to recognize 13 new business deals worth more than $8 billion,' including General Electric Co. energy and aviation agreements worth nearly $6 billion in sales to Vietnam." (The Wall Street Journal). "Mr. Trump made no mention of Vietnam's human rights abuses, which include the detention of dissident bloggers and religious activists, and have become the subject of persistent interest on Capitol Hill." (New York Times)
Vietnam and the United States make nice for now, but disappointment looms: "[T]his fanfare covers up some major problems in the relationship. The amount of deals announced is unlikely to fully please the U.S. administration, even though Hanoi likely sees the deals, in a way, as a concession to make to please the White House. And Vietnam will almost surely continue to run a major trade surplus with the United States. For an administration that looks at surpluses and deficits in a zero-sum way, trade relations are going to continue to be a primary irritant in the relationship."
The 2016 leadership change in Vietnam and its long-term implications by Alexander Vuving: "The leadership changes at the 12th Congress suggest that economic and institutional reform will move forward, but it will advance incrementally rather than at full speed. The regime will have to rely more on legitimacy to maintain power, and the government will have to be more responsive to popular demands. If the current trends continue, Vietnam may enter a second reform era in the coming decade. Vietnam will further integrate into the outside world. With respect to relations with the major powers in the region, Vietnam will continue to edge away from China, while moving closer to the United States, Japan, and India, but it will aim for a position of complex balances, not one of partisanship. These trends are not irreversible, however. They can be accelerated, disrupted, or reversed by major changes in the international and domestic environment."
TAKE ACTION

Bạch Hồng Quyền (left) and Hoàng Đức Bình (right)
Please take Amnesty International's Urgent Action for Hoàng Đức Bình – arrested on May 15, and Bạch Hồng Quyền – facing a nation-wide wanted notice. The two activists are being targeted by the Vietnamese government for having raised concerns about 2016 environmental disaster caused by the Formosa steel plant in central Vietnam and assisted affected local fishermen to seek justice.
https://the88project.org/wp-content/uploads/2017/06/nguye1bb85n-cc3b4ng-chc3adnh.jpeg
204
305
Huong Nguyen
https://the88project.org/wp-content/uploads/2019/01/88project.png
Huong Nguyen
2017-06-04 22:36:12
2019-04-30 08:04:47
Vietnam Free Expression Newsletter No. 14/2017 – Week of May 29-June 4