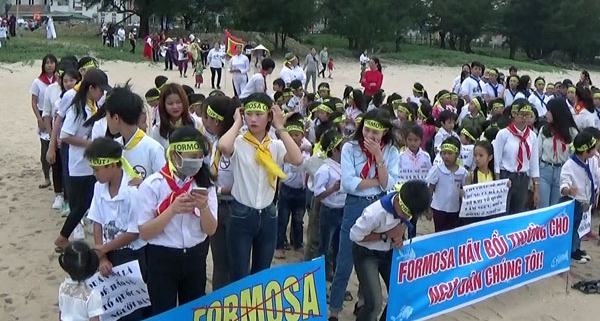 Vietnam Free Expression Newsletter No.6/2017 – Week of April 3-9
Greetings from Huong, Ella, and Kaylee from The 88 Project! We are bringing to you news, analysis, and action items regarding human rights and civil society in Vietnam during the week of April 3 to 9. So much has been going on. April 6 marked the first anniversary of the environmental disaster in central Vietnam, where toxic chemical waste discharge from the Formosa industrial steel plant killed tons of fish, polluted the sea, and disrupted the livelihood of local fishermen and the economy of the region. Lawyer Nguyễn Văn Đài received a human rights award from the German Association of Judges. We have updates on POCs Trần Huỳnh Duy Thức and Nguyễn Văn Hóa.
We would like to thank the organizations who have responded to our appeal for assistance for blogger Phan Kim Khánh. It does take a global village to support human rights activists at risk in Vietnam and we really appreciate what you have done for them!
Click to Subscribe to our Newsletter!
HUMAN RIGHTS & CIVIL SOCIETY
Prisoners of Conscience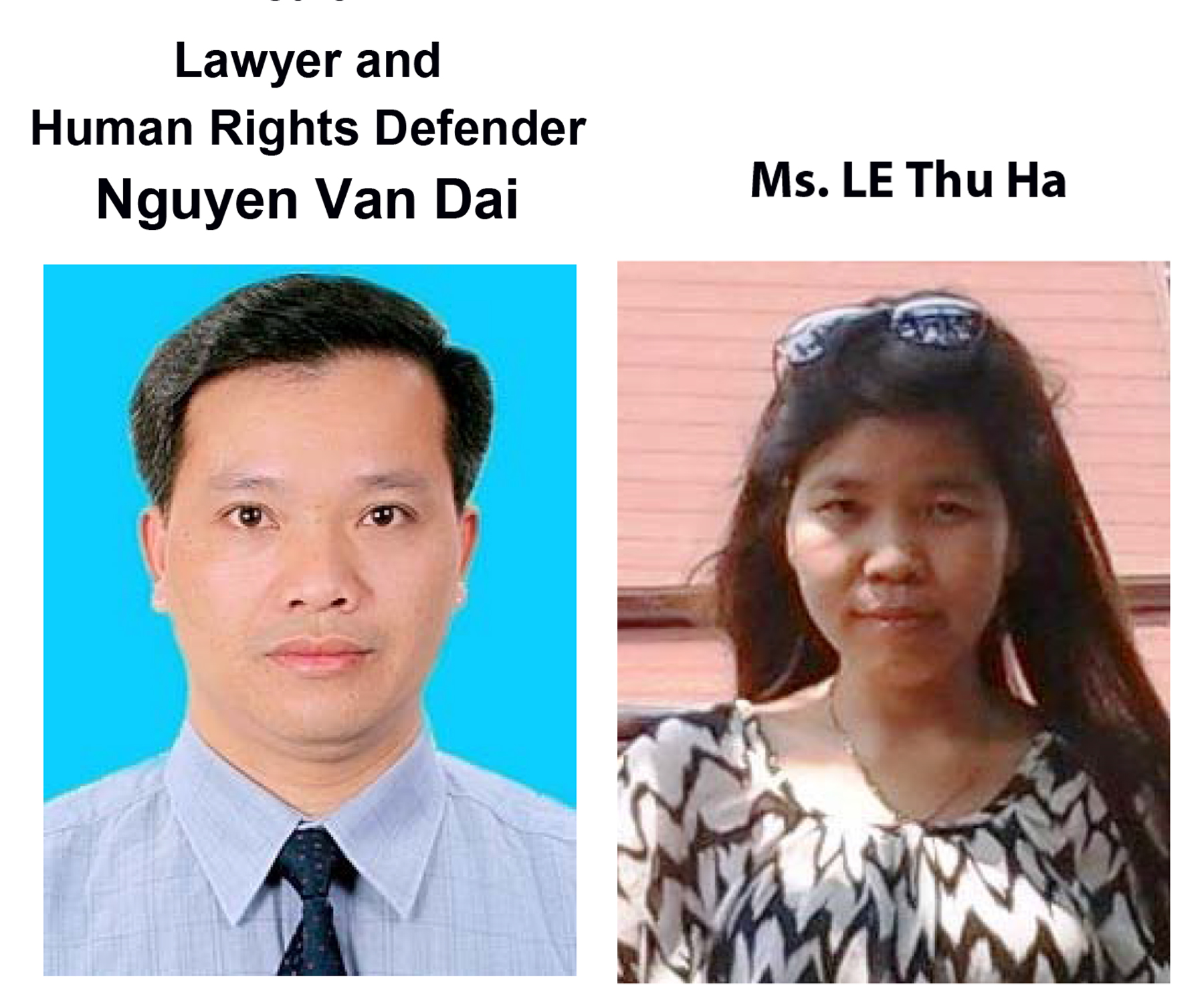 The German Association of Judges named detained Vietnamese lawyer Nguyen Van Dai as the recipient of its human rights prize for 2017. "The award from the German Association of Judges, known by its German initials, DRB, serves as another reminder to the Vietnamese authorities that their crackdown on dissent has not been forgotten by the international community." Nguyễn Văn Đài has been held in pre-trial detention since December 2015 without access to family or a lawyer. See our newsletter No.3/2017 for a recent update on Đài's prolonged detention.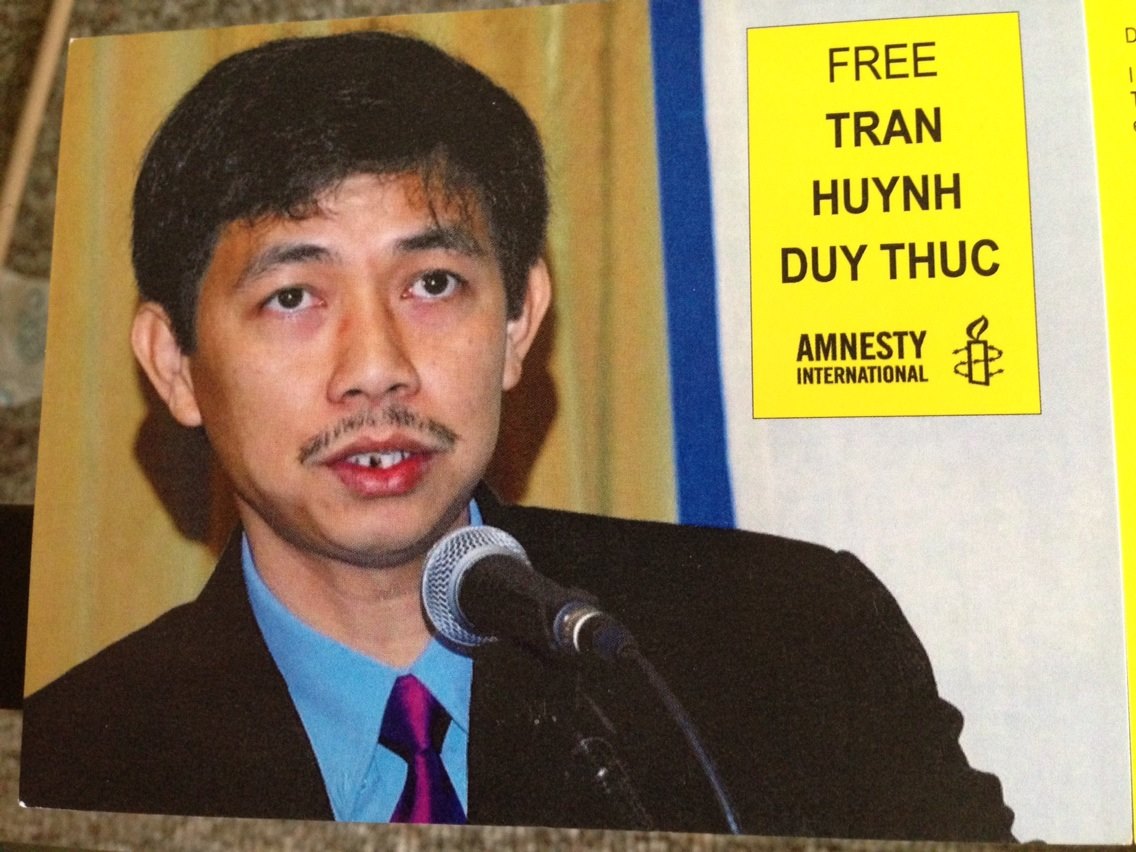 Trần Huỳnh Duy Thức's family visited him in Prison No. 6, Nghệ An province on April 1, 2017. They were allowed to see him for 60 minutes in a special room through a thick glass screen. They couldn't hear each other directly and had to communicate through a speaker phone. Thức is in good health but his eyes suffer from the lack of adequate light inside the prison cell. Many letters, books, and magazines that the family had sent Thức were returned, sometimes without any clear reason. The family fiercely argued with the superintendents of the Prison No. 6 about their arbitrary decisions to refuse the items the family had sent to Thức without citing any relevant rules. See the full report on our website here.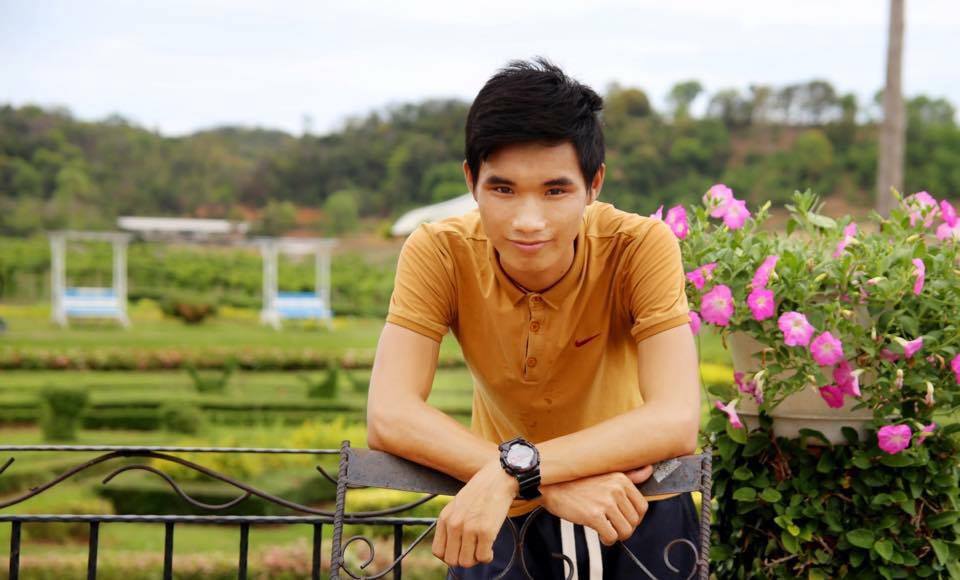 On April 6, state-owned newspapers announced the prosecution of the young blogger Nguyễn Văn Hóa under Art. 258 ("Abusing democratic freedoms to infringe upon the interests of the state") for "producing videos that deliver 'false messages' and incite social unrest." Nguyễn Văn Hóa was arrested on January 11, 2017, but this is the first time that the state-owned media confirmed his arrest and prosecution.
Environment & Activism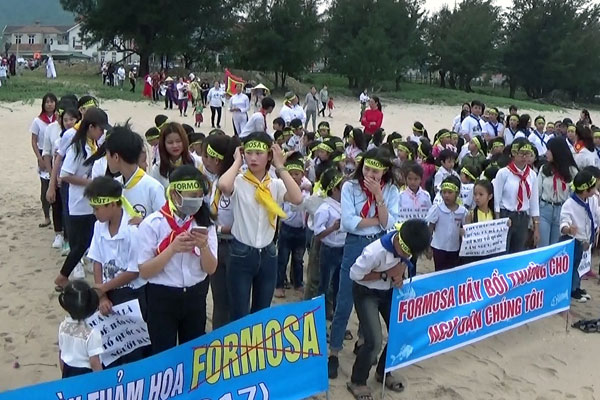 Catholic parishioners from Dong Yen parish, Ky Nam district, in central Vietnam's Ha Tinh province face the sea during a memorial service marking the anniversary of a toxic chemical spill, April 6, 2017. Source: RFA
April 6, 2017 marked the one-year anniversary of the environmental disaster in central Vietnam, where toxic chemical waste discharge from the Formosa industrial steel plant caused the deaths of 115 tons of fish, washing up the 200 km of the central coast. Vietnamese Catholics took to the streets and beaches of the Vinh diocese to protest against Formosa, "carrying black flags decorated with symbolic fish bones and banners that read 'Bring Formosa and its supporters to trial,' 'Formosa disaster is for all Vietnam people,' and 'Formosa—licensed death.'"
Indeed, one year after the incident, anger has only intensified, as an article in Reuters noted: "Locals says thousands of fishermen have simply given up and gone to look for work elsewhere. Tourists are wary of beaches that have lost their pristine reputation and businesses are struggling. But the wider impact could be even greater after protests over the spill encouraged a wave of activism that has pushed environmental issues up the agenda for a communist government that now promises greater scrutiny of investments."
Meanwhile, the police have launched a campaign of intimidation and persecution against bloggers and activists who have taken up the cause of the fishermen, which only increases the suspicion that the government has been taking the side of the foreign investors instead of its own people. "State controlled media is now broadcasting threats that Catholic priests, who have played a key role in organizing protests by their parishioners, could be next in line. The People's Army newspaper recently called for vigilance against those using religion 'to provoke, disturb and destroy' social peace. The authorities have consistently attempted to link the protests to agitators based overseas, a common theme when they are trying to justify a crackdown on government critics." In addition, environmental activists are also targets of physical assaults by pro-government groups – such attacks just happened on April 5 against activists Lê Mỹ Hạnh and Trịnh Đình Hòa in Hanoi while they were conducting live video reporting on Facebook about the situation in the central region. On April 9, Vietnam's securities forces detained numerous activists and placed many others under house arrest to prevent them from holding peaceful demonstrations on environmental issues.
The government's reaction to environmental activists does not deter more proactive actions from civil society. On April 5, Green Trees, an independent Vietnamese environmental group filed a request with the Minister of Finance, seeking to monitor the payout process to the four provinces affected by the chemical waste discharge by Formosa. "Green Trees cited Articles 2 and 28 of Vietnam's 2013 Constitution as the legal basis for its filing of the dossier. Article 2 stipulates that all state powers belong to the Vietnamese people, while Article 28 says citizens have the right to participate in the administration of the state and management of society and to take part in discussions and recommendations to state bodies on the issues concerning communities, regions, and the country." We are skeptical as whether the government would give a favorable answer to Green Trees' request, but this is still a positive development regarding civil society development in Vietnam.
RELEVANT NEWS & ANALYSIS
Vietnam wastes little time trying to connect with the Trump administration: "Hanoi officials are pleased that Vice President Mike Pence will stop in Indonesia in late April along with visits to Japan, South Korea, and Australia. They hope Pence will make a clear statement about the importance of Southeast Asia to the new administration and U.S. plans to engage this dynamic region. Around the same time, Deputy Prime Minister and Foreign Minister Pham Binh Minh is slated to visit Washington for a meeting with Secretary of State Rex Tillerson. Soon after that, Prime Minister Phuc, who took office last year, is expected to make his first visit to Washington. Deputy Defense Minister Lt. Gen. Nguyen Chi Vinh is planning to visit for security talks with U.S. defense officials in the next month or two."
Strengthening Vietnam-US bilateral trade: "At a recent seminar on the impacts of the Trump administration's policies in Asia-Pacific, some experts said that Vietnam should be ready to negotiate a free trade agreement with the US. […] It should watch whether Japan and Australia want to pursue a Trans-Pacific Partnership (TPP) without the US, and be ready to negotiate a free trade deal with the US, similar to what Singapore and the Republic of Korea have done."
Government launches website to receive administrative feedback: "Citizens can now voice opinions on mechanisms, policies, and administrative procedures to the Government on website nguoidan.chinhphu.vn, Minister and head of the Government Office Mai Tiến Dũng said on Monday." We suggest that the government should just be more active on social media, or, better yet, respect the right to freedom of press and allow for private media! They will hear plenty of opinions.
IN CASE YOU MISSED IT…
Three years ago, on April 3, 2014, the Vietnamese environmental activist, blogger, and former prisoner of conscience Đinh Đăng Định died of stomach cancer shortly after being discharged early on medical grounds from prison. He was arrested in December 2011 and sentenced to 6 years of imprisonment in August 2012 under Art. 88 for initiating a petition against bauxite mining in the Central Highlands. He was diagnosed with cancer while in prison and was only allowed to be treated starting January 2014 in the hospital under strict surveillance. In its 2016 report "Viet Nam: Prisons within Prisons: Torture and Ill-Treatment of Prisoners of Conscience in Viet Nam," Amnesty International noted that the Vietnamese government's continuous practice of withholding of medical treatment from political prisoners constitutes a violation of international human rights obligations, especially the prohibition of ill-treatment.
TAKE ACTION
If you have not done so, please take Amnesty International's Urgent Actions for prisoners of conscience Đinh Nguyên Kha and Trần Thị Thúy, who are being denied medical treatment.
Please also take the Committee to Protect Journalists' Twitter action for blogger Nguyễn Ngọc Như Quỳnh, by tweeting: Nguyen Ngoc Nhu Quynh has been imprisoned for too long for her journalism–Viet Nam should free her immediately #FreeThePress
© 2017 The 88 Project
https://the88project.org/wp-content/uploads/2017/04/protest-formosa-april-6-2017.jpeg
400
600
Huong Nguyen
https://the88project.org/wp-content/uploads/2019/01/88project.png
Huong Nguyen
2017-04-10 04:37:04
2019-04-30 08:05:28
Vietnam Free Expression Newsletter No.6/2017 – Week of April 3-9