Phan Huu Diep Anh
Current Status: Sentenced to prison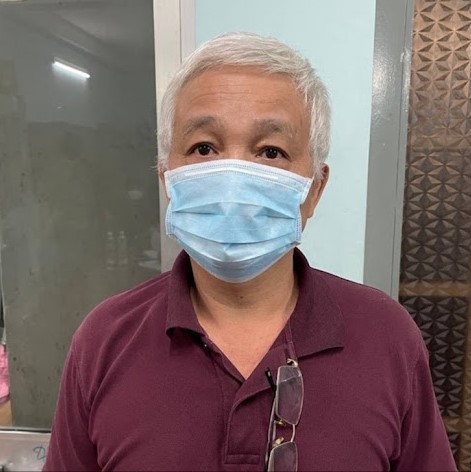 Other Names: Phan Hữu Điệp Anh
Date of Birth: 1961
Gender: M
Ethnicity: Kinh
Areas of Activism:
Highlighted Human Rights Concerns:
Prolonged Incommunicado Detention
Online commentator
June 2022:
Facebooker Phan Huu Diep Anh was given a prison sentence of one and a half years for "abuse of democratic freedoms" by a Ho Chi Minh City court on June 23. Anh was convicted of posting false information about how the authorities' were handling the pandemic. Investigators said there was one video in particular of a person immolating himself which Anh wrongly attributed to COVID-related stress. Anh's relatively light sentence was due in part to his good background and his sincere admission of guilt, said the court.
Details - Background, History of Activism.
Anh lives and works in Binh Thanh District, Ho Chi Minh City.
Profile photo: Phan Huu Diep Anh at the public security office, Source.
According to comments by the local authorities, Anh has been using his Facebook account named Phan Anh to criticise the Party's leadership. However, prior to his arrest, Anh was an ordinary citizen using the online platform only to share his thoughts and opinions.
Arrested July 21, 2021. Sentenced to 1 year 6 months in prison under Art. 331 (2015 Code). Expected Release is January 21, 2023.
July 21, 2021
Binh Thanh district public security, Ho Chi Minh City
Binh Thanh District (
map
)
June 23, 2022
People's Court of Binh Thanh District, Ho Chi Minh City
1 year 6 months in prison
January 21, 2023
freedom from arbitrary arrest or detention
liberty and security of the person
freedom of expression
fair trial
On July 21 2021, the Public Security of Binh Thanh District, with the approval of the same level of Procuracy, officially prosecuted Phan Huu Diep Anh. They accused him of posting defamatory and false information concerning a self-immolation incident, spreading fear and confusion among the population.
Specifically, on July 19, 2021, there was a self-immolation incident at Truong Tho Ward, Thu Duc City, Ho Chi Minh City. Diep Anh recorded and post it on several Facebook forums, saying that the failure of anti COVID-19 efforts in the city led to the man's suicide. The local authorities denied this interpretation; they conveniently explained that the man had a mental illness, and that his incident had nothing to do with COVID-19.
For this simple post, Diep Anh will be detained for two months for further "investigation." However, they also noted that there are several posts in Anh's Facebook account that potentially violate Article 331 too.
Profile last updated: 2022-07-05 22:22:50