Le Viet Hoa
Current Status: Sentenced to prison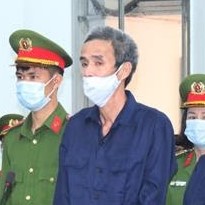 Other Names: Lê Viết Hòa
Date of Birth: 1962
Gender: M
Ethnicity: Kinh
Details - Background, History of Activism.
Hoa lives and works at Cam Lâm District, Khanh Hoa Province.
Profile photo: Le Viet Hoa at his trial. Source
Hoa has not been active on social media and in Vietnamese grassroots activism. However, he has helped Nguyen Thi Cam Thuy in her livestreams advocating for democracy and government transparency.
Arrested June 24, 2020. Sentenced to 5 years in prison under Art. 117 (2015 Code). Expected Release is June 24, 2025.
June 24, 2020
Khanh Hoa province Public Security, Khanh Hoa province
March 31, 2021
The People's Court of Khanh Hoa province
5 years in prison
June 24, 2025
freedom from arbitrary arrest or detention
liberty and security of the person
freedom of expression
fair trial
Hoa is accused of helping Thuy to carry out her "crime." According to an official government announcement, Hoa is accused of often accompanying Thuy to go to Tra Vinh, Dak Nong to gather information and meet with other alleged reactionary individuals.They add that when Thuy was recording and live streaming, Hoa took the responsibility of guarding and protecting Thuy.
Note: We are estimating the arrest date based on Nguyen Thi Cam Thuy's case.
Profile last updated: 2021-05-03 04:45:19