Lau A Lenh
Current Status: Sentenced to prison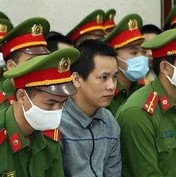 Date of Birth: 1970
Gender: M
Religion: Christian
Ethnicity: Hmong
Areas of Activism:
Communities At Risk:
Christian Hmong community in Dien Bien province
Details - Background.
Arrested March 18, 2020. Sentenced to 25 years in prison under Art. 109 (2015 Code).
March 18, 2020
Gia Lai province public security, Gia Lai province
March 18, 2020
The People's Court of Dien Bien Province
None
25 years in prison
freedom from arbitrary arrest or detention
liberty and security of the person
freedom of expression
freedom of association
fair trial
freedom of belief and religion
political participation
On March 18, 2020, the People's Court of Gia Lai sentenced Sung A Sinh and Lau A Lenh to life in prison. They are both charged with overthrowing the state and establishing a separate state in northwestern Vietnam. According to the indictment, Sinh and Lenh persuaded other ethnic Hmong in August 2018 and March 2019 to establish a Hmong state in the Muong Nhe district of Dien Bien.
In 2010, the authorities discovered that Lenh was trying to set up an independent Hmong state within Vietnam, and he was convicted then as well but fled. From 2018 onwards, Lenh again discussed the idea with Sinh and many other members of his tribe.
Twelve others were considered accomplices and sentenced from two to 20 years in prison for the same crime. No information is available about the others.
Lenh's arrest date is unknown, so we have listed the trial date as the arrest date temporarily.
Profile last updated: 2020-06-21 15:53:19