Nguyen Dang Cao Dai
Current Status: At risk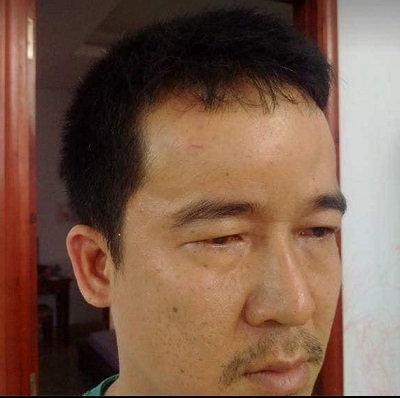 Other Names: Nguyễn Đăng Cao Đại, Nguyễn Đại
Date of Birth: 1975
Gender: M
Ethnicity: Kinh
Occupation: Engineer
Areas of Activism:
Democracy
Environment
Human rights
Sovereignty
Known Afilliations:
On September 14, 2019, several activists in Ho Chi Minh city held a party to celebrate journalist Pham Doan Trang winning Reporters Without Borders's Prize for Impact. The police surrounded the place where the party was held and tried to capture Trang. The activists at the party quickly divided into two groups to help Trang get into a taxi and escape. Nguyen Dai, who played a song with Trang at the party, was detained for keeping Trang's backpack.
Details - Background, History of Activism.
Nguyen Dang Cao Dai, known as Nguyen Dai, lives in Ho Chi Minh City.
Profile photo source: Human Rights Watch
Nguyen Dai usually supports political prisoners, such as Tran Hoang Phuc, Phan Kim Khanh, or Tran Thi Nga. He was a part of Bloc 8406 previously, in August 2009, which resulted in his questioning by police on November 29, 2009. He participated in protests against Formosa for their environmental disaster and against China's Nine-Dash Line claim in the South China Sea.
August 15, 2018: assaulted by police at Nguyen Tin's private show
Physical assault in a public space
Property confiscation
August 15-16, 2018
Public security
Ministry of Information and Culture
Casanova Cafe, No 61C, Tu Xuong Street, District 7, Ward 3, Ho Chi Minh City (
map
)
liberty and security of the person
freedom of expression
freedom of peaceful assembly
not be subjected to torture and degrading treatment
On August 15, Nguyen Dai and prominent journalist and writer Pham Doan Trang helped Nguyen Tin to organise a mini-show, named Sai Gon Ky Niem (Memory of Saigon), at Casanova Cafe in Ho Chi Minh City. Police suddenly raided and attacked participants, mainly Nguyen Tin, Nguyen Dai, and Pham Doan Trang. Preventing Nguyen Tin from singing apolitical love songs composed before 1975 and attacking activists were believed to be the main purposes for this crackdown.
After Nguyen Tin performed seven or eight songs, the police force of Ward 7, District 3 and an interdepartmental examination delegation of information and culture (the "examination delegation") stormed into the cafe and asked for the concert license. At 9:30, his show was forced to stop.
Nguyen Tin and Nguyen Dai had to work with the examination delegation inside and were fined for the alleged lack of a performance license, lack of copyright permission, and performing songs that have not been allowed to circulate.
After confiscating their phone and wallets, police dragged both Nguyen Dai and Nguyen Tin into a seven-seat car. Dai and Tin were blindfolded and hooded with their hands cuffed. The police drove about 60 km and stopped at a rubber forest in Cu Chi district, where police pushed Nguyen Tin out and left him there. The car drove on for 15 minutes more, at which point the police dragged Nguyen Dai out and left him in the forest without any money or documents. Tin and Dai managed to find their way home while coping with their injuries. Duong Dai Trieu Lam stated that he and others picked Nguyen Tin up at 2:30 am in Tan An Hoi commune, Cu Chi district, while Nguyen Dai arrived home at 6:20 am.
Profile last updated: 2019-09-23 02:54:02