Bui Quang Vien
Current Status: At risk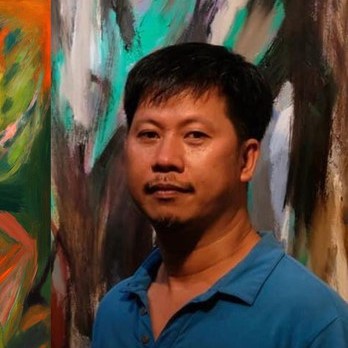 Other Names: Bùi Quang Viễn, Bui Chat (Bùi Chát)
Date of Birth: October 22, 1979
Gender: M
Religion: Christian (Catholic)
Ethnicity: Kinh
Occupation: Artist, Author
Areas of Activism:
Known Affiliations:
Details - Background, History of Activism, Family Situation.
Bui Chat and fellow poet Ly Doi (Lý Đợi) started the literary group Mo Mieng (Open Your Mouth). In 2002, Chat founded publishing house Giay Vun (Scrap Paper) as an independent platform for writers to publish their work without being subjected to state-run control and censorship.
Giay Vun is an independent publisher with about 30 books, as of 2011, mostly poetry in the post-modernist tradition by Mo Mieng members. Its most influential product to date is perhaps the Vietnamese translation of George Orwell's "Animal Farm" by Pham Minh Ngoc in 2010.
In 2004, Bui Chat and Ly Doi were jailed for two days for passing out flyers at the site of a poetry reading canceled by the police. In 2005, the Ministry of Culture canceled a performance planned at the Goethe Institute in Hà Nội.
In 2011, Chat was given the Prix Voltaire – Freedom to Publish Prize, by the International Publishers Association. Bui Chat traveled to Buenos Aires, Argentina, in April 2011 to accept the award. Upon returning to Vietnam, he was interrogated by the authorities and had his passport confiscated (still confiscated as of late 2022).
August 9, 2022: art exhibit, Ung Tac [Improvisations], shut down, and artist ordered to destroy works
Administrative fines
Intimidation
August 09-23, 2022
Local administration
Alpha Art Station, 271/5 Nguyen Trong Tuyen, Phu Nhuan District (
map
)
Artist Bui Chat held a private exhibit of his paintings at Alpha Art Station from July 15-30, 2022. On August 9, ten days after the exhibit was over, he suddenly received a notice from the People's Committee, signed by Duong Anh Duc, letting him know that his exhibit had violated several city ordinances and laws because he did not get a permit. Chat was ordered to pay a fine of 25 million dong and to "destroy all 29 paintings" that were exhibited within ten days.
On August 23, 2022, Duong Anh Duc rescinded the decision to destroy the paintings. The fine for not having a permit remained.
Profile last updated: 2022-12-25 00:34:12