Vu Van Thien
Current Status: At risk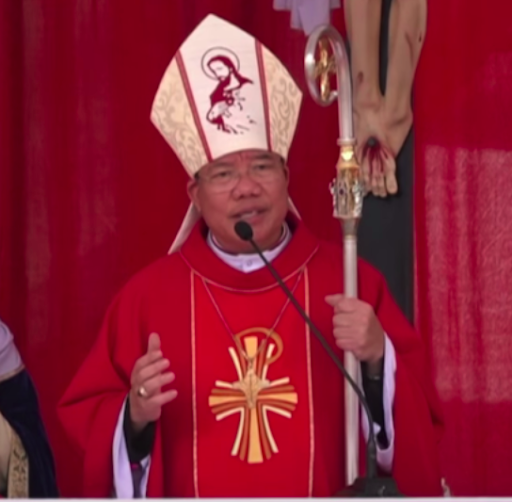 Other Names: Archbishop Joseph Vu Van Thien, Đức Tổng Giám mục Giuse Vũ Văn Thiên
Date of Birth: October 26, 1960
Gender: M
Religion: Christian (Catholic)
Occupation: Religious leader
Areas of Activism:
Known Affiliations:
Details - Background, History of Activism, Family Situation.
Archbishop Joseph Vu Van Thien was born in Ke Sat Parish, Hai Duong Province. He started his theological and philosophical studies at Saint Joseph Major Seminary in Hanoi in 1982 and was ordained as a priest in 1988.
Joseph Vu Van Thien served as secretary of the bishop's residence and provided pastoral activities for four parishes since 1988.
In 1996, he pursued his studies at the Institut Catholique de Paris in France for four years.
In 2002, Pope John Paul II appointed him bishop of Haiphong, and the late Cardinal Paul Joseph Pham Dinh Tung of Hanoi ordained him as a bishop in 2003.
In 2018, Pope Francis appointed Joseph Vu Van Thien as the new archbishop of the Archdiocese of Hanoi.
Profile photo source: LÊ ĐỊNH TTHP/YouTube screenshot via Life Site News.
We do not believe he has been active in political matters but is inherently a target of the state for his views on religious freedom.
February 20, 2022: state officials interrupted mass
Intimidation
February 20, 2022
Public security
Vu Ban Church, Lac Son District (
map
)
freedom of peaceful assembly
freedom of belief and religion
On February 22, Archbishop Joseph Vu Van Thien was celebrating Sunday morning mass when two public security officers interrupted it, shouted loudly, and pointed at priests. They took the microphone on the lectern, ordering all people to "break up." They threatened that if the people in the church did not leave, "we will make reports and take appropriate measures." Some priests prevented the officials from approaching the altar and Archbishop Thien before asking them to leave the sanctuary.
According to an official announcement by the Archdiocese of Hanoi, those two officers are identified as Pham Hong Duc, secretary of the Communist Party of the city of Vu Ban, and Pham Van Chien, vice-president of the People's Committee of the city. "This is a disrespectful act…, an abuse of power that seriously violates the right to religious freedom, the right to religious practice of bishops, priests and lay people…." the archdiocese declared.
Profile last updated: 2022-06-12 04:27:26