Le Thanh Nhat Nguyen
Current Status: Pre-trial detention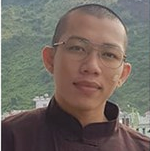 Other Names: Lê Thanh Nhất Nguyên
Date of Birth: 1991
Gender: M
Religion: Buddhist
Ethnicity: Kinh
Occupation: Religious leader
Last Known Prison: Long An detention center, Long An province
Areas of Activism:
Communities At Risk:
Details - Background, History of Activism.
Nhat Nguyen lives and practices Buddhism at the Tinh That Bong Lai monastery.
Arrested January 4, 2022. Charged under Art. 331 (2015 Code).
January 4, 2022
Long An province public security, Long An province
Lap Thanh town, Hoa Khanh Tay ward, Duc Hoa district (
map
)
Trinh Vinh Phuc
Dao Kim Lan
Ngo Thi Hoang Anh
Dang Dinh Manh
Nguyen Van Mieng
freedom from arbitrary arrest or detention
liberty and security of the person
freedom of belief and religion
On November 5, 2021, Nguyen Tien Trong, the Deputy Head of the Vietnam Government Committee for Religious Affairs (GCRA), in a regular conference press of the Internal Affairs, said there were signs that people at the Tinh That Bong Lai took advantage of religion to further their own interests.
On January 4, 2022, Tinh That Bong Lai was searched, and 14 people of the monastery were summoned for further investigation, among them Le Tung Van and his three disciples Le Thanh Hoan Nguyen (D.O.B 1990,) Le Thanh Nhat Nguyen (D.O.B 1991,) and Le Thanh Trung Duong (D.O.B 1995). The other people were released after the investigation, while Van is in pre-trial detention at home and banned from leaving the residential place, and the three disciples have been arrested. According to State media, at the time the search took place, there were eight "orphans" living at the monastery, six of whom were with their mothers.
On January 7, 2022, State media officially announced that Le Tung Van and his three disciples were charged under Article 331 of the 2015 Criminal Code for "abusing democratic freedoms." To be more specific, the case was brought to light after the government received numerous citizen complaints saying the headmaster(s) of the Tinh That Bong Lai took advantage of religion and charitable activities for their own benefit.
The four men were initially charged with "incest," "fraud," and "abusing religious freedom." However, the first two charges were dropped after a public uproar over suspicions that this was a government land grab in disguise.
On January 10, 2022, one of the lawyers for Le Tung Van reported that he tried three times to meet his client at the temple but was denied each time by public security police from Long An province. Although Van had been released to home detention, he had not been allowed to see his lawyers.
On January 14, 2022, Colonel Van Cong Minh stated that the police were "still working with the Procuracy and the People's Court" to finalize the case against Van.
On January 21, 2022, the lawyers confirmed that they finally met with Le Tung Van at the monastery. One of the lawyers, Dang Dinh Manh, said that the internet connection of the Tinh That Bong Lai was cut during and after the search of Tinh That Bong Lai on January 4, which was completely unlawful. Van and people living there reported that the arrests bewildered them.
Profile last updated: 2022-03-20 16:07:04