Tran Hoang Huan
Current Status: Pre-trial detention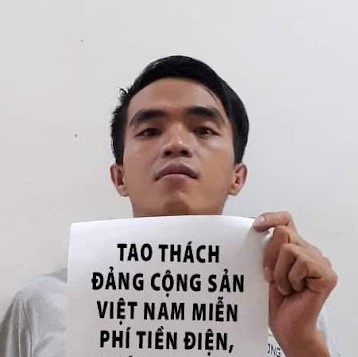 Other Names: Trần Hoàng Huấn
Date of Birth: 1988
Gender: M
Ethnicity: Kinh
Areas of Activism:
Highlighted Human Rights Concerns:
Details - Background, History of Activism, Contact Information.
Tuan lives and works in My Tho City, Tien Giang Province.
Profile photo source: Huan's Facebook (currently inactive)
Tuan has been an outspoken critic of the Vietnamese government online. However, he has not participated in any type of grassroots activism that directly challenged the Communist Party.
Arrested August 10, 2021. Charged under Art. 117 (2015 Code).
August 10, 2021
Tien Giang province public security, Tien Giang province
Ward 1, My Tho City (
map
)
The People's Court of Tien Giang Province
freedom from arbitrary arrest or detention
liberty and security of the person
freedom of expression
Amnesty International
On August 10, The Security Investigating Agency of the Public Security of Tien Giang Province officially indicted and arrested Tran Hoang Tuan under investigation for his alleged anti-state propaganda. According to the official announcement, in the last six years, Tuan has published almost 200 articles defaming and distorting the policies of the Party's leadership and the State. Tuan's last post was against the use of Chinese vaccines in Vietnam. He alleged that the vaccine had not been properly tested and that the producers did not provide enough scientific evidence to the public. Many believe his arrest is directly related to his criticism of the State's responses to COVID-19.
Amnesty International has requested Huan's immediate release.
Khởi tố kẻ đăng tải, chia sẻ 186 bài viết chống phá nhà nước, Nguoi Lao Dong, August 10, 2021
Tiền Giang: Một Facebooker bị bắt với cáo buộc 'tuyên truyền chống Nhà nước', RFA Vietnamese, August 10, 2021
Khởi tố đối tượng đăng tải, phát tán nhiều tài liệu xuyên tạc, chống phá chính quyền nhân dân, Công an Nhân dân, August 10, 2021
Profile last updated: 2021-10-10 02:44:39