Tran Hoang Minh
Current Status: Sentenced to prison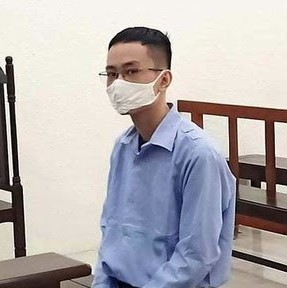 Other Names: Trần Hoàng Minh
Date of Birth: 1990
Gender: M
Ethnicity: Kinh
Areas of Activism:
Highlighted Human Rights Concerns:
Violence concern
Online commentator
Details - Background, History of Activism.
Minh lives in Thanh Xuan District, Hanoi City.
Profile photo: Tran Hoang Minh at trial. Source
Minh does not have an extensive history of activism. However, he has been sharing information and opinions concerning government public policies and social matters in Vietnam since 2009, via his Facebook account. In 2018, Minh also created a Facebook group called "The Inhumane faceless communism" to discuss issues with other people.
Đối tượng đăng tải nhiều thông tin kích động, xuyên tạc bị phạt 5 năm tù, Tiền Phong, July 20, 2021
Lãnh 5 năm tù vì kêu gọi 'giết thẩm phán' xét xử sơ thẩm vụ án Đồng Tâm, Tuoi Tre Online, July 20, 2021
Đối tượng đăng tải nhiều thông tin kích động, xuyên tạc bị phạt 5 năm tù, Công an Thành phố Hồ Chí Minh, July 20, 2021
Arrested September, 2020. Sentenced to 5 years in prison under Art. 331 (2015 Code). Expected Release is September, 2025.
September, 2020
Hanoi city public security, Hanoi
July 20, 2021
The People's Court of Hanoi, Hanoi
None
5 years in prison
September, 2025
freedom from arbitrary arrest or detention
liberty and security of the person
freedom of expression
fair trial
He was accused of posting and sharing 51 posts (from 2009 to 2020) that contained defamatory and offensive information against the Party's leadership and/or the State's policies. Most notably, during the Dong Tam incident and related trials, Minh challenged the legitimacy of Ha Noi's public security agency. Reportedly, he also wrote a post titled "Dong Tam residents should kill Judge Truong Viet Toan" (Truong Viet Toan chaired and announced the final judgment of the Dong Tam case). We cannot verify the content of this post, but it appears that the title could be rhetorical. We note the allegation of violence in this profile, and while we do not condone violence, we also believe that in the absence of a free press environment, the State's allegations should be looked at with some skepticism.
Minh turned himself into the authorities in September 2020, after being summoned several times by the public security.
Đối tượng đăng tải nhiều thông tin kích động, xuyên tạc bị phạt 5 năm tù, Tiền Phong, July 20, 2021
Lãnh 5 năm tù vì kêu gọi 'giết thẩm phán' xét xử sơ thẩm vụ án Đồng Tâm, Tuoi Tre Online, July 20, 2021
Đối tượng đăng tải nhiều thông tin kích động, xuyên tạc bị phạt 5 năm tù, Công an Thành phố Hồ Chí Minh, July 20, 2021
Profile last updated: 2021-09-06 22:04:47