Yoeung Kaiy
Current Status: At risk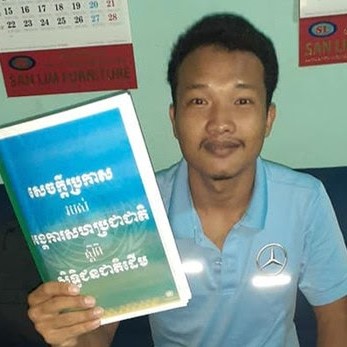 Other Names: Dương Khải
Date of Birth:
Gender: M
Ethnicity: Khmer Krom
Occupation: Author
Areas of Activism:
Indigenous rights
Land rights
Communities At Risk:
Details - Background, History of Activism.
Yoeung Kaiy lives and works in Dong Nai Province.
Profile photo source
Kaiy focuses on advocating for the rights of the Khmer Krom minority group and their protection in labor relations.
April 13, 2021: detained for distributing a United Nations document
Detention
Property confiscation
April 13-14, 2021
Public security
freedom from arbitrary arrest or detention
liberty and security of the person
freedom of expression
Yoeung Kaiy said that his house was searched by more than 100 public security officers on April 13. They confiscated over 100 of his books, his cellphone, and computers. The operation was carried out without presenting any warrant, Kaiy added.
Kaiy himself was arrested and detained for 24 hours. When they released him, the public security returned his cellphone and computers. However, his books were permanently confiscated. They accused him of printing books "without permission" and of "tax evasion." But even more interesting, the book in question is the United Nations' Declaration on the Rights of Indigenous Peoples, a document that should be freely distributed.
Profile last updated: 2022-03-09 21:06:53