Pham Dinh Quy
Current Status: Pre-trial detention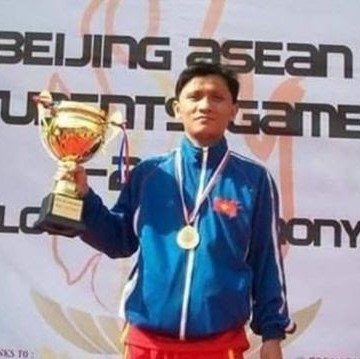 Other Names: Phạm Đình Quý
Date of Birth: January 1, 1981
Gender: M
Ethnicity: Kinh
Occupation: Teaching professional
Last Known Prison: Dak Lak Province Temporary Detention Center, Dak Lak province
Areas of Activism:
Highlighted Human Rights Concerns:
Prolonged Incommunicado Detention
Details - Background, History of Activism, Family Situation.
Quy comes from a long line of Phạm warriors, martial arts experts in the Quang Ngai region, dating back several centuries. The late Prime Minister Pham Van Dong also came from this illustrious line.
In 1778, during the Tay Son reign, Pham Hau was a general governor of Quang Ngai. One of his great-grandchildren, Pham Dinh, became a grand master, and his son Pham Trinh, later founded a famous school of martial arts called Thiếu Lâm Long Hổ Môn in the early 20th century.
One of Trinh's nephews, Pham Dinh Trang, is also a martial artist and the father of Pham Dinh Quy. Born in 1981, Quy was a child prodigy in martial arts. By the age of 13, he'd already won a national championship. Besides traditional martial arts, Quy has studied several other styles. In 2007, at the age of 26, he became an instructor at Ton Duc Thang University (TDTU) in Ho Chi Minh City. In 2010, he completed his Ph.D in martial arts in Beijing, China.
Profile photo: Pham Dinh Quy in the Beijing Asean Student Games. Source: BBC Vietnamese
In 2019, Quy and a colleague publicly alleged that Bui Van Cuong, party secretary of Dak Lak Province in the Central Highlands, had committed plagiarism in his Ph.D thesis. Cuong is in the running for a high seat at the National Party Congress in January 2021.
Arrested September 25, 2020. Charged under Art. 156 (2015 Code).
September 25, 2020
Dak Lak province public security, Dak Lak province
A restaurant near Ton Duc Thang University (
map
)
The People's Court of Dak Lak Province
freedom from arbitrary arrest or detention
liberty and security of the person
freedom of expression
On September 23, 2020, as Quy and his wife were eating dinner in a restaurant in Ho Chi Minh City, a group of civilians surrounded them and took them away without any formal arrest order. They took Quy and his wife to the Ho Chi Minh City police station, and then back to Dak Lak. His wife was released at 4am on September 24, after being forced to sign a statement that she would not speak with others about the arrest.
The Public Security of Dak Lak Province secretly arrested Pham Dinh Quy, with no notice given to his employer and family, contrary to what is required by law. They said that they made an emergency arrest, but many lawyers insist that there are no grounds for such a procedure in this case, especially since Quy is a person with no criminal record, is employed, and has a residence address.
Many believe there is a political motive in the case, as the person that Quy accused of academic misconduct (plagiarism) was the party secretary of Dak Lak Province. The use of his own security forces to arrest and convict his accuser is clearly an abuse of power.
On October 2 2020, after detaining Quy for one week with no access to an attorney, the Public Security announced that Quy had briefly "confessed" his crime, and the details were "in accordance with the evidence gathered by the force."
On September 26, Quy's brother and his father wrote separate letters addressed to everyone from the prime minister to the president of TDTU to demand that Quy be released because there were no warrants of arrest and the abduction was illegal.
Profile last updated: 2021-12-22 04:36:17