Bach Hong Quyen
Current Status: At risk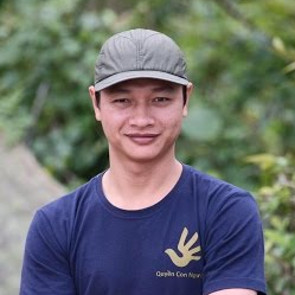 Other Names: Bạch Hồng Quyền
Date of Birth:
Gender: M
Ethnicity: Kinh
Occupation: Blogger
Areas of Activism:
Environment
Freedom of expression
Sovereignty
Known Affiliations:
December 2019:
Environmental activist Bach Hong Quyen — who fled Vietnam after the crackdown on environmental protests in the wake of the 2016 Formosa environmental disaster — is safe in Canada with his family.
Details - Background, History of Activism.
He was living in Ha Tinh province prior to fleeing to Thailand.
Profile photo source: Front Line Defenders
Bach Hong Quyen is a member of the Vietnam Path Movement, a blogger, and also organized protests after the Formosa environmental disaster in 2016. A "wanted" order was issued by authorities in Ha Tinh province for him in the spring of 2017 after he organized a protest commemorating the one-year anniversary of the Formosa disaster; he later fled to Thailand. He is wanted for "disturbing public order."

He has also been active in other types of activism, including sovereignty issues between Vietnam and China.
May 12, 2017: wanted by authorities since 2017
Wanted by authorities
May 12, 2017
Public security
freedom of expression
freedom of peaceful assembly
freedom of movement
Amnesty International
March, 2019: persecuted while seeking asylum status in Thailand
Persecution while seeking asylum abroad
March, 2019
Public security
freedom of movement
Reporters Without Borders
Office of the United Nations High Commissioner for Human Rights
Profile last updated: 2019-12-10 01:28:51